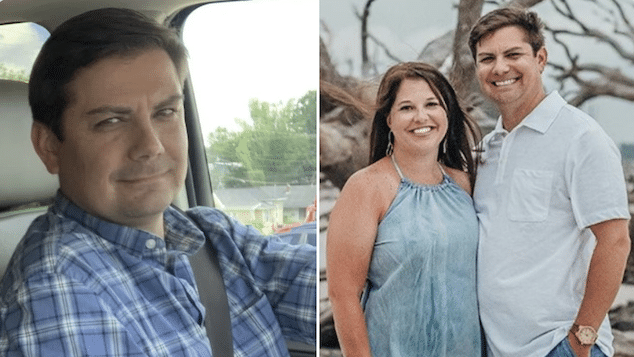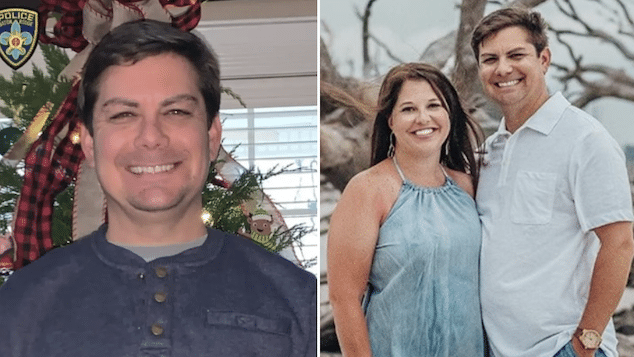 Nathan Millard missing Georgia dad of 5 found dead in rolled up carpet in Baton Rouge during business trip. Man's debit card was used twice following his disappearance. No arrests. 
The body of a Georgia father of five and executive who went missing during a business trip to Baton Rouge, Louisiana last month was found in a vacant lot and reportedly rolled up in a carpet that was covered in plastic.
Nathan Millard, 42, of Covington, GA. was found dead around 3:34 a.m. on Monday in the 2900 block of Scenic Hwy, about three miles from the pub he was last seen at, according to the Baton Rouge Police Department.
Millard, who was in the area to scout out a job site for the construction company he worked for, was last seen around 11:30 pm on February 23 at Happy's Irish Pub on Third Street in the downtown area.
His cause of death is unknown and will be determined by the East Baton Rouge Parish Coroner's Office. Police said his death is under investigation. 
Texas EquuSearch, a nonprofit dedicated to help finding missing people, began their search last week and offered a reward of up to $10,000 for the location of Milliard.
Deceased man's credit card was used after death
A spokesperson for the organization told 11Alive that police got a call from a passerby who called to report a foul odor in the vacant lot. 
Millard's remains were discovered rolled up in carpet, covered in plastic.  
The father of five from Walton County, Georgia, had traveled to Baton Rouge for what was supposed to be a 24-hour business trip. 
But after a Louisiana State University basketball game and drinks at the pub with his work client, Millard never made it back to his hotel room a short walk away. The room was reportedly not disturbed and he hadn't shown up to a scheduled meeting the next morning. 
Nathan's phone was reportedly found four blocks from the hotel. The man's credit card was used at least twice in the area following the father's disappearance.
Images from surveillance footage showed Millard leaving the Courtyard Marriott where he was staying that night with his work client. 
Millard's wife Amber previously told WSB-TV that he had FaceTimed her that night from the LSU basketball game. 
LATEST: This is where authorities found Nathan Millard's body this morning. Sources said the body was wrapped in plastic and rolled up in carpet.

More info here: https://t.co/wOPqyOe4Hg pic.twitter.com/pmhMSabkXk

— WBRZ News (@WBRZ) March 6, 2023
No arrests
She said there was no text from him when she woke up the next morning, which was unusual for the family man. 
Amber also said that police told her that they had surveillance video of a stranger withdrawing money from his debit card at the ATM near a Greyhound bus station.
Police said there is an ongoing investigation. No arrests have been made. 
'This is an ongoing investigation. Additional information will be released as it becomes available,' police said. 
Millard was a father to four teenage boys and a seven-year-old daughter, and was on the business trip to stake out a prospective job site for his Conyers-based company Advanced Construction.
Authorities are asking anyone with information about the case to contact BRPD's Missing Persons Division at 225-389-3853 or Crime Stoppers at 225-344-7867.