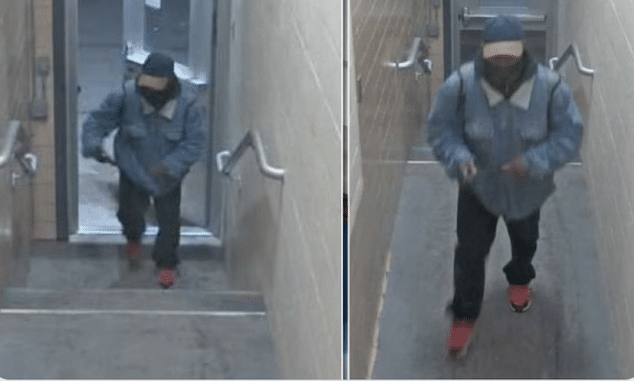 MSU mass shooting leaves 3 dead, 5 injured at hands of 43 year old black gunman who kills self at Lansing, Michigan campus. No connection to university. No known motive. 
'We didn't know where to run.' A gunman who opened fire at Michigan State University on Monday night, killing three people and injuring five during a mass shooting rampage across campus, was a 43-year-old man with no known affiliation to the college, police said.
The unnamed suspect killed two at Berkey Hall and one at the university union, before taking his own life shortly before midnight following a confrontation with police off-campus, in the city of Lansing. 
'We have no idea why he came to campus,' said Chris Rozman, the interim deputy chief of Michigan State University police said during a press conference. 
'He was not affiliated in any way with Michigan State University – he is not faculty or a student or staff.' 
Rozman confirmed that the five injured people remained in a critical condition in hospital with some of the wounded having life-threatening injuries.
*** POSSIBLY MISLEADING / NOT CONFIRMED ***

Unconfirmed video of the Michigan State University shooting suspect walking away from the scene. pic.twitter.com/MnUryUYDdr

— t 🇮🇹 (@diamondswet999) February 14, 2023
MSU gunman described as black, 43 and unaffiliated to Michigan State University 
He said police do not have information on the gender of the victims or whether they were students.
Marlon Lynch, chief of Michigan State University Police, announced at around 12:30pm that the gunman was dead. Little was made known about the suspect except that he was a black male, aged 43, short in stature, his face masked and wearing red sneakers a jean jacket and a ball cap that is navy with a lighter brim at the time of the shootings.
'The suspect was located outside of the MSU campus and has died from a self-inflicted gunshot wound,' he said.
'This truly has been a nightmare.'
Lynch said the shelter-in-place order had been lifted.
'This is the beginning of a long healing process for those affected,' he said.
'There are several different crime scenes that we are processing with our state and federal partners, and there is a lot of work to be done.'
Massive group of students at Michigan State run from a building as a large group of police rush toward the scene.

Multiple shooting locations reported. Suspect(s) still at large.pic.twitter.com/AoECEcohar

— Citizen Free Press (@CitizenFreePres) February 14, 2023
'We didn't know where to run to.' 
Chris Rozman, the interim deputy chief of Michigan State University Police, previously urged terrified students on campus to remain in a sheltered place as they hunt down the suspect – who was described as having a 'long gun.' 
The police chief urged everyone to stay away from the surrounding area and confirmed that all college activities will be canceled for the next 48 hours. 
Helicopters were seen overhead as the urgent search for the gunman continued during the lockdown, with FBI teams spreading out across the 5,200-acre campus. Students speaking to WXYZ told of being disorientated and not knowing where to run or where to flee as the crime scene involved a number of student halls. 
Rozman said the incident began at 8:18pm in Berkey Hall, on the East Lansing campus.
'We were quickly on scene, within minutes, and there we did locate several victims of a shooting,' he said.
'The incident did move to a building in close proximity – the Michigan State Union building, where there was another report of a shooting immediately after the report of the first incident.'
Pandemonium, fear and confusion
Rozman said there was 'an overwhelming law enforcement response' to the shooting. He said there was one suspect and he was 'last seen leaving the MSU Union on foot on the north side of that building.' 
It's currently unclear what route the shooter took – however initial reports said that shots were heard from different parts of the campus as the incident unfolded.
Just after 10pm – about one and a half hours after the active shooter alert – police confirmed that a series of buildings and dorms were cleared and secured. This included Brody Hall, Snyder Phillips Hall, Mason Hall, Abbot Hall, Landon Hall, the MSU Union, and Berkey Hall.
MSU said the suspect was on foot, and they believe the gunman is acting alone. 
A correspondent on the scene for Fox News 59 reported that people were being escorted from Berkey Hall, and they appeared to be bloody.
East Lansing Public Schools have notified parents of students that the K-12 schools in the district will be closed on Tuesday, while the Michigan State University shooting situation is assessed.
The university itself has also canceled all classes. 
Michigan State University is situated in East Lansing, three miles east of Michigan's capitol in Lansing.
Home to 50,000 students, it is located on one of the biggest and greenest campuses in the nation, spread over 5,200 acres.