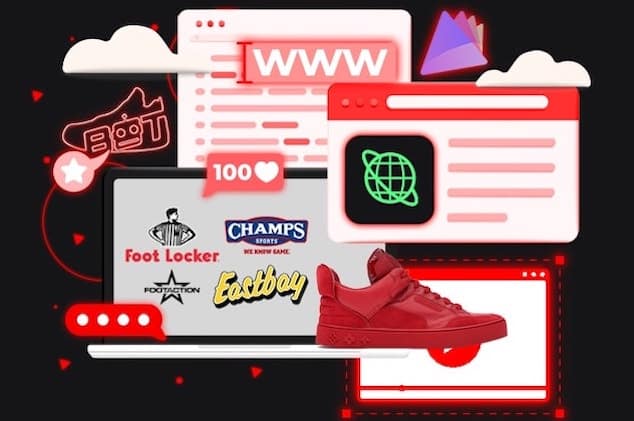 How to use footsite proxies to get limited edition sneaker releases: how sneakerheads & resellers use sneaker botting to get limited edition releases.
Do you ever find yourself scrolling through your Instagram feed and suddenly feeling the impulse to shop? Whether it's an ad for a new pair of sneakers or a piece of clothing, much of the content you see revolves around one central topic: fashion. Footwear is ubiquitous when it comes to style. With the sneaker industry at its peak, retailers are constantly trying out new ways to market their products and stand out from the rest.
An entire ecosystem is dedicated to getting consumers excited about sneakers, from collaborations to exclusive releases and everything in between. Let's take a look at an in-depth breakdown of how footsites are revolutionizing the sneaker market.
What Is a Footsite?
Footsites are a group of online retailers under the Foot Locker chain who understand the vast opportunity the sneaker craze brings. Most footsites have similar features, including the same release methods, bot security, and copping tricks. Footsites are a sneakerhead's best friend since they are well stocked with footwear and hold frequent release events.
Footsites are extremely popular with sneaker fans, especially in Asia and the US, where shoes are an increasingly important part of fashion culture. On a typical day, you might find most of your Instagram feed populated with a dedicated footsite's content.
Navigate Footsites Like a Pro
Getting your hands on limited-edition sneakers is the primary goal for any sneakerhead and reseller. These highly coveted shoes are a must-get for any sneaker enthusiast. Unfortunately, these rare items often sell instantly and have purchase restrictions, so you need a proper plan to get your hands on these ever-elusive kicks.
Have you heard of shoe or sneaker bots? You need this automated software application to purchase these rare sneakers. Shoe bots automate the purchase and check-out process, enabling you to buy these sneakers with ease. However, a sneaker bot is not enough – you need a reliable premium proxy, too. Proxies work in collaboration with sneaker bots, enabling you to navigate the footsites without worrying about geo-restrictions, purchase restrictions, and IP bans.
The Sneaker Marketing Basics You Should Know
If you are thinking about entering the sneaker reselling business, you need to know how to market your products. Marketing is essential to thriving in the vast sneaker business world. Get ahead of the game with these basics: 
Sneaker-Themed Instagram Captions 
If you use Instagram to sell sneakers, you should sprinkle a bunch of hashtags throughout the post. The most popular ones are #sneakerhead, #jordan, #sneakers, #nike, #kicks, #yeezy, #kicksonfire, #airjordan, #hypebeast, and #kickstagram. 
Take the time to engage with your followers. Leave some sneaker-themed comments on their feed.  
Exclusive In-Depth Articles 
One fundamental way to promote your products is by publishing exclusive in-depth articles dedicated to sneakers on your store website. 
Businesses focused on reselling sneakers have found a ton of ways to integrate influencers into their marketing strategies. One of the most popular is through collaborations, where famous people wear the shoes and post about them.
The Future of Footsites
Footsites have already become one of the most popular ways for sneakerheads to obtain their favorite footwear. By creating dedicated channels dedicated to shoes, brands are able to create content without competing for the same attention as other types of fashion. With the huge growth in popularity of footsites, it's easy to assume that the industry has reached a peak.
However, numbers show that the crazy is not slowing down. One of the most exciting things to come out of footsites is the integration of artificial intelligence (AI) and machine learning, allowing them to personalize content for each buyer. It's only a matter of time before AI becomes more prevalent across other marketing campaigns.
Conclusion
Just as fashion fads come and go, so do the sneaker trends. There is an endless amount of new designs in the pipeline, and retailers must stay on top of the latest trends in order to stay competitive. 
Sneaker bots and proxies have been a game-changer for sneaker resellers. Try IPRoyal proxies with your footsite bot when on a rampage to snatch up those snazzy limited-edition shoes. Your sneaker reselling business is only going to thrive with the best tools in the industry.