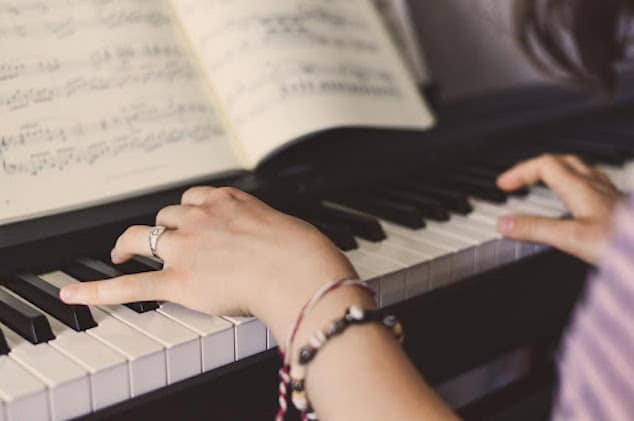 On how to become a great pianist: Beyond ongoing practicing, setting goals and benchmarks and making the time for playing the piano. 
The piano is one of the most popular musical instruments to ever be invented. Since around 1700 when an Italian named Bartolomeo Cristofori decided that he wanted more control of the levels of sound played, it has been a popular choice for budding musical talents. He took the basic harpsichord and removed the plucking motion by converting it to a hammer motion. This simple change created by one man began the long line of pianists that have changed the world of music as we have known it throughout the decades.
Learning the piano can be a challenging task if you are not focused and driven. This can be a huge challenge today because from the time that we wake up until the time that we go to bed we are all on the go. Mobile devices get picked up before we even get all the way out of bed, and they are by our sides throughout the day. This can make it hard to stay focused while practicing, but there are a few tips that can help you on your path to perfection.
Remove All Distractions:

Since we already touched on mobile phones we will start with that specific tip. When you are planning to sit down for a session on the piano you need to remove all types of distractions, including your mobile device. Put them all in a different room and leave them there until you are done practicing. They will still be there when you are done so you can check them then.

Posture:

Your posture is important in everything that you do, including playing the piano. You need to make sure that you sit up straight (no hunching over) and

keep your fingers in the correct positions

. It may seem like a good idea to keep your fingers where they are most comfortable for you, but you will find that it is hard to play the keys in the correct tones.

Easy Does It:

You want to take the time to warm up before you get into trying to master one of the more challenging pieces. Get some

easy piano songs for beginners

placed in front of you and play some of them. This will get your mind more focused upon the task, it will get you into the groove.

Length:

One of the biggest mistakes people make when playing the piano is spending too much time at it. Yes, the more you practice the better you will become, but there is a point when you are so mentally and physically exhausted that you take shortcuts to finish a task that you want to complete. This starts the learning of bad habits that can be hard, if not impossible, to break.

Set Some Goals:

Before every session you need to set some goals that you want to achieve before moving on with your day. The goals need to be within reach, but they must push you do to something better. Reaching your specific goals will allow you to reach the milestones as a pianist that you need to achieve if you want to master it.
These are some of the top tips that have been proven to help you along the path of becoming a great pianist. The more time that you spend practicing and reaching for your goals, the better you will play. You will come across some hard times, ones when you will struggle to hit the basic notes. Stay with it, though. We all have some bad days, but the only way to truly achieve excellence is to push through any problems that come up, find a way to prevent them from happening again, and focus on the task at hand.