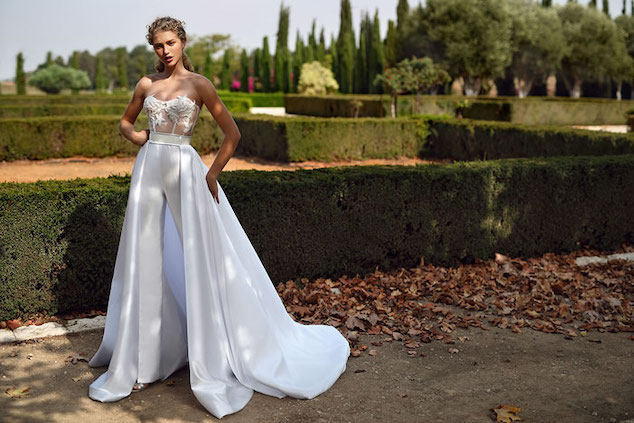 Top 5 Most Popular Models of Wedding Dress For Brides: From Jumping Wedding Dress,

Ball Gown Wedding Dress, Mermaid Wedding Dress, the A-Line & Fit and Flare.
When it comes to wedding dresses, the choices are thousands. This makes the selection process exciting at first – and then incredibly tiresome and frustrating as you try on one dress at a time. This is why narrowing down your choices to a manageable dozen is a priority for most brides. Narrow it down some more by checking out some of the most popular wedding dress models today:
Jumpsuit Wedding Dress
A jumpsuit isn't exactly a "dress" but it's becoming more popular for the forward-thinking brides out there. Solange Knowles' wedding suit is the perfect example as the clean and sleek lines flatter the figure. Brides who prefer a more active wedding or just want to be comfortable during their special day will find jumpsuits the perfect choice to keep things balanced. Accessories, embellishments, and patterns can be added to the suit to create a more festive feel for the bride.
The jumpsuit wedding dress can also be designed with an attachment dress that can be fastened around the waist to create a gown feel. For example, with Justin Alexander dresses, brides can wear the bottom half for a more traditional look and then just take it out during the reception to better participate in the festivities.
Ball Gown Wedding Dress
Brides who want to feel like Cinderella on their wedding day won't go wrong with the ball gown model. It cinches the waistline and then flares into layers of fabric, creating the illusion of a much smaller waist. No less than Princess Diana herself wore this style of wedding gown. Kate Middleton – now the Duchess of Cambridge, opted to have the same style for her wedding.
Mermaid Wedding Dress
Those who have curves and are not shy of flaunting them should choose the mermaid wedding dress. Think Beyonce or Kim Kardashian as the dress fits snugly on the breasts, waist, and hips – creating a figure-eight silhouette and which will keep nicely among guest wedding photo albums. It nips at the knees and usually flares outward for that added wow factor. The only problem with this model is that it's not very easy to walk in as the dress keeps the legs close together. Kim Kardashian's wedding dress for her first marriage followed a mermaid style.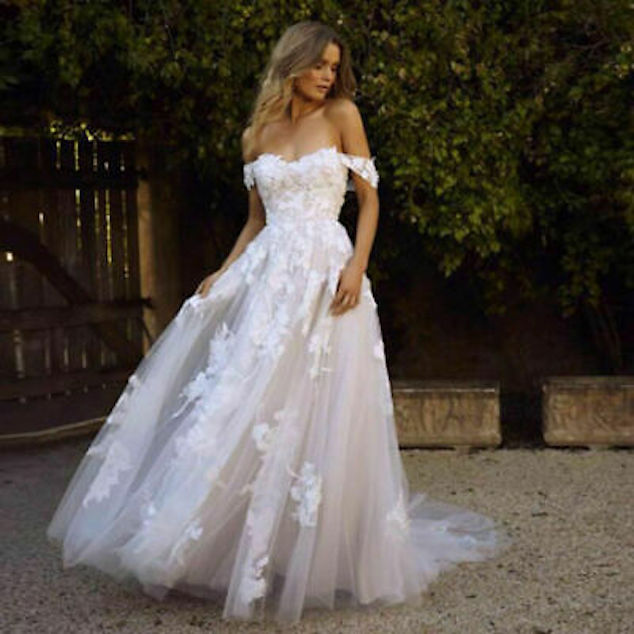 A variation of the mermaid wedding dress is the trumpet style which is a bit more forgiving in its fit. While the mermaid dress flares only at the knees, the trumpet can start to flare somewhere around the bottom thighs. This still creates a figure-8 silhouette but gives the bride more room for movement.
The A-Line
Those who aren't sure about their body type find the A-Line to be a safe medium. It creates an "A" shape and has a flare from the waist that's not quite as excessive as a ball gown. It's a favorite because it flatters all body types while still making it very easy for the wearer to move. Priyanka Chopra wore an A-line wedding dress for her Christian wedding ceremony with Joe Jonas.
A notable contrast to the A-line is the sheath dress which fits around the bust and waist before falling straight down to the floor. There's very little flare in there and also zero volume. Brides who wear this are looking for simplicity and comfort on their wedding day. It's a great fit for women who want to be slim and sleek with minimal fuss.
Fit and Flare
Finally, you have the fit and flare wedding dress, which is very forgiving along the hips and thighs area. Brides who want to show off their bust and create a cinched waistline will love this particular style – especially if you're also a little flat on the backside area. For a more dramatic effect, the fit and flare is often partnered with a plunging or a deep neckline. A definite advantage of this dress is the fact that it lets the bride move freely throughout the wedding and reception.
These are just five of the most popular wedding dress models in the market today. Don't be swayed by what's popular, however – your choice of a dress depends on what makes you feel like a bride on your wedding day. Try on different designs and give yourself time to reflect before choosing one.