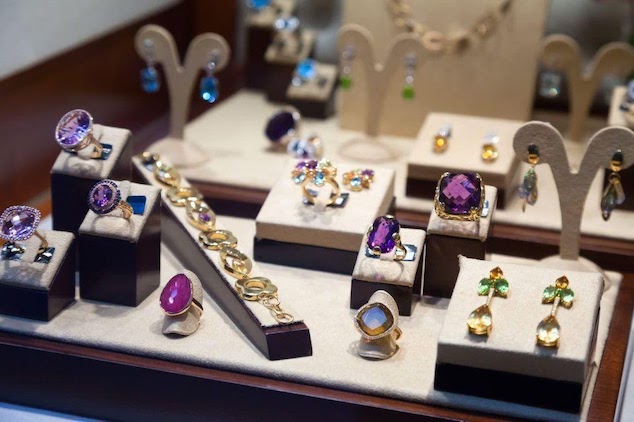 Choosing the best jewelry: Research you ought to do before buying expensive jewelry- a check list guide for consumers when shopping diamonds, colored stones, gold, silver, pearls & fine jewelry. 
Buying a piece of jewelry is always exciting and empowering. But it can be stressful as well, especially if you don't know what to pay attention to. You can come across a lot of traps and challenges. 
Before you go shopping, think what jewelry you would like to purchase, make your research, read customer feedback on review websites, e.g PissedConsumer.com, check the jewelry story rating on BBB, and start with reading this guide to get comprehensive information on how to pick the perfect piece of jewelry as well as basic rules to follow when buying jewelry.
Top 5 Tips to Shop For Jewelry
There are some basic rules to bear in mind so that you never go wrong in buying luxury jewelry.
1. Colored stones are treated – Period
You won't find a "natural"-colored gemstone in a jewelry store or set in a piece of finished jewelry (the piece that has been assembled completely). There are natural pearls however, they are extremely rare. In fact, many of the natural pearls bought from auction houses and respected jewelry stores are cultured pearls. So, if you want to buy pearls, you should definitely see a certificate of authenticity from an established business that specializes in natural pearls.
The same applies to gemstones – treated ones (that have been injected with colored glass or silicon, or irradiated (a technique to treat stones)) are sold as untreated, which makes them more expensive,. To guarantee that the gemstone you are purchasing has not been treated in any of those two ways, insist on full disclosure about how the stone got its color (get everything on paper), and ask to have the stone appraised by an independent expert first. If the disclosures are inaccurate, you should be able to return the stone.
2. Inspect Set Stones Carefully
Stones under half a carat are usually set in a piece of jewelry. Before you inspect the piece with your naked eye and then with a loupe (some sort of magnifying glass), though, it is important to have it cleaned first. If the stone is large, ask the jeweler to pull it out for you. Most flaws (i.e. cracks and chips) are hidden under the prongs. Also know that jewelers use metal to improve the quality of their pieces, or hide their flaws.
Most of the times, a brownish diamond is set in yellow gold prongs to make it look like a canary. Also, a stone completely wrapped in metal (aka bezel-set stone) is usually falsified in terms of proportions, weight, and color. So, if the jeweler refuses to pull the stone for you, it's better for you to leave. If you are buying a designer or antique piece, the jeweler may say that removing the stone will spoil the integrity of the ring. Not true. A stone set in a bezel can be re-inlayed by an expert jeweler.
3. Buy 18-Carat Platinum or Gold – Always
It is very easy to fake a stamp of a metal type (i.e. stamp that says platinum (Pt) on white gold or 18-karat on 14-karat gold), carat weight, or a designer's signature. To see if you are presented with the real thing, weigh a platinum piece in your hand. If there is a similar piece in white gold, ask for it too.
The white gold should be a tad yellower, shinier, and lighter than platinum. Be very careful when buying a one-of-a-kind piece like a Tiffany. The craftsmanship of such fine pieces is extremely elaborate and leaves no room for imperfections. Inspect the piece under a loupe. If you notice crudeness or lack of attention to detail, stay away.
4. Give Pearls a Whirl
Diamonds are certainly nice but very expensive. Being more affordable, pearls represent an iconic compliment to all styles and beauty. They come in three grades: natural, cultured, and imitation. Forget natural pearls – they are considered to be the rarest and hard to find. But even if you could find them, they wouldn't be worth the sky-high price. The cheapest option are imitations. They are usually plastic and resemble nothing of the real item.
So, the best option is cultured pearls. They are farmed and cultivated in a wide variety on the market. Looking for a nice strand of pearls, pay attention at their luster, sheen, and smoothness of the surface. The larger pearls, the costlier they will be. Cheaper pearls are usually dull and cloudy. It is better to avoid them.
5. Silver is Always on Trend
A lot of people do not even consider silver jewelry being taught to shop for gold only. But it is a mistake since silver is timeless. Any outfit will look good with silver. You can use different colors because silver will be a fair much for any color you choose. Moreover, silver provides a stronger contrast to a number of gems like topaz and amber.
So, beauty may favor silver. Sterling silver is very strong, and it requires minimum maintenance. Shopping for silver jewelry, you should make sure that it is clearly tagged with the carat weight. Buy silver only from a reliable jeweler that can provide you with guarantees in writing and all required certificates.
In you are buying an expensive piece of jewelry it's better to do your research first and ask for certification. We hope that above mentioned tips were useful and would enjoy a chosen jewelry for many years.