Sports Management Major:  Understanding what an education in that major entails, along with career choices & opportunities.
What Is Sports Management?
Managing any form of business that has something to do with recreation and sports is what sports management is all about. Facility management, sports team marketing, financial matters, sports economics, and other roles and areas are what sports managers work with. A rapidly growing enterprise, the sports industry offers many opportunities for determined professionals.
In America alone, the sports industry rakes more than $700 billion annually, when sporting events, sporting goods, apparel, equipment, and health and fitness spending is included.
Here, we will discuss the things you need to know before taking on a sports management major.
So, Why A Sports Management Degree?
Offered at the associate, bachelor, master, and doctoral level, degrees focus on the legal, financial, marketing, and management aspects of organizations revolving around the sports industry. The skills you learn in one area also become applicable to other sectors of the economy. Thus, making one very versatile, regardless if these degrees are focused on the sports industry.
A degree allows you to take steps towards building a variety of career choices. A lot of jobs are readily available to fit the needs and interests of students. Not only will you become an individual working in a professional field, but you will also get to work on something that you are completely passionate with. 
What Should One Expect From A Sports Management Career?
You must make sure that you understand your goal. The careers that graduates can take are numerous. Social media, public relations, business management, sales, analytics, and business development are only some of the jobs that a sports management graduate can pursue.
Not because you graduate with a degree in sports management means that you are on the fast track as a general manager of your favorite team – this is actually one of the many misconceptions regarding the program, but earning one allows you to work closely with scholastic, aspiring, and professional athletes, coaches, sports businesses and startups, fitness and health organizations, and so much more.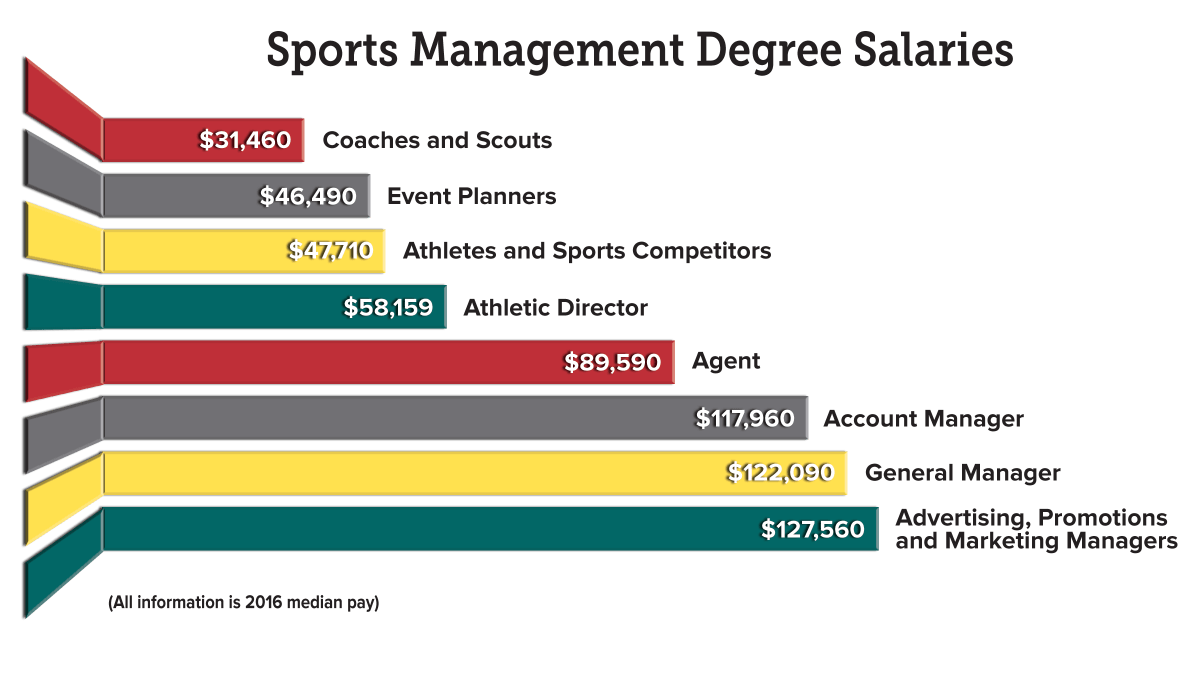 What You Can Do With A Sports Management Degree
A lot of doors will be open for you once you graduate, but what you really do with your degree is totally up to you. You will have plenty of options because what you will learn also applies to businesses that encompass the field, as well as those that are not entirely sports-focused.
One of the many popular career vocations is being a sports agent, which many students dream of taking on. And if that is not what you are aiming for, there are other business-related professions that you can take. Some of them include:
·        Athletic Director
·        Event and Facilities Coordinator
·        Sport Lawyer
·        Sales Manager
·        Promotions Specialist
·        Contract Negotiation Manager
·        Sports Management Professor
How Long Will It Actually Take?
Associate degree programs are those that provide entry-level opportunities and usually take two years, while bachelor degree programs take four years, including an internship experience for hands-on learning, and master's degree programs or MBA's generally require one or two years. So, the time you can complete your sports management degree totally depends on the level of dedication you are pursuing.
Online formats, which are flexible, have now also been made available for these programs. Finding an accredited program is very important should you choose to go online, for an accreditation ensures that high standards are met by professors and the sports management courses are of quality and up to date. 
Let's Talk Costs
Institutions can either be private and or public and depending on the type of institution you attend, the cost of degree programs may vary. Regardless if the school you attend to is an online program or a traditional classroom, choosing an accredited one also gives you the opportunity to apply for a financial aid.
Can I Join Sports Management Associations?
Of course, you can. Showcasing your experience and expanding your professional network are just some of the things that you can do once you get to join a sports management association, and you don't have to worry – there are a lot of associations out there. And these associations also have their own fields of expertise – some hold meetings for professional marketers so they can get to know each other even better, others conduct new research and analyze the techniques of established professional teams, and some associations share information, offer extensive leadership and management training for their members, and perform network handling. 
So there you have it. Some of your sports dreams may be in the rear view mirror, but a degree in sports management can shed you some light and a world of opportunities come with it. Even if it feels like the world may be against you, don't you dare give up at all on those buzzer beaters and pep rallies of yours.