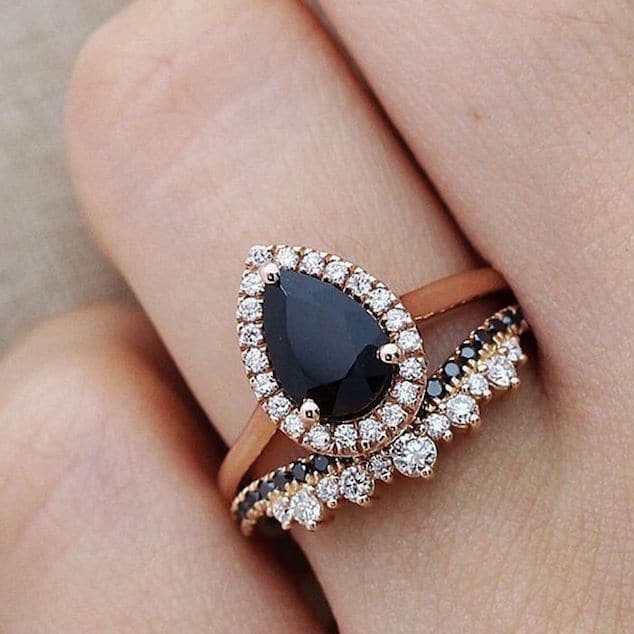 Black Diamonds: What makes them different from other diamonds, how to choose them, and how they continue to be embraced as accessory jewellery items. 
Black diamonds are a unique coloured diamond choice. Their stunning beauty and elegance make them a favourite for crafting exceptional jewellery for both men and women. Black diamonds can be work for various occasions, from a wedding or birthday to your own personal milestones and celebrations. As we begin in 2020, there is a renewed interest in the roaring '20s style. What better way to accessorize your flapper dresses, cloche hats and, black jewellery.
They offer elegance and sophistication that is unmatched. 
The Colour
Natural black diamonds, much like other natural coloured diamonds, get their unique colour from mineral contamination during their formation. Diamonds are formed under intense pressure at a depth of 150-200 kilometres below the ground, at temperatures ranging from 1,000 to 2,000 degrees centigrade over millions of years. Black diamonds owe their distinctive hue to small amounts of graphite and amorphous carbon.
Exceptionally rare, noir diamonds are also the toughest and oldest of the coloured diamonds, having formed around 3 billion years ago.
Unique gift ideas
Black diamonds can be incorporated into a variety of unique and interesting jewellery styles. 
Engagement rings 
Black diamond engagement rings have been consistently growing in popularity. The unique colour speaks to a lot of people and celebs as well. Think of Kat Von D, Carmen Electra, and even Carrie Bradshaw, the main character on Sex and the City wears these mysterious jewels. 
There is a reason the black diamond is said to symbolize flawless and unending love.  Many people love breaking the rules about wedding rings, consider the following styles:
Eternity band with black diamond accents

Colourless diamond ring with black accents

A black diamond piece with other coloured diamonds

Vintage look…Art Deco
With all the romance of our favourite black-and-white movies (new and old), sparkly yet opaque black diamonds bring a high-contrast look to custom jewellery. Use black diamonds for that show-stopping statement piece. We love this versatile stone for gifts as well. If you know someone who loves black diamonds, consider buying them the following:
cocktail rings

Black diamond earrings

stacking rings

dramatic pendants

Black goes with everything so you can match or mismatch different pieces and they will all work for a true one-of-a-kind look. 
Men's jewellery and accessories 
Let's not leave out the gents. The diamond gem can be incorporated into men's jewellery and accessories, giving a subtle elegance and refinement. A few ideas for the elegant gentlemen in your life
Cufflinks

Tie clip

Cigarette case (for e-cigarettes….of course)

Pocket watch

How to Choose Black Diamonds
Unlike colourless diamonds, black diamonds do not follow some of the 4 C's: colour, clarity, cut, and carat. Since they are opaque clarity is not relevant nor are they meant to refract light. So what you are looking for in a black diamond is uniformity.
When choosing your diamond then always ask to see a certified workup of the information of the diamond. This should come from a well-reputed source such as the GIA, the international standard for gems. This certificate will verify that it is indeed, an authentic black diamond. It will also state the carat or weight of the diamond, colour, clarity, and cut. The cut is important for a black diamond and will be different than the cut of a colourless diamond. Colourless diamonds must be cut in a way that refracts while coloured diamonds should not be cut the same.
Take Away 
If you are looking for an exceptional piece to add to your jewellery collection, black diamonds offer timeless elegance and mysterious beauty unmatched by any other stone. Black diamonds lend themselves to the Art Deco elegance of the 1920s era and offer so many unique and glamorous options.