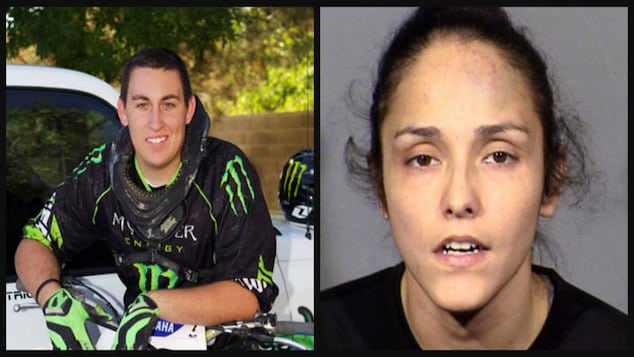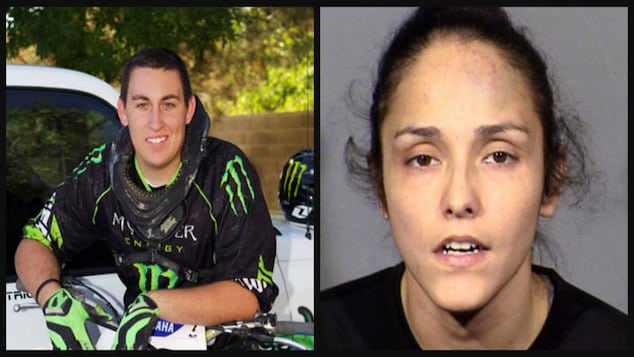 Las Vegas woman,

Grissel Gonzaga charged w/ murder after stomping on her ex girlfriend's new boyfriend and stabbing him to death with tweezers. 
Love triangle gone wrong. A Las Vegas woman has been charged with murder after allegedly barging into her ex girlfriend's home and stabbing her ex girlfriend's new boyfriend to death over the weekend.
Police say Grissel Gonzaga, 29, broke into her ex-girlfriend's Las Vegas home and found her in bed with her new boyfriend on Saturday. The intrusion occurred despite Gonzaga and her ex-girlfriend having broken up a few months prior.
Police said Gonzaga forced her way into the home just before 5am Saturday morning through a sliding glass door – where a 'struggle ensued' when she found the couple together.
Gonzaga previously sentenced to a 90-day suspended sentence after beating ex girlfriend
KLAS-TV reports that Gonzaga's ex-girlfriend, Alexa Incadella, said she was punched in the face and stabbed with a long bread knife. Incadella also reportedly said her boyfriend Travis Smith was stabbed with a pair of tweezers and suffered head injuries.
The Associated Press reports that Gonzaga allegedly stabbed Smith with a sharp object similar to tweezers, choked him and stomped on his head after the man passing out. 
Smith passed away shortly after at the St. Rose Dominican Hospital in Henderson. Incandella was treated for her injuries and is expected to survive.
Gonzaga also allegedly destroyed a fishbowl, an iguana aquarium, a television set, some potted plants, and her ex's car windows before running away on foot, the Las Vegas Sun reported.
Gonzaga had apparently been sentenced to a 90-day suspended sentence for previously beating Incandella according to Las Vegas Justice Court records.
Police arrested Gonzaga and charged her with murder, burglary, and domestic battery, according to online court records. She remains held at the Clark County Detention Center without bail.