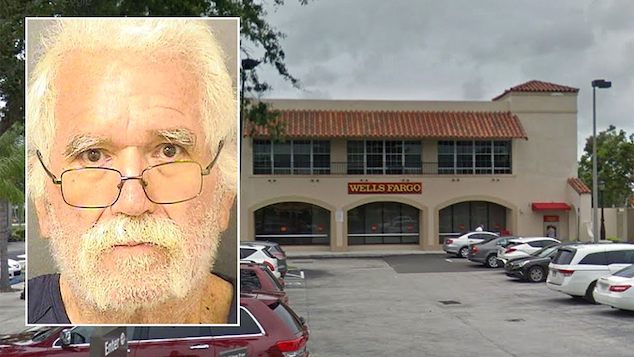 Sandy Hawkins Boca Rotan bank robber demands teller give him less money during stick up. Readily surrenders to police when they arrive at his home.
A Florida man who allegedly robbed a bank while donning a 'Make America Great Again' shirt received far more money than he demanded — leading to the stick up man demanding the teller give him a smaller amount of cash.
Sandy McBain Hawkins, 73, was arrested Tuesday following the alleged robbery that unfolded at a Wells Fargo in Boca Raton around 11:30 a.m. Monday, police said.
Hawkins, told the teller he had a weapon and said 'This is a robbery,' WPLG reported.
The seemingly Donald Trump supporter demanded $1,100, only for the teller to count out $2,000 in $100 bills. Hawkins, according to a probable cause affidavit 'told him it was too much' and again demanded $1,100.
The teller then slid $1,100 through the window and Hawkins took it and left, investigators say.
Desperate measures, desperate relief:
Hawkins was discovered after the manager at a nearby sports bar he frequented identified him. When Palm Beach County sheriff's deputies went to his home on Tuesday, he reportedly confessed and told them, 'I will make this easy.'
He apparently handed them a bank deposit slip that read: 'Give me $1,100. Now, No Alarms, Hope to get caught.'
Hawkins' old landlord, Scott Vail, described the tenant as an 'affable kind of person' who 'probably reached some kind of breaking point' when his wife died of cancer in 2013.
The man had 'worked for years' in the air conditioning industry prior to his retirement.
Not immediately understood what options were availed to Hawkins who presumably was dealing with grief or mental health issues.
Hawkins has since been charged with one count of unarmed robbery and booked at the Palm Beach County Jail. He remains in custody in lieu of a $50,000 bond. He has no prior criminal history.