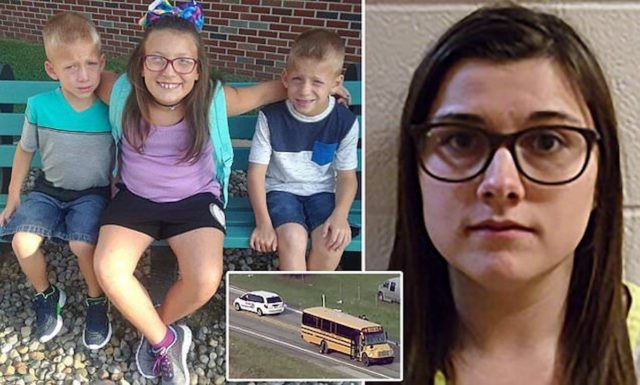 Alyssa Shepherd Indiana school bus crash driver found guilty of reckless homicide in the deaths of three sibling children. Accident or reckless driving? 
An Indiana woman was on Friday found guilty of three felony counts of reckless homicide after crashing into four young children crossing the street towards a school bus stop, instantly killing three of the four infants.
Alyssa Leigh Shepherd, prosecutors say, was driving a pickup truck that struck and killed twins Xzavier and Mason Ingle, both 6, and their sister Alivia Stahl, 9, and also critically injured Maverik Lowe, 11, as they crossed the highway north of Rochester on Oct. 30, 2018. Lowe, who's still recovering from his injuries, has had more than 20 surgeries since the crash, Indy Star reports.
Shepherd, 24, along with being found guilty of reckless homicide by jurors was also found guilty of a felony count of criminal recklessness and a misdemeanor count of passing a school bus causing injury when the arm is extended. The mother of two young children faces up to 21-and-a-half years if given the maximum amount on each count.
The four children were crossing the highway to board their school bus near 4600 North Ind. 25 about 7:15 a.m. when prosecutors say Shepherd blew by a stopped school bus. The road was dark, but prosecutors said the bus lights and stop arm were clearly visible.
Whether Shepherd was behind the wheel that morning was not being disputed, according to statements made from the defense and prosecution during the trial. Jurors instead decided whether Shepherd's actions were reckless or simply accidental.
We're hearing from Alivia Stahl's father moments after the guilty verdict in the Alyssa Shepherd trial. pic.twitter.com/ysheToUNs1

— Brenda Koopsen (@BrendaKoopsenTV) October 18, 2019
Defense blamed location of bus stop sign: 
'The thing that makes me sick here,' Fulton County Prosecutor Michael Marrs said, 'is that this never should have happened.'
The parents of Mason and Xzavier, Shane and Brittany Ingle, and Michael Stahl, Brittany's ex-husband and Alivia's dad, told reporters after the verdict that they were relieved, and have no sympathy for Shepherd, who they believe has shown no remorse for the crash.
'I don't think we'll ever feel closure,' Brittany Ingle said. 'But this will go toward healing.'
Shepherd's lawyer, Michael Tuszynski said there was no evidence of drugs or alcohol in his cliient's system. The attorney during trial proceedings placed blame on the location of the bus stop, which required the children to cross the highway to board the bus.
'The idea that it was okay to make those kids cross that busy road to get on a bus, rather than move the stop into the (trailer) park, is absurd,' Tuszynski said.
Alyssa Shepherd faces three counts of reckless homicide and other charges in the Oct. 30, 2018, crash that killed three children and critically injured one. https://t.co/ZdfEbdkoDu

— WFFT FOX 55 Fort Wayne (@FOX55FortWayne) October 18, 2019
Changes in aftermath of Indiana bus stop tragedy:
The Tippecanoe Valley School Corporation announced shortly after the crash that it would relocate the bus stop into the trailer park where the students lived. Superintendent Blaine Conley testified Friday that the park had previously been considered for the location. But officials were worried that the school bus could potentially hit children in the area due to poor lighting.
The crash led to statewide changes, prompting the Legislature to increase penalties for drivers who illegally pass stopped school buses. Shane and Brittany Ingle spent several days at the Statehouse this past year lobbying for the changes.
The victims' family told reporters that Friday's verdict was important for everybody, not just her children, because it reinforces the importance of driving safely near school buses.
But the family noted somberly that neither the verdict nor the sentence will bring their three children back.
'They didn't even get time to enjoy life,' Brittany Ingle said. 'She totally stole their lives.'