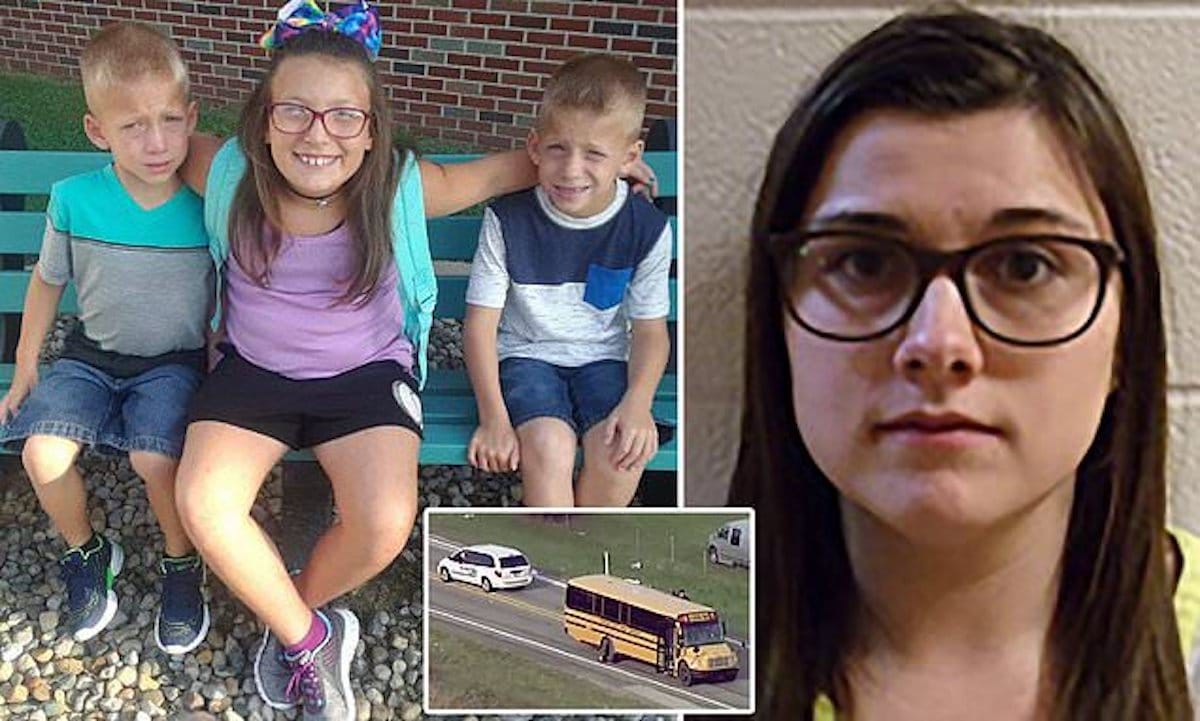 Alyssa Shepherd: Rochester, Indiana 'reckless' driver charged with school bus stop deaths of siblings, 

Xzavier Ingle and Mason Ingle and their sister, Alivia Stahl. 4th child in critical care. 
Three Indiana siblings have been stuck and killed and a fourth injured, by a passing truck while boarding a school bus in Fulton County.
The crash took place at 7.30am on Tuesday in rural Rochester on a two-lane road near 4600 N. State Road 25.
Indiana State Police in a released statement said the children were struck as they boarded their school bus which had its stop-arm activated while temporarily parked, when a truck traveling in the opposite direction, 'tragically' hit the group. 
The three children who died at the scene were from the same family. They were identified as six-year-old twin boys Xzavier Ingle and Mason Ingle and their nine-year-old sister Alivia Stahl.
An 11-year-old identified child, Maverik Lowe was airlifted to Fort Wayne Hospital suffering multiple broken bones and injuries. The boy wasn't related to the three deceased siblings. WNDU reported the child being conscious. 
The driver of the pickup truck, mother-of-two, 24-year-old Alyssa Leigh Shepherd was arrested and charged with three counts of reckless homicide and one count of passing a school bus and resulting in bodily injury.
ABC News reported Shepherd being taken to the Fulton County Jail and released Tuesday night on a $15,000 surety bond.
'Reckless' driver convicted in Indiana bus stop crash killing 3 children
DEVELOPING: Three children from the same family were killed and a fourth student was injured after they were hit by vehicle while boarding a school bus in Rochester, Indiana, with aerial footage showing a damaged pickup and first responders on the scene. https://t.co/vOBwz9KdAS pic.twitter.com/BT5dyraJ0e

— World News Tonight (@ABCWorldNews) October 30, 2018
We've just learned this woman, 24-old Alyssa Shepherd, is facing three preliminary charges of reckless homicide in a crash this morning that killed three children walking to the school bus. Another child is undergoing surgery at a Ft. Wayne hospital. @WLFI pic.twitter.com/KVIRM1qxgN

— Trevor Peters (@TrevorPetersTV) October 30, 2018
UPDATE: Alyssa Shepherd, 24, of Rochester, IN charged with 3 counts of reckless homicide in the deaths of twins Mason & Xzavier Ingle, 6, and Alivia Stahl, 9. Police say Shepherd was the driver of the pickup that killed the siblings while boarding a school bus pic.twitter.com/sjEN6wGVTH

— Sean Lewis (@seanlewiswgn) October 30, 2018
Rochester siblings uncles finds fault with school: 'They'd been warned before'. 
Authorities said the bus was heading northbound and the truck heading southbound. Police said it's wasn't immediately clear if the pick up truck was speeding. 
The bus driver has been named as Robert Reid. 
Police confirmed that three other children were on board the bus at the time.
The area where the crash happened is in the Tippecanoe Valley School Corporation. Police confirm the deceased siblings attended Mentone Elementary School in nearby Kosciusko County.
'This school has been warned, this has been an issue, we have said this before,' the siblings uncle Elgin Ingle said via WNDU. 'They've made complaints, other parents. It's not safe to walk a child across a highway, especially at that time because everyone's going to work at that time.'
Sgt. Tony Slocum called the accident a 'terrible tragedy'. 
'They were standing on the west side of the road getting onto the bus, which did have a stop arm activated as required by law and unfortunately, for whatever reason, the person failed to stop and caused three fatalities and at least one injury at this time,' he said to NBC. 
'I haven't seen first responders and troopers cry in a long time,' Slocum added.
'When the children's father had to make identification of his children, that was just gut-wrenching. We saw tears today and our hearts just go out to them because most of us have children and we can't imagine the pain that he felt today. It was heartbreaking It's still heartbreaking.'
'We all have a responsibility to make sure our children get to and from school safely,' Slocum said. 
'When we're traveling in the early morning hours and early evening hours we've got to anticipate school buses are going to be out. When those stop arms are extended, by law, you are required to stop. This is the exact reason why. We don't want another family to have to go through this.' 
Aerial footage revealed the pick-up truck suffering heavy damage to its front and hood. 
Shepherd, who was behind the wheel of the pick-up truck stayed at the scene and is being interviewed by police. It's not clear why she zoomed passed the bus which had its stop arm extended.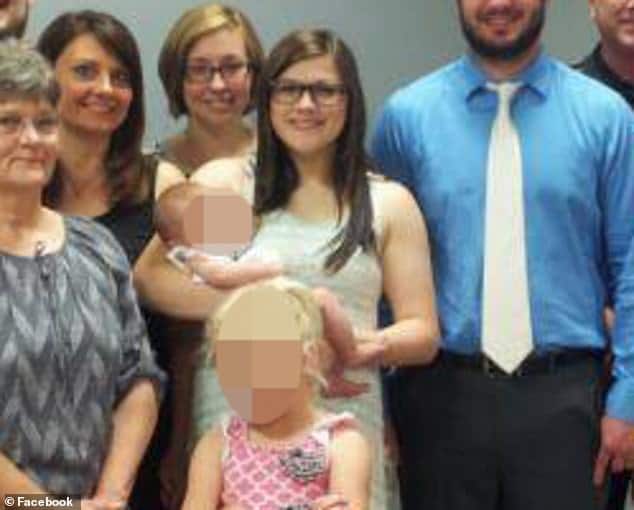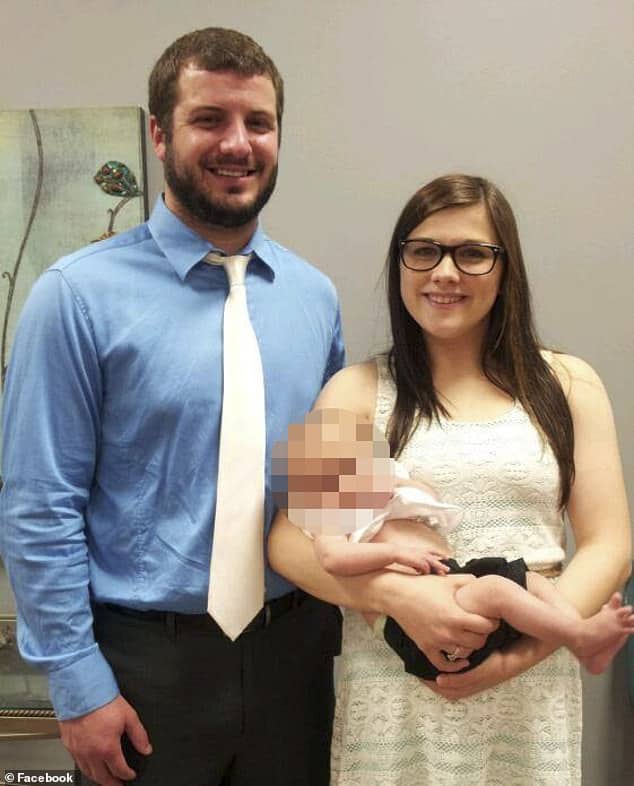 Alyssa Shepherd mother of two who works as a children's director at faith center:
ABC reported Shepherd being the mother to two young girls herself, who worked at the Faith Outreach Center in Rochester, Indiana as the Children's director.
Of note locals claiming drivers frequently driving over the limit along the rural road in the area. 
The Tippecanoe Valley School Corporation, which runs the area where the crash took place, released a statement following the incident.  
'Our school corporation has suffered a tragedy this morning. We have learned of three student fatalities and one student seriously injured and airlifted to a Fort Wayne hospital as they were hit by a vehicle while boarding their bus. 
'We have deployed all school counselors to meet the emotional needs of our staff, students and parents. We are awaiting to learn more confirmed details but wish to ask the community to come together to pray for the families, our students and our staff.' 
Tuesday's tragedy has been cited as the worst U.S. school bus accident since November 21, 2016, when six children were killed in Tennessee as a bus driver was going 50mph on a narrow road and lost control of the wheel.
24-year-old Alyssa Shepherd has been charged in the deaths of three children who were struck and killed this morning at a school bus stop in Indiana, police said.https://t.co/lp1KZ8KUOy

— ᴄʜɪʟʟ (@TheChiIIum) October 30, 2018
Maverik Medical Bills and Relief https://t.co/aMURztdSnc#Rochester #Indiana #FultonCounty #GoFundMe

— Troy Rudd (@troyrudd) October 30, 2018