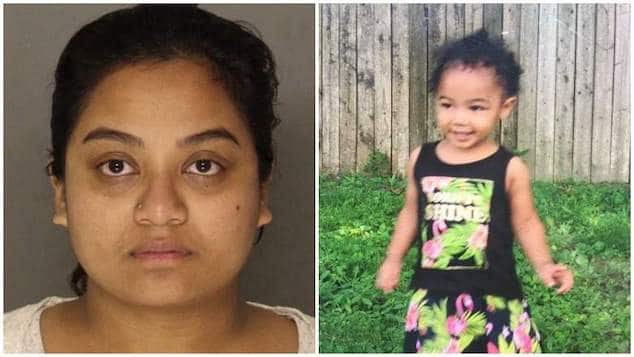 Pittsburgh woman, Sharena Islam Nancy Uber driver charged with kidnapping as Penn Hills, PA child, Nalani remains missing after father's claims of abduction after car ride. 
### 9.20Pm Update: State police and the FBI have discovered the body of abducted toddler Nalani Johnson during a search in Blairsville. The child's body was discovered after the girl's father claiming a ride-share driver taking his daughter after alighting from a ride.
An autopsy is now scheduled for Wednesday to determine how the girl died.
### 2.20pm. Original story: A Pittsburgh, Pennsylvania area woman has been charged with kidnapping after cops allege the woman driving off with a toddler girl over the weekend and triggering an Amber Alert.
Nalani Johnson, who turns 2 this month, was reported kidnapped in Penn Hills on Saturday, police said. The child has yet to be accounted for KDKA reported. 
The Amber Alert described the child allegedly being abducted by 25-year-old jitney driver, Sharena Islam Nancy.
The child's father, Paul Johnson, told cops Nancy, who doubles as a ride-share driver with Uber and Lyft , taking his daughter after giving them a ride. Johnson said upon getting out of the car and going to get his daughter out of the car seat, Nancy speeding away with Nalani and Nalani's car seat, leaving him and a friend behind.
Johnson told detectives he tried calling the driver's cellphone multiple times, only for Nancy to never pick up, with the father calling 911 around 5 p.m. ET.
Sharena Nancy was arrested later Saturday, cops said. Neither the girl or the car seat were found at the time of her apprehension, circa 7.30p.m. 
'When Ms. Nancy was stopped by the Penn Hills Police on Saturday evening following the abduction of Nalani, the car seat was not located within the vehicle,' Allegheny County police said Monday.
Nalani remains missing and the FBI is assisting in the search.
Do Sharena Nancy and missing child's father know each other? 
The Pocono Record quoted a criminal complaint in which Nancy alleged during police questioning that Johnson sold his daughter for $10,000.
The complaint said Nancy told her interviewers that Johnson instructed her to drive Nalani to a woman '20 minutes' from a gas station in Monroeville  who would then take her.
Nancy told detectives she did what she'd been instructed and encountered a silver SUV with out-of-state plates parked on the side of the road before told to pass the toddler and the carseat over to a woman standing next to the car. Nancy told police she also saw a second woman inside the SUV.
Nancy said she then drove around, smoked cigarettes and talked on the phone with her husband, according to a criminal complaint.
Johnson on Monday denied the allegations and declined to comment further, the paper reported.
Johnson's mother, Taji Walsh, told KDKA that Nancy made up the whole story.
'The things that she indicated in her arrest record, which is public knowledge, are unfounded,' Walsh claimed.
If her son were involved, she added, 'he wouldn't be walking freely, he'd be locked somewhere up like [Nancy] is.'
Johnson has not been charged.
Nancy's husband, MD Raihan Uddin, told KDKA that his wife didn't take the child — but claimed she knew Johnson.
'News says Paul Johnson doesn't know Nancy, but Penn Hills detective told me they knew each other and Paul's family members told me he knew Nancy since March…,' Uddin told the station in a Facebook message.
Nancy is being held on charges of kidnapping of a minor, custodial interference and concealment of the whereabouts of a child.
Uber says no one with Nancy's name used the app over the weekend, while Lyft said the incident did not happen on its platform, while describing the allegations as 'very disturbing.'