Karen Turner South Africa luxury resort murder. Hluleka Nature Reserve stabbing attack underscoring increased crime & violence in nation imploding from within. 
A 3 month pregnant woman has died after being hacked to death in her bed earlier this week during a 'family get-away' at a luxury South African vacation resort. The 'vicious' murder is the latest instance of heightened violence against women and the dizzy discord that increasingly manifests affairs in the nation. 
Karen Turner, 31, according to local media reports was sleeping with her husband, Matthew, 33, and their toddler son when they were attacked at about 3 a.m. Tuesday.
Matthew was stabbed repeatedly as he lay beside his wife at the Hluleka Nature Reserve in the Eastern Cape province of the country. 
The 'incident' occurred after two men armed with knives were able to clandestinely make their way into their self-contained lodge overlooking the beach, local tourism officials said. 
Karen, a primary school teacher from Underberg, South Africa, died almost instantly, while Matthew – a respected 'dairy farm manager' managed to fight back and survived after being flown to Pietermaritzburg, where he underwent surgery, according to police. 
Karen's unborn child was also killed in the attack. Her 23-month-old son, Hayden, survived and was uninjured.
The seemingly ease of the attack and lack of response on behalf of resort management also underscored the severity of the case.
Told a relative of the couple's via DispatchLIVE: 'The friends who were with them in another cottage heard Hayden screaming and screaming and could not understand why nobody was attending to him… they went over to see what was wrong and found Kari had already past [sic] away and Matthew was in a critical condition.'
To date authorities have yet to say motivated the attack, with police saying nothing was stolen, with the couple's valuables accounted for. 
 

21,000 murders and 45,000 rapes in South Africa for 2018
The 'shock attack' is yet the latest instance of unbridled violence consuming society. A release via South African Police Service told of 21,000 murders and 45,000 rapes carried out last year alone in the beleaguered South African nation. On average, 137 women are raped every day. 
With women increasingly being the target of sexual assault and harassment, statistics indicated a woman being murdered every three hours in South Africa. 
So prevalent is violence against women, the World Health Organization, describes South Africa ranking fourth out of a hundred and eighty-three countries when it comes to femicide, or the killing of a woman or girl on account of her gender. 
The back-to-back murders of Uyinene Mrwetyana and Leighandre "Baby Lee" Jegels inspired protests across South Africa.

Citing an epidemic of gender-based violence, women are asking #AmINext? pic.twitter.com/GktsTNmTuH

— AJ+ (@ajplus) September 9, 2019
 South African women ask: Am I next? 
Karen Turner's death follows the equally high profile murder earlier this month of Uyinene Mrwetyana, a 19-year-old first-year student at the University of Cape Town. The student was raped, and brutally murdered by a post office employee after having gone to collect a package earlier this month.
The local woman's sexual assault and murder in turn led to many South African women expressing rage and fear as to when they too could expect to become #AMINEXT next rape and murder victim in a nation seemingly resigned to the high incidence of violence against women – as increased demands are made on the government to stem the violence.
Perhaps what makes Turner's death even more exemplary – is while most violence in the nation disproportionately occurs in disparaged neighborhoods or 'shantytowns' – often populated by a swelling eviscerated black African communities – the violence is also now making its way into areas implicitly understood to be 'off limits.' Until now.
Violence against foreigners & the affluent in South Africa: 
The resort attack is yet an extension of recent violence against 'outsiders.' 
Noted a recent report via the nytimes: 'Citizens have turned on immigrants and other outsiders in a bout of violence and political theater that has killed at least 12 people and forced hundreds more from their homes.'
'While it is primarily immigrants on the run, 10 of those killed in this xenophobic melee were South African citizens. Two were trampled during a looting spree; others were attacked because they speak the wrong language or come from the wrong place.'
The underlying view is that many outsiders, particularly from neighboring African states having come to the nation only to once again 'steal' local's jobs and opportunities. Equally despised are those individuals who are able to live a kind of gilded existence while most suffer.
The increased violence comes as South Africa continues to struggle with transformation from a former white colony to that of a self governing local population in a post apartheid era. Continuing white privilege, world-leading levels of inequality and unrelenting unemployment continue to inflame tensions. Also plaguing the nation is erratic policing, unabashed government corruption in the face of heightened public disillusionment in government's ability to address society ills and malaise.
Also forcing the government's hand is nascent economic growth, record unemployment – which leaves a third of youth unable to find work, an ineffectual education system and systematic corruption in key industries along with large deficits and debts. Faith in government and institutions continues to plunge with voter engagement consistently declining over the past two decades, with those areas where violence occurs having some of the country's lowest turnout rates.
The prevailing attitude is an air of cynicism with many believing government stoking and inflaming national discord as opposed to seriously attempting to remedy it.
In a bid to quell the violence, South Africa's ANC government, rocked by its own internal turmoil has mobilized heightened security.
Recent efforts include the army being deployed on the streets in townships on the outskirts of Cape Town combating murderous reign of township gangs that have now become the de-facto rule of law- an initiative that appears to be failing.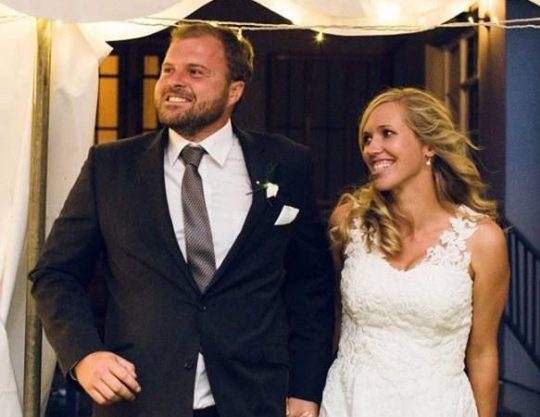 Karen Turner stabbing: No arrests 
Come Friday, authorities had yet to make an arrest in the murder of Karen Turner, with police saying one suspect was being hunted – with the man's arrest imminent. How imminent remained unknown. The second attacker had yet to be identified. 
Karen's older brother Ian Crouch speaking to News24 told of having gone to the crime scene, which he described as a 'bloodbath', – with the relative saying at the time of Tuesday's attack, the balcony door had been open as it was a hot night and there was no forced entry.
He confirmed it appeared nothing had been stolen and the couple's cellphones being found by their bed. 
Crouch also said his sister was about three months pregnant while also noting Karen died a day after celebrating her 31st birthday.
The couple had just bought a home together in Underberg on the farm that Matthew managed, Crouch added.
They married in July 2017 and Hayden was born four months later.
The attack led to the local tourist agency expressing disconcert and a commitment of increasing security.
Told, Eastern Cape Parks and Tourism Agency CEO Vuyani Dayimani: 'As an agency who manages the reserve, we are shocked that his taken place in one of our flagship coastal reserves as the safety and security of our guests is our key priority.'
It remains unclear if ramping up security in a nation seemingly self imploding and unraveling from within will arrest the ongoing antagonism and bloodletting as dissolution and mayhem increasingly become the rule of law. A state of affairs perhaps best describing the nation since first colonized by the Dutch in 1652, the enslavement of indigenous tribes and the subsequent plundering of its resources soon after.