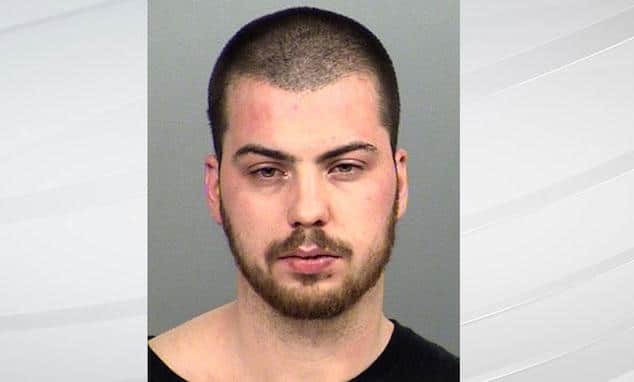 Jacob McIntosh Indianapolis man found guilty of shooting mother's boyfriend 9 times in the head after argument, saying he wanted her to have new life. 
An Indiana man was found guilty Tuesday of murdering his mother's boyfriend after saying he wanted her to 'have a new life'.
Jacob McIntosh, 25, shot 41-year-old Jesse Daniels at an Indianapolis home in January 2018, the Marion County Prosecutor's Office said.
The two men had been fighting before the shooting – with Daniels punching McIntosh in the face according to the son's girlfriend. McIntosh and his girlfriend said they had arrived moments earlier at the home – saying Daniels was 'being aggressive and threatening.'
McIntosh then went upstairs, grabbed two guns, and returned, holding a gun in each hand whereby he shot Daniels nine times, prosecutors said.
Police found Daniels' body lying in the living room next to the back door. The victim had sustained multiple gunshot wounds to the head. McIntosh's mother had been lying next to Daniels, 'kissing his forehead,' before her son opening gunfire – WRTV reported. 
Asked what had happened, McIntosh confessed, 'I shot him,' Fox 59 reported.  
McIntosh was observed with what looked like a bruise on his forehead. 
During questioning, McIntosh claimed Daniels had been taking advantage of his mother and had stolen from her. He said he 'would take a life to not let that happen.' 
'I'm glad he's gone,' McIntosh reportedly told police. 'I ended his life to begin a new one for my mother.'
It remained unclear how long the mother had been involved with Daniels prior to her son shooting him dead.
McIntosh's sentencing is scheduled for Sept. 25, according to online court records cited by the Indianapolis Star
IMPD detectives make arrest in early morning murder on the Southeast side of Indianapolis | WYRZ News https://t.co/mvWjMSU5M1 Detectives arrested 24-year-old Jacob McIntosh for his involvement in the homicide. pic.twitter.com/AX0x47V0L6

— WYRZ 98.9 FM (@WYRZ989) January 15, 2018