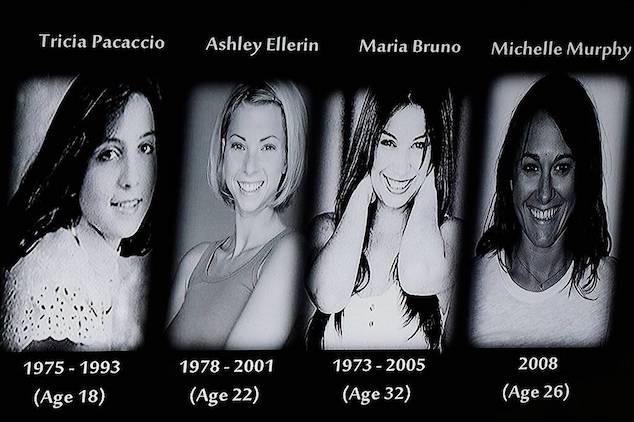 Hollywood Ripper Boy next door Serial Killer, Michael Gargiulo found guilty in the murders of two women and an attempted murder of another. Awaiting trial on fourth case.
An aspiring actor described by prosecutors as a serial killer was on Thursday found guilty of fatally stabbing two women and attempting to kill a third in their Southern California homes according to reports.
After three days of deliberations, a Los Angeles jury found Michael Gargiulo, 43, guilty in the 2001 murder of Ashley Ellerin, 22, along with the 2005 murder of 32-year old Maria Bruno in her El Monte home AP reported. Prosecutors argued the accused man murdering Ellerin at her Hollywood home on the evening she was supposed to be having drinks with Ashton Kutcher, who testified at the trial. 
Gargiulo was also found guilty with the 2008 attempted murder of Michelle Murphy, who fought off her attacker in her Santa Monica apartment, forcing him to flee. Murphy survived her ordeal after being incurring no less than eight stab wounds. 
Michael Gargiulo found guilty of murder and attempted murder in "Hollywood Ripper" trial https://t.co/h1uVTamzcx pic.twitter.com/827UKIoanW

— CBS News (@CBSNews) August 15, 2019
The killings were the work of a

skilled serial killer who studied his victims: 
The accused man dubbed the Hollywood Ripper as a result of the 'brutal nature' of the attacks – showed no reaction as the clerk read the guilty verdict.
Gargiulo's case grew fanfare with the unremarkable looking defendant – who had managed to pull off the killings of two women – also being dubbed as the 'Boy Next Door Killer.'
The convicted man also awaits trial for a similar killing in Illinois in 1993.
Jurors also found that Gargiulo was guilty of several special-circumstance allegations, including lying in wait and multiple murders, that make him eligible for the death penalty or life in prison with no possibility of parole.
During trial proceedings, Gargiulo attorney, Daniel Nardoni, suggested that other men were responsible for the deadly attacks, telling jurors that there was no DNA evidence inside the victims' homes to link the killings to Gargiulo. He has said that his client denies killing Ellerin, Bruno and Pacaccio.
A final phase of the trial is set to start Tuesday, with jurors to determine whether Gargiulo was sane at the time of the killings.
With little physical evidence tying him to the scenes of two murders, prosecutors urged jurors to look at the cases connectively, citing uncannily similar patterns in attacks that were all in places near his residence at the time.
Allowed to cite evidence from the Illinois case, prosecutors said all four attacks were the work of a skilled serial killer who studied the lives, homes and habits of victims that he stabbed quickly, powerfully and repeatedly with a knife that he knew how to use, and studied ways to cover his tracks.
This woman survived the attack by kicking her attacker off her bed. That's when he cut himself and bled all over her apartment. Police said it was Michael Gargiulo's DNA at the scene and it was traced to three murder investigations.

— Nathan Solis (@CNSNathan) August 7, 2019