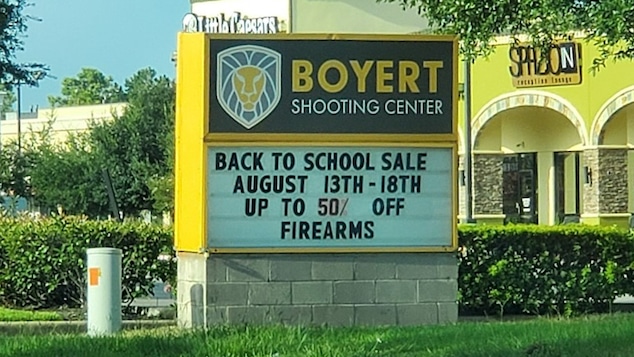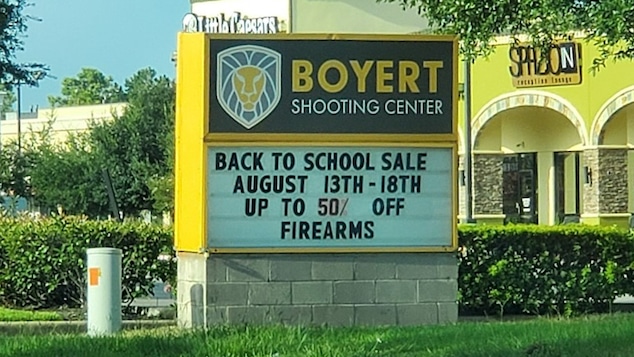 Boyert Shooting Center:

Katy gun store back-to-school gun sale at Houston, Texas area gun outlet causes disconcert in light of recent mass school shootings. 
Students summer holidays are nearly over and it's time to get ready for school again. Must be a good time to buy guys.
A Houston-area gun store's promotion advertising a back-to-school sale has raised eyebrows in light of the spate of mass shootings, particularly in schools, in recent years.
Michelle Simons was driving with her husband in Katy, Texas, when the couple passed a sign for the Boyert Shooting Center that read: 'Back to school sale August 13 through 18. Up to 50 percent off firearms.'
'It was so jarring, like, 'Did I really see that?" Simons told KTRK-TV.
Simons said she felt the promotion was inappropriate in the wake of mass shootings in El Paso, Texas, and Dayton, Ohio. (maybe wait until the news cycle flushes another quarter- thinks me at the very least). 
Simons' educator husband said his school district makes him teach active shooter safety drills.
'In the current climate and in the current culture where we have school shootings just constantly, mass shootings just constantly, it seems like a real poor choice of words,' the educator said.
Told the gun retailer in a released statement via KTRK, 'We have friends and family who are teachers and our way of reaching out and saying thank you is by offering a summer-long promotion of discounted training courses, firearms and accessories.' 
Boyert Shooting did not immediately respond to messages seeking comment from Scallywagandvagabond.com.
And then there were these recent promotions (below) via Boyert that caught this author's attention too. See what you think?
Boyert shooting center has a history trying to be provocative with tasteless humor and adult words. A sign on the road should be ok for kids to read. They dont care. This and joking about school shootings speaks to their character. pic.twitter.com/0RWiWRfAMm

— Derek Bloyd (@bloyd_derek) August 12, 2019
Cigars & AR's w/BOYERT Shooting Center Jan – 18, 2019
Our friends at Boyert will be here showing off some of their knives, pistols, rifles & more. Great discounts on cigars as well!! pic.twitter.com/Qy2GHnNMsA

— Absolute Tobacco (@AbsoluteTobacco) December 14, 2018
Shot about 150 rounds today at Boyert Shooting Center in Katy, Texas. Great day and Freedom! pic.twitter.com/n2Jp8UI0eP

— gab.ai/etech18 (@etech18) January 28, 2016
What was the first firearm you ever owned? @ Boyert Shooting Center https://t.co/O3dcp1jNpg

— Boyert Shooting (@BoyertShooting) October 19, 2016