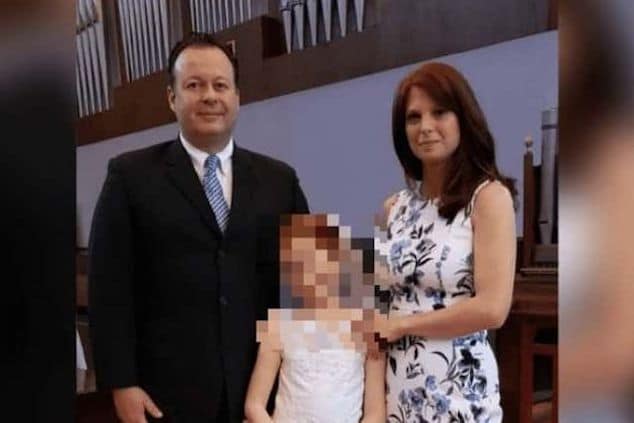 Newark Police Lt. John Formisano fatally shoots his estranged wife, Christie Solaro as well as critically injuring her boyfriend. Children were home during shooting.
A 24-year police veteran with Newark, NJ police was arrested Monday morning after fatally shooting his ex-wife and critically wounding her boyfriend Sunday night. 
The Essex County Prosecutor's Office, issued a statement announcing that Newark police Lt. John Formisano being taken into custody at his parents' home in Livingston, just hours after the shooting occurred in Jefferson Township.
Officials say the 49-year-old lieutenant — who was off-duty at the time — entered the home of his estranged wife, (since identified as Christie Solaro, 37, via social media) and began shooting at the couple around 11:20 p.m. Sunday night, before fleeing the scene, NJ.com reported.
'She ran out of that house, went to next-door neighbor banging on the door, yelling she had been shot,' Thomas Verrone, a neighbor who lives in the area said. 'But it was late at night so no one answered.'
Authorities have not formally released the names of the victims. The Morris County Prosecutor's Office says the male victim 'sustained serious injury' during the incident.
Of note, the estranged couple's children were at the home. The couple have an eight-year-old daughter and three-year-old son.  It was unclear if the estranged couple were undergoing custody issues.
'More information will be released by the Morris County Prosecutor's Office at the appropriate time,' the Jefferson Township Police Department posted on Facebook.
Of note, Formisano had been promoted from sergeant to lieutenant sometime between December 2018 and now.
But News 12 New Jersey reported on Monday that Formisano had recently been suspended, though it is unclear why.
A regard of the suspect's Facebook page (since taken down) revealed Formisano marrying his ex- wife Christie Solaro. In Facebook posts the couple posed together with their two children for a Christmas portrait.
Authorities to date have said a motive of the alleged attack remains unclear.
#njmornings Police investigate an apparent shooting/domestic issue in the Oak Ridge section of #Jefferson Township in Morris County. Gathering details @News12NJ pic.twitter.com/iyW2Pv5KHo

— Tony Caputo (@TonyCaputo) July 15, 2019