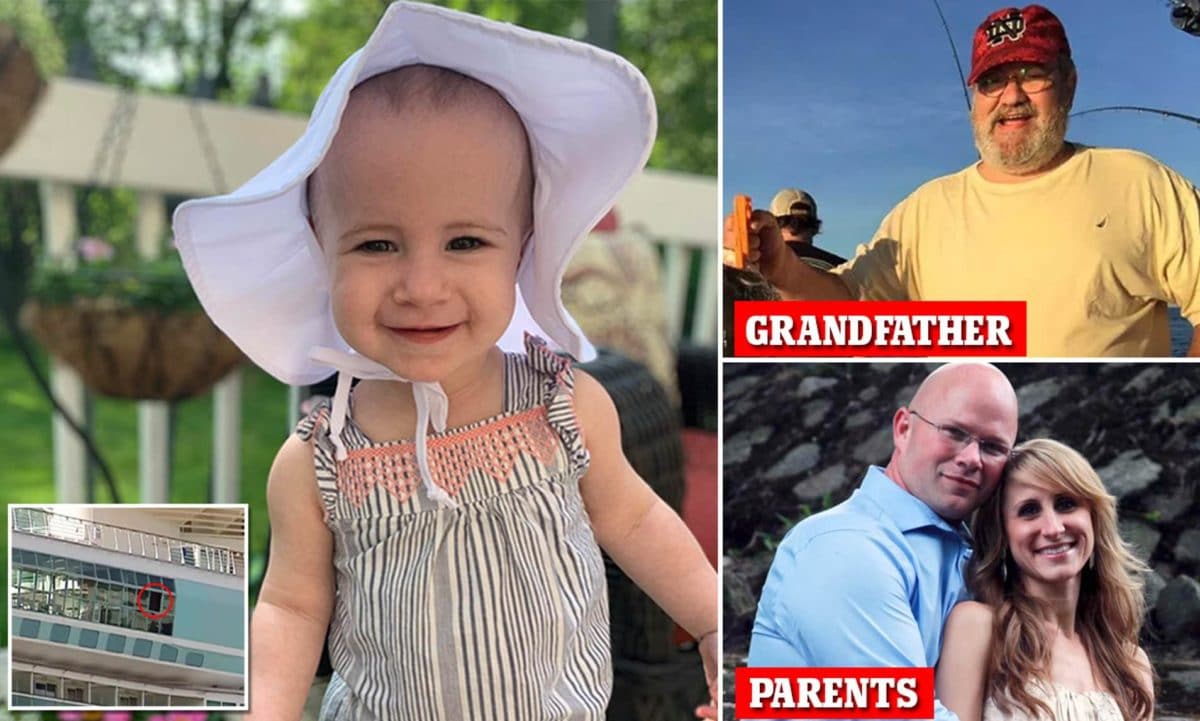 Chloe Wiegand died after falling out an 11th-story window of a Royal Caribbean cruise ship, but could the tragedy have been averted? Authorities yet to determine whether negligence charges should apply to the child's grandfather, Salvatore Anello.
An Indiana man whose 1-year-old granddaughter plunged to her death from a cruise ship could face criminal charges— with the South Bend family denying initial reports of the toddler slipping from the man's grip as he allegedly held her outside a cabin window.
Chloe Rae Margaret Wiegand's family blames Royal Caribbean for what they say was negligence in her fatal fall Sunday from the docked boat in Puerto Rico, the "Today" show reported Tuesday.
The toddler was on vacation with her parents, two siblings and both sets of grandparents when she fell from a window on the 11th floor to the concrete on the Pan American dock II in San Juan, officials said.
'Why in the world would you leave a window open in an entire glass wall of windows in a kids' area,' the family's attorney, Michael Winkleman said Tuesday. 'Why would you have that kind of hidden danger without any warning, without any sign, [or] without any notice?'
Winkleman, who said Chloe enjoyed being by windows to see what was happening on the other side, said Royal Caribbean should've known better.
'Essentially her grandfather lifts her up and puts her on a railing and where he thinks that there is glass there because it's clear, but it turns out there was no glass there,' the Miami based attorney continued. 'She goes to bang on the glass like she would have at one of those hockey rinks, and the next thing you know, she's gone.'
** Update: Cruise ship death: Grandad charged in toddler falling out window
Toddler's family says she died after falling from open window in play area on cruise ship.
Chloe Rae Margaret Wiegand was with her grandfather on a Royal Caribbean cruise ship when she fell out of an open pane from the ship's 11th story.
See full link: https://t.co/UiGQM8owI1 pic.twitter.com/EWlKxhTqZR

— News4You (@News4You9) July 9, 2019
UPDATE: "He (grandfather) was literally telling me the story through tears, and he literally thought there was glass there."

The attorney for Chloe Wiegand's family speaks after the cruise ship tragedy. He says this could have been prevented. pic.twitter.com/gi57EJt75d

— Kim Shine (@KimShineWNDU) July 9, 2019
Heart #Breaking News! The Toddler, Chloe Rae Margaret Wiegand, should be alive day – if not for mindless adults,; Her GRANDFATHER included. Children are way too precious for random stupidly. https://t.co/jCI9d7VtFL

— Che Osama (@cheyosama) July 9, 2019
Did baby Chloe's grandfather behave negligently? 
Chloe's maternal grandfather, Salvatore Anello, is under investigation to determine whether negligence charges should be filed against him, WSBT reported.
Local authorities reported that Anello lost his grip while holding the little girl — but the family said Tuesday that he seated her on the ledge without any knowledge that the window was open.
'I think there is going to be blame and significant blame on the cruise line and I'm going to do everything I can to hold them accountable for what appears to be negligence,' Winkleman said.
Anello's boss defended the grandfather, telling WSBT that he is a model employee.
'People just love him here in the county,' Mike Hamann said. 'He's a very selfless man, he's got a servant's heart, as we say. And just one of the most wonderful human beings that you could ever meet.'
The girl's father is Alan Wiegand, an officer with the South Bend Police Department. The family continued to remain in Puerto Rico as the cruise headed off to other ports as the investigation continued.
Told Royal Caribbean in a statement released Monday, 'We are deeply saddened by yesterday's tragic incident, and our hearts go out to the family. We've made our Care Team available to assist the family with any resources they need. Out of respect for their privacy, we do not plan to comment further on the incident.'
Despite the weekend accident, the Cruise Lines International Association said overboard incidents have decreased 35% over the last decade, even as capacity has increased 55%. About two dozen people fall overboard annually.
It's estimated that over 28 million people went on a cruise last year. According to a website that tracks people falling off them, since 2000, only around 340 people have gone overboard.
Chloe Wiegand's family is passing the buck & blaming @RoyalCaribbean for HIS negligence? ALL cruiselines have barriers in front of windows. The air hits you HARD. You can't lean out of said windows, HE lifted her up and out of it!! 😤

SHAMEFUL LIES!!

https://t.co/SNCo9pkR4I pic.twitter.com/E3TXx2pHvp

— Trotman's Travels (@TrotmansTravels) July 9, 2019