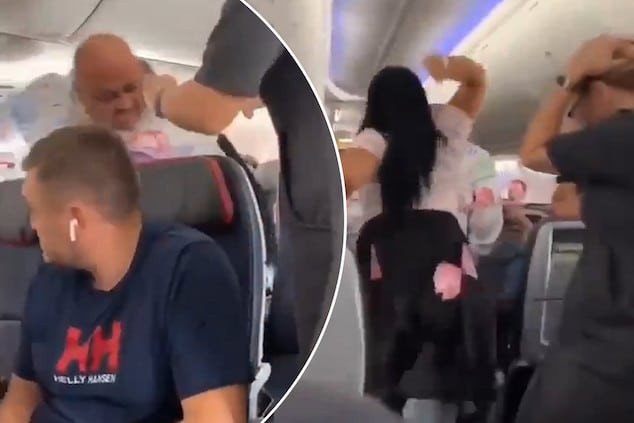 American Airlines passenger throws laptop at boyfriend accusing him of looking at other women as she takes exception to her boyfriend prior to a plane's departure. Incident caught on video.
So much for flying etiquette. A female airplane passenger flying American Airlines has been filmed throwing a laptop at her boyfriend's head on a packed plane — enraged (naturally) at him looking at other women.
Video (see below) caught the expletive-filled fight between the couple as other aghast passengers (watch passenger reactions- they're priceless) watched on incredulously. Fox News reported the incident taking place on July 21 prior to a Miami to Los Angeles bound flight making its departure.
'You want to try to f—ing look at other women, n—er? Nah, f–k you!' the unidentified woman screamed as their plane sat at the gate at Miami International Airport on Sunday afternoon.
'I wear the f—ing nuts, n—er,' she told her partner, Memo –  in the seat next to her, warning, 'Watch 'til we f—ing get home.'
Yes kids you know who wears the pants in this doomed relationship.
Flying etiquette in a hand basket to hell? 'Oh, I'm assaulting you? F–k you!'
An air stewardess can be heard imploring the 'jealous' woman to stop screaming because children were on the flight- only for the stymied woman to reply, 'Yeah, I know, I f—ing consoled the f—ing child.'
Telling her she was 'out of control,' her partner — whom she calls "Memo" — finally has enough, accusing her of 'assaulting' him as he gets up to leave the grounded plane, which only enrages the woman more. 
Kids lie back and watch the faux pas. Popcorn will be served once the captain switches off the seat belt sign.
'Oh, I'm assaulting you? F–k you!' the unhinged woman screams, hitting him as her boyfriend gets out of his seat.
She then flings her laptop straight at him as he moves away down the aisle, hitting him once more as other passengers scream and gasp.
Butter on the popcorn sir?
After running back to get a purse, the female passenger is warned by a male flight attendant that 'you're going to get charged with assault.'
'Fine, whatever,' the stymied female passenger replies nonchalantly.
A rep for American confirmed the 'dispute' on the flight from Miami to LA, saying, 'Law enforcement was requested, and both passengers were removed from the aircraft.'
A rep for the Miami-Dade Police Department did not have a record of any arrests.
Noted a released statement via American Airlines: 'Prior to departure from the gate on Sunday at Miami International Airport, two passengers who were traveling together were involved in a dispute. Law enforcement was requested, and both passengers were removed from the aircraft,'
'We thank the American crew who worked quickly to diffuse the situation,' the statement added. 'Their actions resulted in a safe environment for all of our passengers.'
The identity of the boyfriend and girlfriend have yet to be publicly revealed. For now.
American Airlines passenger throws laptop at boyfriend for 'looking at other women' (Video via @juliascorupco). https://t.co/BICMzSUSpw pic.twitter.com/bUNWFJI8Fq

— Breaking Aviation News (@breakingavnews) July 23, 2019