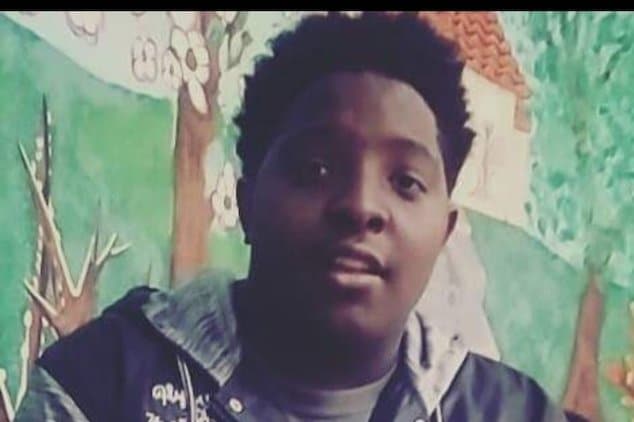 Tyrese Garvin a Louisville, Kentucky man taken off life support after being randomly gunned down just moments after witnessing the birth of his newborn twins at hospital. 
A Louisville, Kentucky man has died after being taken off life support after being 'randomly' shot while walking home from the hospital, where he saw the birth of his two children hours earlier.
Tyrese Garvin, 20, was gunned down in Smoketown, Sunday night after leaving from University Hospital. His family claimed he was shot multiple times in the head and body and doctors with neurosurgeons having determined the won't recover from his injuries- WAVE 3 NBC reported.
Three juveniles, ages 14 to 17, were arrested in connection with the shooting- WLKY CBS reported. Relatives told the news station that they planned to take Garvin off of life support in the upcoming days.
Come Friday, June 28th, Garvin was pronounced dead just after 3 p.m.
Another victim to drive by shootings in the African American community.
'He was very excited at becoming a father,' a family member named Gail said. 'Then, something like this happens and his children will never get to know him. That's sad.'
Garvin according to his family was a graduate of Atherton High School and had recently landed a job at GE.
'It's just a hard impact for me because I know I'll never see him walk through that door and act silly with me anymore, but this is just so senseless,' Kathleen Roberts, Garvin's grandmother, said.
'Many of the recent non-fatal shootings and homicides in Louisville have been drive-by,' lieutenant Emily Mckinley said during a press conference where she spoke about 20 recent shootings, including the one involving Garvin.
Garvin is reportedly at the same hospital as his newborn children, who are in the maternity ward. The babies were taken to see their father, his family told WAVE.
The suspects' identities and the charges they're facing weren't made available to the public. It's likely that charges will be upgraded following Garvin's death.
A GoFundme fundraiser as of Friday afternoon has raised $3100 in connection to help cover funeral costs and medical expenses accrued while Garvin was in the ICU. It remained unclear who would now step to pay for the ongoing costs of the new born twins.
Welcome to a brave new America.