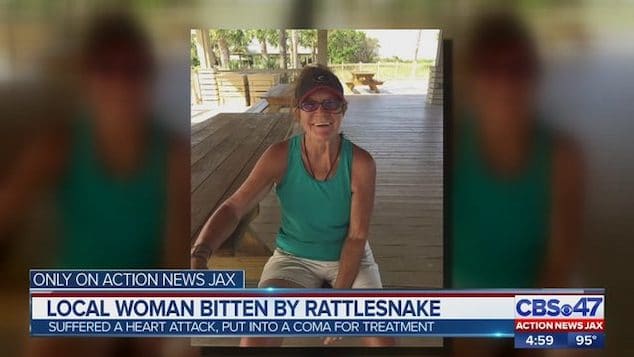 Priscilla Meridith dead: Georgia woman dies a month after being bitten by a rattle snake. Medics decided against using anti venom medication.
A Georgia woman bitten by a rattle snake last month has died.
Priscilla Meridith, 62, of Brunswick incurred a snake bite which led to the her suffering an allergic reaction and heart attack that left her in a medically induced coma- which she never woke up from.
Action News Jax reports Meridith being bitten by a Canebrake (Timber) rattlesnake, May 17 while visiting a friend's house with her sister in Waverly, Georgia.
Meridith suffered a heart attack and organ failure while she was hospitalized. She died last week according to her family.
'We were picking up things, garden tools, stepping stones,' Meridith's sister, Brenda Austen told Action News Jax. 'And she went to sit down, and she jumped up and said, 'Oh, there's a snake! Oh, it bit me!"
The odds of being bitten by a rattle snake and dying dissected: 
Relatives say Meridith wasn't given anti-venom while treated at the Southeast Georgia Health System Brunswick Campus, as hospital staff said Meridith was allergic. The hospital's emergency medical director, Dr. Mohsen Aklaghi, says staff followed Georgia Poison Control recommendations.
Poison Control Managing Director Dr. Gaylord Lopez told via WJAX-TV that allergic patients can still be given antivenom if they're 'good candidates' based factors including medical history and vital signs.
Family members have since expressed disconcert as to why Meridith was not given anti-venom mediciine.
According to statistics from the University of Florida's Department of Wildlife Ecology and Conservation, '… fewer than one in 37,500 people are bitten by venomous snakes in the U.S. each year (7-8,000 bites per year), and only one in 50 million people will die from snakebite (5-6 fatalities per year) …'
Click here to support Please help Priscilla Meridith rattlesnake victim organized by Lisa Radlinger https://t.co/UeRgi0GIUu

— Kristen Wilson (@ATL_RealtorKris) May 26, 2019