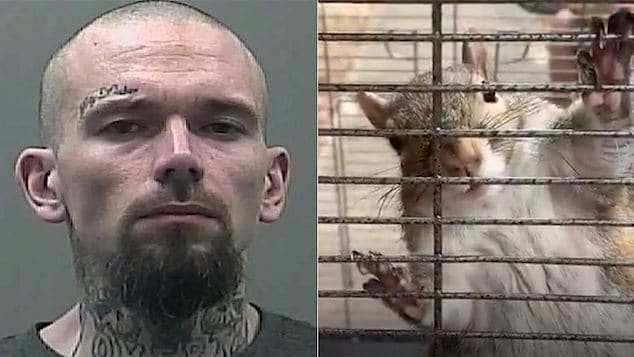 Mickey Paulk Alabama meth attack squirrel: A Limestone County man is accused of constantly feeding a caged squirrel methamphetamine to keep it perpetually aggressive. 
An Alabama man has been accused of having kept a caged 'attack squirrel' in his apartment and feeding the animal methamphetamine to ensure it stayed aggressive, authorities said.
Limestone County Sheriff's Office deputy and spokesman Stephen Young told the News Courier the squirrel was among several items seized Monday morning as part of a search warrant of an apartment belonging to Mickey Paulk, 35 – in the 21000 block of Piney Chapel Road in Athens. Narcotics investigators also seized meth, drug paraphernalia, ammunition and body armor.
As a result of the warrant, investigators are now seeking Paulk on charges of possession of a controlled substance, certain persons forbidden to possess a firearm and possession of drug paraphernalia.
When investigators served the warrant, 37-year-old Ronnie Reynolds of Ardmore was inside the apartment, but Paulk wasn't home AL reported. Reynolds was charged with possession of a controlled substance, possession of drug paraphernalia and loitering at a known drug house. He was later released from the Limestone County Jail on $4,000 bond.
But t gets grimmer.
Alabama attack meth squirrel: No way to 'safely' test it.
Prior to executing the warrant, investigators were informed Paulk keeping an 'attack squirrel' inside his apartment and Paulk feeding the caged squirrel meth. An animal control deputy arrived and contacted the Alabama Game and Fish Division of the Department of Conservation.
Game and Fish confirmed it is illegal to have a pet squirrel, and they recommended releasing the squirrel, which deputies did successfully.
Young said there was no safe way to test the squirrel for meth. The animal was soon after released in a nearby wooded area.