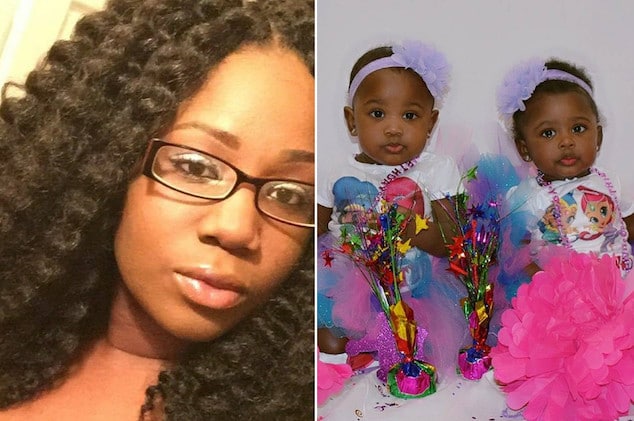 What led to Tenia Campbell a

Medford, Long Island mother killing her two twin toddler daughters? Neighbors express shock at what they described as an amazing woman's actions.
A Long Island mother who'd been threatening to kill herself and her 2-year-old twin daughters early Thursday was found hours later in a Montauk park — parked in the family minivan with the girls in cardiac arrest.
Tenia Campbell, 24, of Medford, following her arrest was charged with murdering her two toddler girls, Jasmine and Jaida Campbell, Suffolk police said.
The three were found at just after 4:05 p.m., parked at the entrance of the nature center at Montauk County Park. The girls were taken to Stony Brook Southhampton Hospital, where they were pronounced dead, WABC-TV reported.
The trio were found some 60 miles from their Medford household.
Suffolk police did not say how the girls died; there were no obvious signs of trauma to their bodies, according to law-enforcement sources cited by the nypost.
Police had been searching for Campbell and the girls after receiving a 911 call from the woman's mother at 2:30 p.m over concerns about her 'suicidal' daughter.
'Suffolk County Police Department, assisted by the New York State Police, Suffolk County Park Rangers, Southampton Town Police and the East Hampton Town Police conducted a massive, county wide search for her,' Suffolk police said in a released statement.
They searched a 60-mile stretch from Medford east to Montauk, where they found the van by the nature center at 1929 Montauk Highway.
Suffolk Police have a Medford mother in custody after she was located in a Montauk Park with her twin daughters, age 2, unconscious and not breathing. They were rushed to a local hospital but were beyond help. The homicide squad is investigating the incident. Awaiting details. pic.twitter.com/0z5cdExGUB

— Stringer News (@Stringernews) June 28, 2019
Medford mother's actions leave friends and neighbors stunned: 'she was amazing.'
The deaths have left neighbors flummoxed and trying to comprehend the mayhem.
'They had twin Power Wheel Jeeps, and they would always come outside and ride them around while the brother would chase them, laughing and giggling,' recalled Aleshia Pike, who lives across the street from the family.
Adding, 'They were just your typical little girls — playful happy.'
'Never would have thought she was going through the things she was going through,' neighbor Roshonda Campbell said. 'She seemed like she had it all together.'
Akira Anderson, who said she rented the other unit where Campbell, a home health aide lived – described herself as a childhood friend, saying she last saw the twins' mother Wednesday and, 'that everything seemed fine'. 
'She never seemed like she was going through things,' Anderson said. 'If she did, she handled it.'
Anderson described Campbell as 'amazing.'
Of note, the father of Campbell's son took custody of the boy, Anderson said.
The mother, the twins and their four year old brother moved into the house in January.
Campbell has been charged with two counts of second degree murder, police said. 
Authorities to date have offered no motive as to why the mother took her twin daughter's lives. Not immediately clear is whether caseworkers had been involved in the mother's plight and what remedies, if any were offered to the embittered woman.
Campbell is scheduled to be arraigned on Friday in East Hampton Town Justice Court.
Neighbors in disbelief after a 24 year old mother is charged with killing her twin two year girls. @wcbs880 #Medford Mother will be in Suffolk County court later today. pic.twitter.com/MVsny2pJhP

— Marla Diamond (@MDiamond8) June 28, 2019