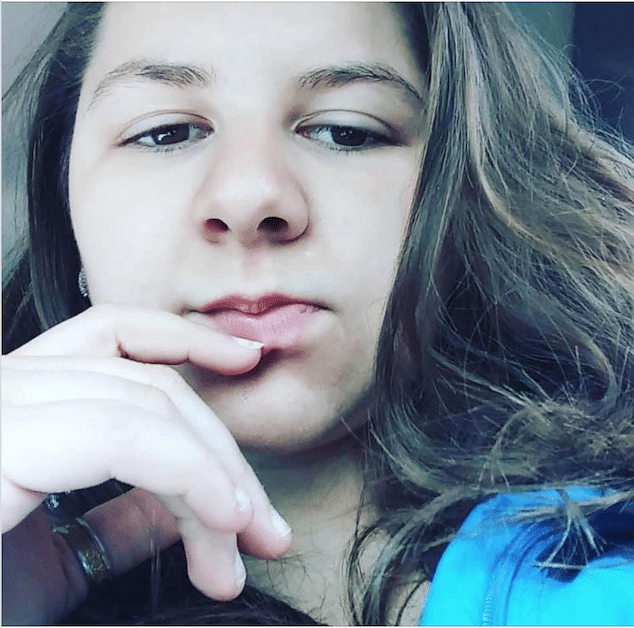 Cynthia Hoffman Thunderbird Falls homicide: What led to Denali Brehmer and four others murdering her best friend along a popular Alaska hiking trail? 
Five people have been arrested in the killing of a mentally disabled 19-year-old Alaska woman – who was duct taped, shot in the back of the head and tossed into a river after being invited on a hike by her 'best friend'. 
Denali Brehmer, 18, is accused of murdering Cynthia Hoffman, 19, on June 2, with help from Caleb Leyland, 19, 16-year-old Kayden McIntosh, and two unnamed teens along popular hiking trail, Thunderbird Falls.
'I know I did something wrong and I know I could have probably done something different if I was able to and I don't want my daughter knowing that her mom grew up a killer because I don't see myself as one,' said Brehmer at the arraignment on Saturday, according to KTUU. 
Police say the victim's 'best friend' and four other suspects schemed to murder Hoffman and then cover their tracks.
Cynthia Hoffman was killed last week near Thunderbird Falls; five people have been arrested in connection with the shooting. pic.twitter.com/z8kv2U6Ynw

— KTVA 11 News (@ktva) June 10, 2019
Cynthia Hoffman Thunderbird Falls homicide motive: 
Hoffman's capitulation follows the group inviting the mentally disabled teen to join them on a hike through the popular Thunderbird Falls trail, in the Chugiak area, northeast of Anchorage. 
It was there the 19-year-old, who only had the mental age of a seventh grader, was shot dead, according to cops.
Investigators found Hoffman's body two days later. Her feet were still bound by duct tape.
The suspects initially tried to throw off suspicion by using Hoffman's cellphone to text her family so it appeared she was still alive and had gone to another location, investigators said. Then they drove to Lions Park in northeast Anchorage and burned Hoffman's belongings.
Brehmer and McIntosh were arrested initially and charged with first-degree murder and evidence tampering. Brehmer then told police about the other suspects' alleged involvement, leading to the arrests of Leyland and the two unnamed juveniles. 
Leyland, 19, and the two teens; one male and one female, were taken into custody in Anchorage on Sunday.
During his arrest, Leyland admitted to providing the vehicle used to carry out the homicide at Thunderbird Falls and plotting with the four others to kidnap and murder the mentally disabled woman.
Police have not provided a motive for the deadly attack on Hoffman. 
"My daughter trusted these people. My daughter just wanted friends. Now I have to bury her." – Timothy Hoffman, Sr.'s words to a jail court judge. He's the dad of murder victim Cynthia "CeeCee" Hoffman. He held up this photo during arraignments Sunday for the accused killers. pic.twitter.com/7QmSDA69yf

— Jill Burke (@jillburkealaska) June 10, 2019
Cynthia Hoffman homicide: 'They were suppose to be her best friends she could trust.'
Hoffman's murder has left her family reeling.
'All I know is that my daughter didn't deserve all this,' said Hoffman's father, Timothy.
'She should have had the friends that she wanted. She shouldn't have had people that wanted to plot against her. And the ages of these people? I think it is sick. And now they don't have to live the nightmare that I have to live.' 
Timothy, said that his daughter met Brehmer when they were both students at Service High School. 
Cynthia had described Brehmer as her 'best friend,' the father said.
He said a developmental disability that caused his daughter to operate intellectually at about a seventh-grade level had made her vulnerable.
'Her disability just made her want to have friends,' Timothy told via the nypost. 'That's all she wanted, was just to be her friend.'
Leyland, who told police he's lent Brehmer and McIntosh his car for the murder, faces charges of first-degree murder and first-degree conspiracy to commit murder, authorities said.
The 19-year-old man also faces additional charges of sexual assault and sexual abuse of a minor for allegedly sexually assaulting the female juvenile suspect. 
According to investigators, Leyland told officers that he, McIntosh, Brehmer and the two unnamed teens agreed to kill Hoffman near Thunderbird Falls in the Chugiak area, 27 miles northeast of Anchorage.
The unnamed male teen said McIntosh and Brehmer came to his house on June 2 and told him they 'had shot Hoffman and killed her,' police said.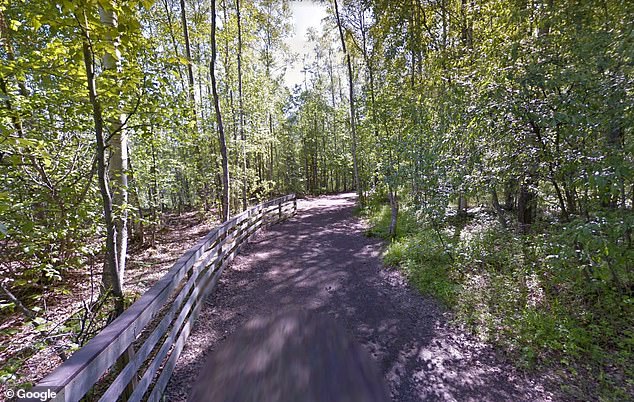 Cynthia Hoffman homicide: Inconsistencies in cover up.
Investigators found Hoffman's body on June 4 in the Eklutna River where Brehmer told authorities the killing occurred after they told Hoffman they were going for a hike. 
Brehmer told police she directed McIntosh to use a 9mm handgun she was carrying to shoot Hoffman in the head, while McIntosh said shooting Hoffman was Brehmer's idea and that she fired the gun, police said.
Two Snapchat videos were turned over to police Thursday by a friend of Brehmer. The first video shows Brehmer describing the story she later gave to police; the second video includes Brehmer apologizing to her family and friends and saying, 'I'm sorry, I didn't mean to do it,' police records said.
The Anchorage Daily News reports that when the two teens were initially questioned by police, they told detectives that the trio had decided to duct tape each other and take photos near the popular Thunderbird Falls trail, in the Chugiak area.
According to their accounts, Hoffman started panicking after she was bound. At that point, Brehmer originally told detectives, McIntosh took the gun from her hand and shot Hoffman in the back of the head before pushing the 19-year-old's body into the Eklutna River.  
To date it remains unclear why the friends turned on the vulnerable woman and set about leading her on before killing her.