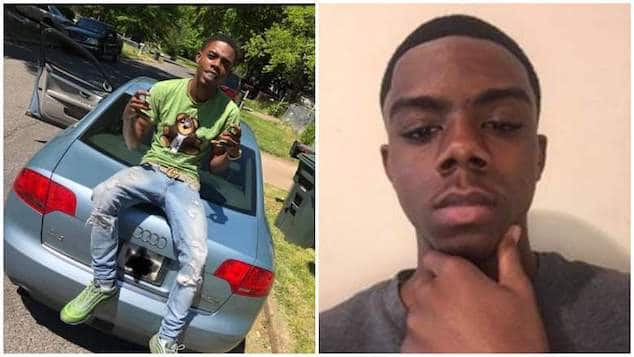 Riots and protests break out after the fatal shooting of Brandon Webber a Frayser, Memphis man who US Marshalls had sought to bring in on outstanding felony warrants. 
Police and protesters have 'violently' clashed along the streets of a working class Memphis neighborhood after a 21-year-old man was shot dead by U.S. Marshals during an attempted arrest in his family's front yard. 
Riots broke out after Brandon D. Webber was shot and killed by officers on Wednesday as they tried to arrest him for outstanding felony warrants outside his home in Frayser in North Memphis. 
The Tennessee Bureau of Investigations (TBI) said officers went to the home at about 7pm to look for Webber who had outstanding felony warrants.
Officers said they saw Webber get into a vehicle and that he then proceeded to ram task force vehicles several times before exiting with a weapon.
Marshals then opened fire on Webber. He died at the scene, the Commercial Appeal reported citing officers.
The Bureau would not say how many marshals fired or how many times Webber was shot. 
Webber's cousin Demetrick Skinner told the Daily Memphian that as many as 20 shots were fired during the fatal incident.  
The victim's aunt, Yolanda Holmes, said police claimed he was shooting at an officer but the family was trying to confirm details. 
Along with being a Frayser High School graduate, the shot man's social media accounts indicated the father of one having enrolled at the University of Memphis. 
Webber's Facebook page also indicated him reveling in gang culture with photos of guns and stacks of money posted on his wall. In one photo posted March 31, he appeared to be posing with a rifle on his shoulder, the post captioned, 'In Da Squad I Trust.'
Memphis police shot Brandon Webber and left him for dead and didn't get him in the ambulance just left him in the grass pic.twitter.com/vbCr1sdurp

— Jared ogden (@Jaredogden19) June 13, 2019
Intense moments in Frayser after an officer involved shooting with a US Marshal. pic.twitter.com/Rik65Ns5IB

— Katina Rankin (@Local24Katina) June 13, 2019
Brandon Webber shooting death: 'Don't judge Frayser without asking a community how it feels to mourn their youth over and over again'.
Memphis police were called for assistance with crowd and traffic control in the aftermath of Webber's shooting death, but the scene quickly escalated as members of the public heard what happened and began gathering.
Disconcerted citizens called out what they claim is another example of egregious violence in the community at the hands of police along with the racial targeting of young black men. The shooting incident served to reinforce the community's distrust of authority.
Tweeted Shelby County Commissioner Tami Sawyer, 'Don't judge Frayser without asking a community how it feels to mourn their youth over and over again. What do people do with their pain and trauma when it gets to be too much, when a city has ignored them, when their loss is too great and they can no longer yell at the sky?'
'I was in Frayser tonight because Brandon Webber was shot 16-20 times in his family's front yard on the same day as the Pulse nightclub shooting anniversary,' Sawyer said in a follow up tweet, 'and on the same day that the DA chose not to charge another police officer for murdering a civilian.'
TBI calls for restraint as it seeks to conduct full investigation:
Local reports told of at least two dozen police officers and two journalists being injured during the confrontation. Six officers were taken to hospital suffering mostly minor injuries.
It was not clear how many civilians were hurt but three people were arrested.
Officers cordoned off several blocks near the scene as people threw rocks and bricks at law enforcement during the clash.  
By 11pm, officers had used tear gas and most of the crowd dispersed. 
Residential streets remained blocked and a heavy police presence remained in the area on Thursday morning.   
In identifying Webber on Twitter early Thursday, Shelby County Commissioner and mayoral candidate Tami Sawyer said 'Every life lost should matter…every single one. How many times will this be ok? It cannot continue to be.'
Police director Michael Rallings implored residents to wait until the TBI finishes its investigation before spreading possible misinformation about the shooting. 
'I need everyone to stay calm,' Rallings said. 
While police support the right of people to demonstrate, Rallings said 'we will not allow any acts of violence.' 
Passion Anderson, a 34-year old student, brought her 13-year-old son to the scene early Thursday.
She said she worried about her son's safety every day in Memphis which struggles with crime and gang activity.
'I just want him to see this, know what's going on, to be conscious,' she said. 'I fear for him all the time.'
But perhaps what the woman along with the community fear most- is the threat, imagined or real – of ongoing police brutality as the Frayser situation is the latest episode of unrelenting violence seemingly targeting impoverished and blighted communities.
When they see us, they kill us…

Brandon Webber, father of 3, shot by U. S. Marshalls 16-20 times in Memphis.

No one deserves to be shot and killed like this.

I could say so much but I'm really at a loss for words. pic.twitter.com/9EFhUplHDw

— Jeneisha Harris (@JeneishaCHarris) June 13, 2019
Thank you Memphis PD for stopping that animal Brandon Webber. Police trying to do their job and apprehend a thug with multiple outstanding warrants. Twenty-five officers injured #BlueLivesMatter

— Mr.Charlie (@MrCharlie316) June 13, 2019
Say his name BRANDON WEBBER 🗣🗣🗣🗣🗣! In Memphis, TN – Frasyer – he was shot by US Marshals & MPD multiple times and they just left him for dead in a yard & didn't bother to seek him medical attention‼️‼️ THE SYSTEM IS WICKED 💔💔 Prayers for the family & the community 😪🤞🏾

— jAYa MaRiE 💋 (@melaningirly) June 13, 2019