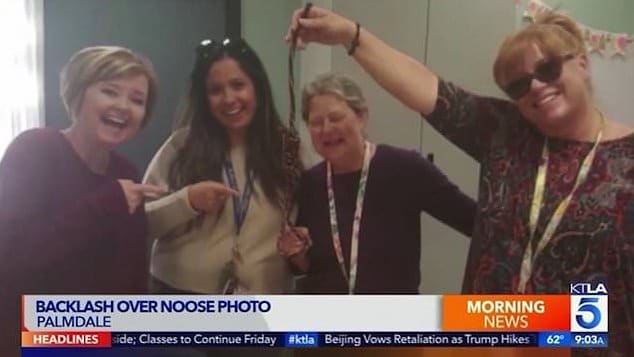 Room 223 score: Palmdale teachers pose smiling with noose suspended after viral photo taken at California's 

Summerwind Elementary School goes viral. 
Five California educators including the principal have been suspended after a photo of them posing with a noose went viral on social media. 
A photo of four elementary school educators in Southern California smiling as they pose with a rope fashioned into a noose has led to their and the school principal's suspension- sparking outrage among parents.
The image of the educators at Summerwind Elementary School in Palmdale, 70 miles north of downtown Los Angeles, was originally emailed by the school's principal, Linda Brandts, and was shared hundreds of times on email and social media, NBC Los Angeles reported.
Of even further disconcert, after the photo leaked, another emerged of the same noose hanging from a wall within the school.
Palmdale schools superintendent Raul Maldonado said all five educators have been put on administrative leave, pending an investigation by the district.
'The Palmdale School District holds all employees to the highest standards and expectations,' Maldonado said in a statement on Friday. 'We will not stop until we find out exactly what did occur. We will not tolerate this type of behavior in our schools.'
Maldonado said he was 'appalled by this incident' in a post to Facebook.
'We will not allow the hurtful actions of a few hold back our District's pledge to do right by our community.'
VIDEO: Outrage has erupted over this picture that was circulating among the staff at Summerwind Elementary School in Palmdale showing several of the school's educators posing with a noose. Fox 11's @LeahUko reports. Story: https://t.co/QZXLJopZ4n pic.twitter.com/9R2O5mT1Lq

— Oscar Flores (@oflores) May 10, 2019
Palmdale teachers pose smiling with noose: 'It brings you back to slavery days.'
The picture of four women, laughing and posing with the noose, was sent by Brandts in an email to all Summerwind staff at 3:50 p.m. on May 1. 
There was no text inside the email, but the subject line read: 'Room 223 score.' It remained clear what was meant by that phrase.
Social media identified the teacher on the far left of the viral photo as Jennifer Garcia. Of further disconcert, the individual said to have taken the controversial image was the school principal- Linda Brandts.
Commented educational consultant, Shaka Phillipps, 'The integrity of the school is completely compromised. To the black community, a noose is a weapon, a symbol of slavery and lynching.'
Parents of some African American children at the school said they were troubled by the educators' apparent insensitivity about the association of nooses with Jim Crow-era lynchings.
'I feel like he's not safe here,' Misty Evans said of her son, a student at Summerwind. 'It brings you back to slavery days."
Another parent, Juan Dillard, said the educators involved should lose their jobs.
'My son is leaving today, and he's not coming back to this school until they are fired,' Dillard told via NBC News. 
The city of Palmdale is majority Latino, according the most recent census data, at 58.6 percent; whites make up 22.1 percent, and blacks 12.5 percent.
State Assemblyman Tom Lackey, a Republican who used to sit on the Palmdale school board, said the noose pictures are 'inconsistent with the culture encouraged" by the school district'.
'I am saddened by the negative impacts associated with this,' Lackey tweeted. 'I am confident the Palmdale School District will investigate this matter and follow-up with the appropriate actions.'
To date it remained unclear why the educators posed with the photo and why the school principal sent the image to other staff members as school authorities continue to investigate.
Dr Umar Johnson said the majority of teachers are married to police. These are the people that "teach" our children only to label them ADHD

School-to-prison pipeline ….

"Photo of teachers, principal posing with noose at a Palmdale school causes uproar" pic.twitter.com/EokamC8eWg

— Taseti Nyame (@nyame_taseti) May 10, 2019