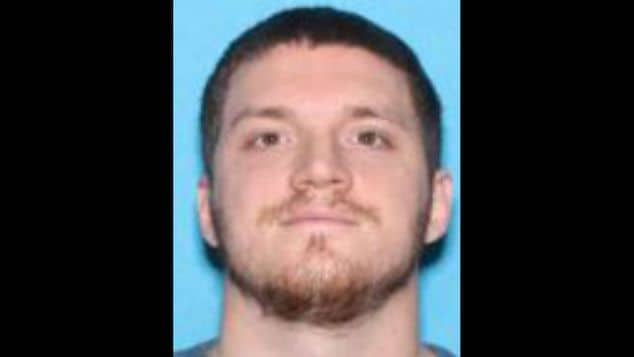 Manhunt underway for Alabama man, Grady Wayne Wilkes who shot at three Auburn officers responding to domestic disturbance call. One dead, two seriously injured. Now captured and in custody.
### Update: A gunman who allegedly shot dead one Alabama police officer and injured two others Sunday night has been captured following an intense hours-long manhunt. 
###: Original story: A manhunt is underway in Alabama for a gunman who has shot dead one police officer and seriously injured two others. 
Grady Wayne Wilkes, 29 was described as being armed and wearing camouflage body armor and a helmet. 
According to his social media accounts, Wilkes is or was in the Army. It is unclear if he is still enlisted. 
It began late Sunday night when police responded to a domestic disturbance at a trailer park in Auburn, a town around 50 miles east of Montgomery. 
It is unclear who called police but when the three officers arrived, Wilkes opened fire. 
He then fled and has been on the run since until his capture Monday morning. 
Police said they were withholding the involved officers' names pending the notification of next of kin.
'This is probably the worst day of my time here,' said Auburn Chief of Police Paul Register. 'Words cannot express the loss of this family, and our family, and this community.' 
It remains unclear how many weapons Wilkes had with him, or which kind.
Speaking to Opelika-Auburn News, an unidentified resident of the mobile home park said, 'I heard six shots, rapid-fire like it was an automatic weapon, and then there was a brief pause, maybe a second, and then three more single shots and less than five minutes later there were sirens, and they kept coming.'
Students of  a university near the trailer park where the wanted man was last seen had been told not to come to campus until Wilkes was found.  
A law enforcement command center had been set at up Auburn University, which is warning students to stay away from a mobile home park about five miles from campus. 
A BLUE (extreme danger) alert was also issued asking the public for help locating him. 
Wilkes was described as, 6'4′, 215 pounds, and is believed to be a serious risk to the public.
I am following #breakingnews out of Auburn, Alabama where one officer is dead after a shooting late last night and a manhunt is underway for the suspect.
Police say Grady Wayne Wilkes is wearing body armor and a helmet. He is considered to be a SERIOUS RISK to the public. pic.twitter.com/ebWK6ODYSp

— Michal Higdon (@MichalHigdon) May 20, 2019