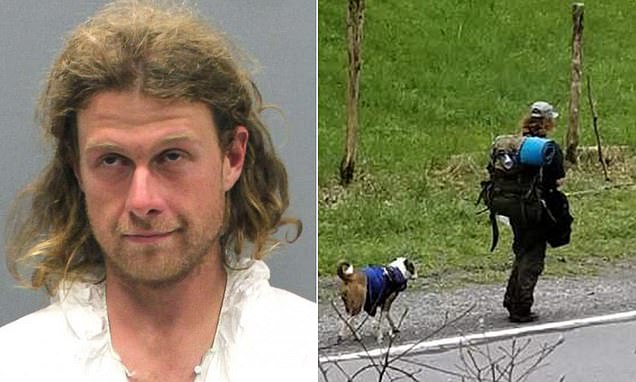 James L. Jordan (aka the 'Sovereign') arrested after attacking two hikers along the Appalachian Trail – leading to one's death. Follows series of threats against other hikers in recent weeks. 
A Massachusetts man who calls himself 'Sovereign' has been charged with attacking two Appalachian Trail hikers with a machete, killing one of them and seriously injuring the other—just weeks after pleading guilty to threatening other trekkers and being set free.
James L. Jordan of West Yarmouth was arrested and charged with murder and assault with intent to murder early Saturday morning, according to a statement from U.S. Attorney Thomas Cullen. 
The Appalachian Trail runs through 14 states along the eastern part of the US- extending between Springer Mountain in Georgia and Mount Katahdin in Maine. An estimated 2 million people hike at least part of it each year.
Saturday's attack occurred in Virginia, after Jordan surfacing along other areas of the trail and harassing other hikers.
Authorities haven't released the names of Jordan's victims, one man and one woman. Notice of the male victim's death came after the Wythe County Sheriff's Office released a statement saying the male hiker mortally succumbing to his injuries, Sunday morning.
The Washington Post reported Jordan going after a group of four hikers camped out for the night along the trail in Virginia. They fled, but the knife-wielding attacker caught up to two of them and began slashing away.
The woman 'pretended to be dead and when [Jordan] walked away after his dog, she took off running,' Wythe County Sheriff Keith Dunagan said. She managed to walk six miles and get help. Her male compatriot who also suffered grave wounds and managed to escape along with the woman was hospitalized- only to die of his injuries the next day.
Following Saturday morning's attack, authorities arrested Jordan.  
According to the Daily Beast, Jordan was arrested two weeks ago for threatening hikers along the popular trail with a knife, but was released on probation after pleading guilty.   
'I commend local law enforcement in Wythe and Smyth Counties for mobilizing successful rescue and tactical operations in this remote region,' Cullen said in a statement.
'Thanks to their efforts, the suspect was safely apprehended and a seriously wounded victim received critical medical care. We will continue to work with our state and local partners to bring the perpetrator of this senseless and brutal attack to justice.'
Authorities haven't provided a motive for the attack. 
Multiple sources indicate Jordan has been harassing and menacing hikers in the region for weeks. Hiking in the region is in the midst of its high season. 
Larry Smith from South Carolina told The Daily Beast he met Jordan on the Trail in April when he entered a shelter and started 'ranting and raving' and threatening to 'burn this shelter down.' 
Later that month Unicoi County Sheriff Mike Hensley reported that a man called Sovereign 'ran hikers out of shelters with a shovel' and 'brandished a knife and machete and stated it was going to be a bad day for hikers.'
Reflected Brian King, a spokesman for the Appalachian Trail Conservancy, 'Everybody is sad and sick to their stomach'.
Adding, 'But the message is that this is rare and an aberration. The trail is still a refuge, and you can't guard against every evil in the world.'
Jordan is scheduled to appear in federal court on Monday.