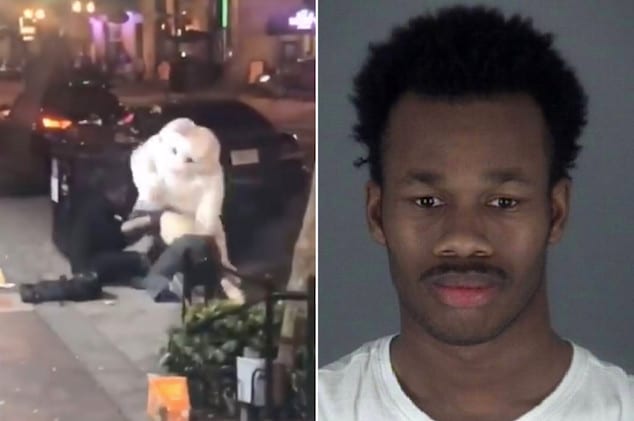 Antoine McDonald is the Orlando Easter Bunny brawler exposed: How a man caught on video coming to a woman's history has been revealed to have his own sordid criminal history.
An individual filmed on video seemingly coming to a Florida woman's rescue during an altercation while donning an Easter Bunny costume has been revealed to have a violent background, including armed robberies, carjacking and burglarizing.
According to the Tampa Bay Times, Antoine McDonald, 20, despite his apparent good deeds is most recently wanted for a burglary in NJ.
The Easter Bunny crusader was caught on video on Saturday night interceding during an altercation involving a woman and a man outside a Comedy Club in Orlando.
Of note- no arrests were made following Saturday evening's incident after police responded to the ensuing commotion.
Best Easter bunny Orlando street fight I've ever seen & I've seen some weird stuff on here from Orlando pic.twitter.com/z7N4gzE1RU

— Busted Coverage (@bustedcoverage) April 22, 2019
Antoine McDonald aka Orlando Easter Bunny brawler: More than meets his fluffy bunny ears.
Told McDonald via News6 after the episode which saw him beat down a would be aggressive man, 'I am the type of person to avoid fights by any means necessary, but in that situation, I would fight any day.'
McDonald told the outlet he didn't know the woman or man- while insisting he would not tolerate disrespect toward women. But it now appears, McDonald does have his own fuzzy skeletons to contend with.
It wasn't long after the video went viral that McDonald was exposed of having a sordid past, including being accused of two armed robberies on New Year's Day in 2017 in his home state of NJ. In 2018 – McDonald and an accomplice were caught on camera burglarizing a car in South Brunswick. Police in New Jersey obtained a warrant for McDonald's arrest. 
McDonald left the state and was later arrested in Pasco County, according to the Times following that episode.
"Turns out, the man in the suit — 20-year-old Antoine McDonald — is wanted in New Jersey in connection with a vehicle burglary last fall, and. He was also recently a "person of interest" in a carjacking and two armed robberies in Pasco County" https://t.co/AzSqrccjRz

— Jeff Anderson (@amountainpass) April 23, 2019
Antoine McDonald aka Orlando Easter Bunny brawler violent history continues:
But there's more, McDonald was recently named a 'person of interest' in a carjacking and two armed robberies in Pasco County, Florida.
South Brunswick police are aware of McDonald's location and are working with county law enforcement to determine if extradition is possible, police said in an email according to mycentralnj.com.
Prior to interceding during Saturday night's altercation, McDonald said he'd worn the Easter Bunny costume while attending a nearby comedy show Easter Sunday with friends. Indeed.
"I was just going to break it up, but he kept hitting her so then that's when I made it my problem to you know start hitting him as well." – Antoine McDonald AKA Easter Bunny https://t.co/Wkvyitw8vZ

— Vanessa Araiza (@VanessaNews6) April 22, 2019