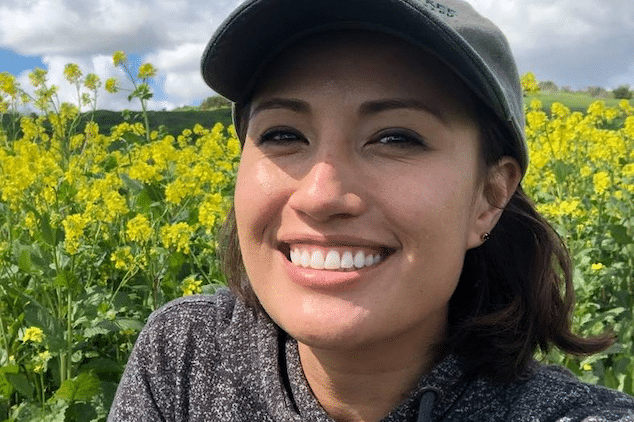 Anna Conkey a former NBC 7 intern and digital producer arrested after threatening to blow up San Diego church, 

at

Mount Everest Academy. 'I am God's messenger.' 
A 31 year old woman has been arrested after entering a San Diego church during Sunday morning services on Easter Sunday while holding her 10 month old baby and a handgun.
Reports told of Anna Conkey a regular church goer at Mount Everest Academy being recognized by the pastor, Benjamin Wisan as she walked onto a stage area. The reverend mentioned having 'negative interactions' with Conkey in the past and that Sunday's interlude was not the first time church members called police on her.
Speaking to Fox5 San Diego– Pastor Wisan said Conkey appeared confused while describing the mother, 'not in her right mind.' He said that instead of speaking, Conkey was just uttering random words, and that nobody could understand what she wanted.
Some people could make out words like 'martyrs,' 'the rapture' and comments about blowing up the church according to Fox5.
Quick thinking parishioners tackled Conkey and removed her weapon. The pastor said that the gun turned out to be unloaded. Conkey was taken away by police. 
Told Wisen, 'God divinely protected everyone and then we were able to get the gun away and the baby away and the police came and we were all good'.
Following Conkey's arrest just after noon, authorities located the suspect's 5-year-old daughter at a daycare center in Bonita. The children were placed under protective custody, while Child Welfare Services evaluate them.
Anna Conkey a freelance journalist who tipped off her former employer:
Conkey was described as being a former NBC 7 intern and a former part-time freelance digital producer. The suspect was listed as being an SDSU graduate and previously serving the U.S Navy.
Five minutes before the incident, Conkey sent an email to NBC7, tipping off the station about an impending attack on the church without revealing it was her who was making the bomb threats.
'There's a woman claiming to be the Messiah, saying she was sent to blow up the foundation of the Church—she's got a gun and a child is involved…. There are about 70 people in the auditorium of the school where the church service is held,' the email said.
Anna Conkey YouTube: 'God told me I'm his messenger, and an apostle, and a prophet, and according to the Bible, the apostle has more power than the teacher…I was sent there for a reason.'
Perhaps most beguiling, was a week prior to Sunday's incident- on April 15- Conkey having showed up at Mount Everest Academy with a gun, where she made a Facebook post talking about how God had appointed her to give the church a message. She said that she went to the church to deliver this message — but instead of listening, the church called the police and ordered her to leave.
Conkey said 'I didn't do anything. I guess when I said that I God told me I'm his messenger, and an apostle, and a prophet, and according to the Bible, the apostle has more power than the teacher…I was sent there for a reason.'
Wisan's brother, Ben Wisan, another church leader, said the suspect was known to the church. 'We knew who she was. She had been coming on and off for a little bit of time. And we had been praying for her because we wanted to see her set free,' Wisan said.
Conkey's neighbors expressed shock following her arrest.
'This is so unexpected, so unbelievable and so not like her. I could never have imagined this, ever,' said Linda Grace, a neighbor of Conkey told via nbclosangeles.
The neighbor revealed Conkey's husband serving in the U.S. Navy and currently on deployment on the East Coast.
Conkey has been charged with 'making criminal threats and displaying a handgun in a threatening manner.'