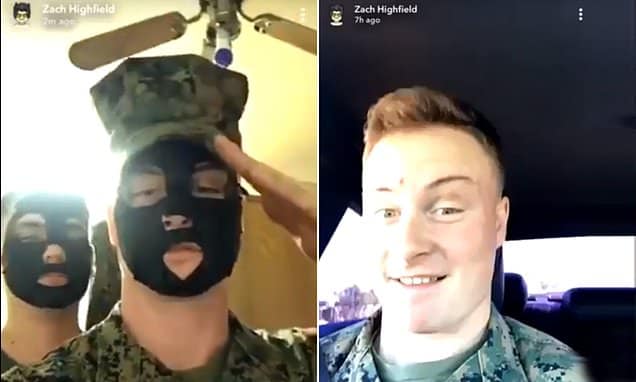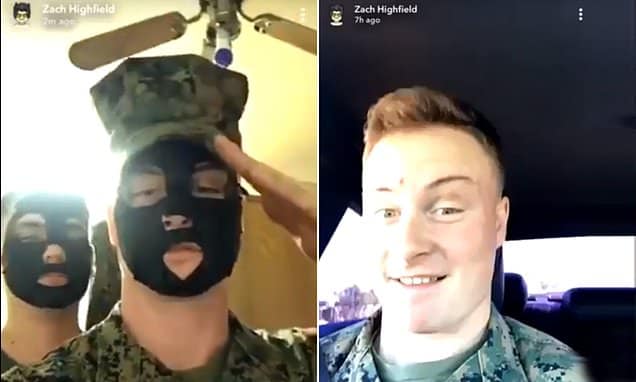 Zach Highfield one of two marines with the 3rd Marine Aircraft Wing based at Miramar Air Station in California donning blackface in racist Snapchat video. The denigration of African Americans. 
Officials have confirmed they are investigating an alleged episode of egregious racism after two marine officers uploaded video on Snapchat donning blackface and making disparaging comments.
The undated clip, which was widely shared this week on Twitter, shows the men in uniform wearing what appears to be black charcoal sheet masks, intended to clean pores.
One of the men, who is standing in the background, says the word 'blackface,' with his partner in crime replying, 'good morning, sir' before putting on his cap and saluting.
'Hello, monkey,' the first man says.
The Third Marine Aircraft Wing based at Miramar Air Station in California says it is looking into the video, according to KPBS.
This is Zach Highfield, he's a Marine who is proudly displaying his bigotry by wearing blackface in his military gear. The man behind him who says "hello monkey" hasn't been identified yet. Care to comment on this racist behavior @USMC? pic.twitter.com/mKPLetFrYs

— Simar (@sahluwal) February 23, 2019
The outlet identified the man in the foreground, who does the salute, as Zach Highfield.
'It looks a lot worse than it is,' Highfield told via KPBS. 'It was a bad mistake. We had no intention to offend.'
The second Marine in the video hasn't been identified.
A spokesman for the 3rd Marine Aircraft Wing (MAW) confirmed the ongoing investigation and said in a statement e-mailed to USA TODAY:
'Our leaders are committed to maintaining an environment of professionalism, dignity, and respect. 3rd MAW takes all allegations of discriminatory behavior very seriously as they stand in stark contrast of our core values of honor, courage, and commitment and do not reflect the discipline and professionalism of the Marines and Sailors of 3rd MAW.''
Zach Highfield blackface Snapchat video: another episode in the ongoing denigration of minorities.
The use of blackface, considered racist and demeaning, was at that center of controversies that rocked the political establishment in Virginia in early February and forced Florida's Secretary of State to resign in late January.
Those episodes followed former Fox News anchor and Today Show host, Megyn Kelly being pulled off of her show with NBC for questioning what was wrong with blackface as part of a Halloween costume on air last October.
It's not immediately clear what inspired the two marines to don blackface and make disparaging remarks and what sanctions they might expect to face.
Responded one social media user, 'They should be dishonorably discharged. They should never be allowed to handle a weapon again.'
While another posted, 'Kick them out.'
While others posted, 'Hope they get rid of him and his friend.'
While one veteran posted, 'As a US Marine veteran I a disgusted. No honor to the corps. To America. Conduct unbecoming of a US Marine.'
According to the Marine Corp Times, there have been at least three other incidents that surfaced in February alone in which a Marine or former Marine was linked to allegations of racism, white nationalism or promoting anti-Semitic messages and Nazi propaganda.