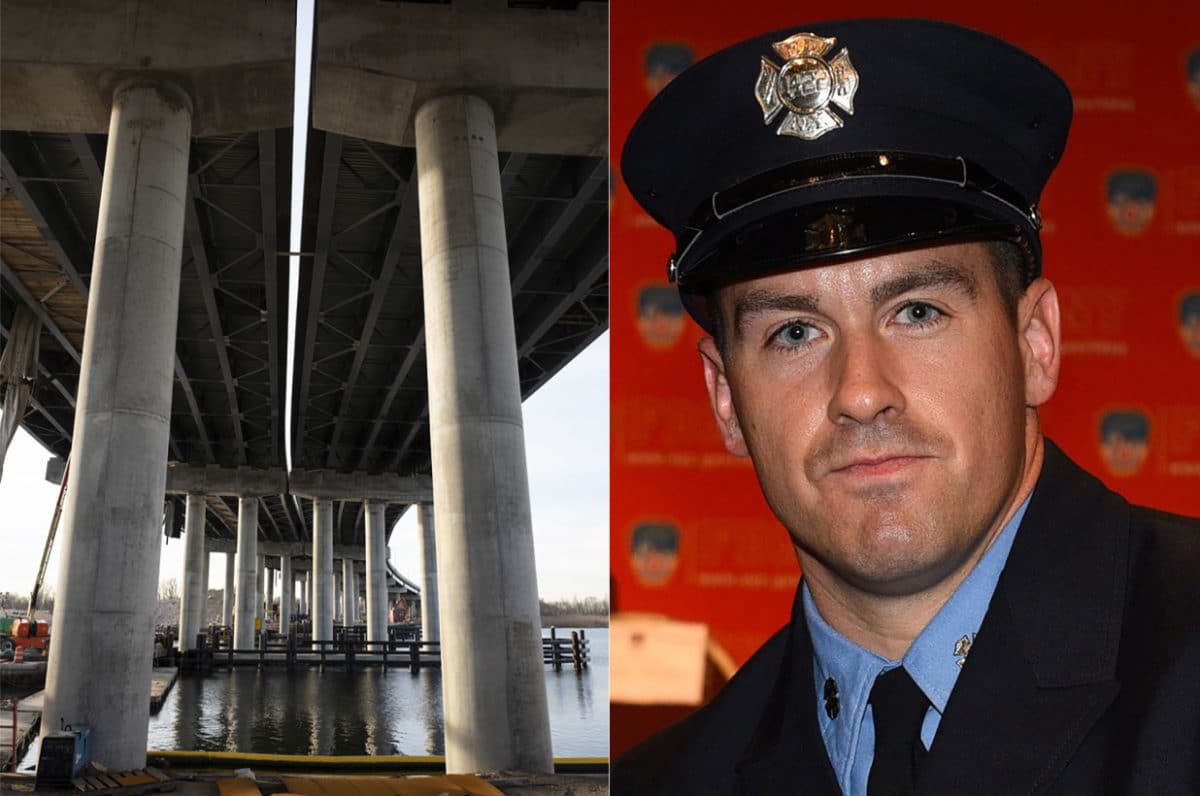 FDNY Firefighter Steven Pollard, Ladder 170, killed after fall from 

Belt Parkway's Mill Basin drawbridge.
Tragedy has struck with the news that an FDNY firefighter plummeting to his death, Sunday night after attempting to save car crash victims along Brooklyn's Belt Parkway's Mill Basin drawbridge.
Steven Pollard, 30, a probationary firefighter with Ladder Company 170, was attempting to reach the victims on foot circa 10pm — and was crossing over from the eastbound lanes to the westbound lanes, where their flipped vehicle was — when he fell to the ground below.
Fire officials said Pollard plunged 52 feet as he tried to traverse a gap in the road. It's unclear, though, if he knew the gap was there when he tried to go across. The Mill Basin bridge was recently rebuilt, and now features a 2½- to 3-foot-wide space between each side of the highway.
'The members of 170 had responded in the opposite direction, on the eastbound side, and needed to cross over the roadway to assist the injured motorists,' said FDNY Commissioner Daniel Nigro in a press statement reported ABC7NY. 'And in the process of crossing over, Steven fell to the ground below.'
@NYCMayor & @FDNY updating the press on the death of 30-year-old firefighter, Steven Pollard. Just over a year into his career, he came from family of FDNY including his brother and father. He fell off of the Mill Basin overpass while responding to a crash. @CBSNewYork pic.twitter.com/1Y5Vf7DRXG

— Natalie Duddridge (@CityNatalie) January 7, 2019
FDNY Firefighter Steven Pollard remembered:
Authorities said Pollard crossed the Jersey barrier not knowing there was a roughly three-foot gap between the east and westbound lanes.
Pollard fell more than 50 feet onto hard sand. He was pronounced dead at Kings County Hospital.
'It's a very sad night here in our city,' said Mayor Bill de Blasio during a Monday press briefing. '[Pollard] was trying to do such a good and important thing and it's just really painful to see him as we did in the hospital room.'
De Blasio noted how Pollard had less than two years on the job and came from an FDNY family — his brother, Ray Jr., works as a firefighter in Brooklyn and sources said his dad, Ray, is a retired firefighter.
'What makes this even more painful is this is a family that's served our city for decades,' said de Blasio.' [Pollard] devoted his life to the people of our city, like his brother, like his dad.'
Yesterday, we lost a brother – and this city lost a hero. Firefighter Steven H. Pollard died tragically while responding to a vehicle collision in Brooklyn. We stand with our @FDNY family & all New Yorkers as we mourn this terrible loss. Fidelis Ad Mortem. pic.twitter.com/dt0NfwsSlh

— NYPD NEWS (@NYPDnews) January 7, 2019