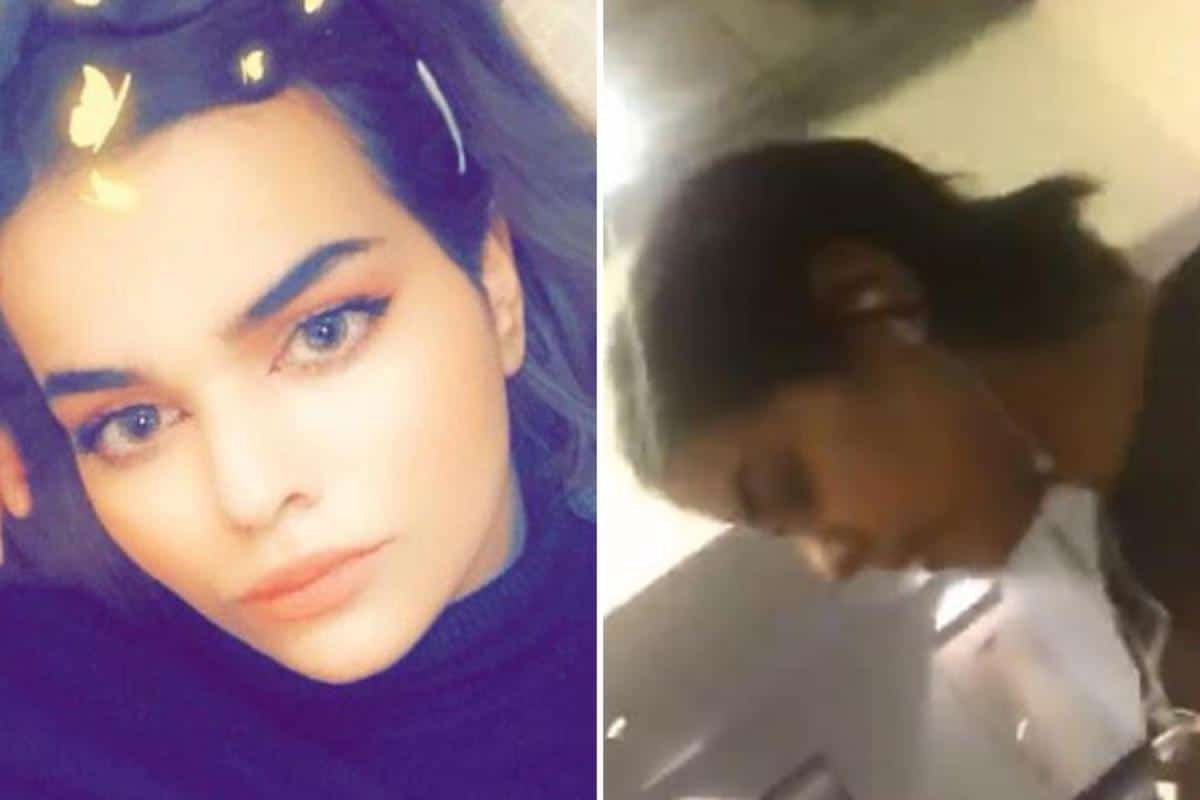 Saudi woman 

Rahaf Mohammed al Qunun petitions for asylum as she is 

held in Bangkok after fleeing abusive family as she now fears imminent deportation. 
### Update: January 7-9am EST: Rahaf Mohammed al Qunun, 18, has for the time being avoided being sent back to Saudi Arabia after barricading herself in her room and demanded to meet the UN's refugee agency.
On Monday, immigration chief Surachate Hakparn said that Thailand will not send her back immediately. In the interim the teen has fielded requests to Australia, Canada and the US for asylum- as no state has said they will take her in.
### Original post: January 6-5pm EST:  A Saudi woman who is being held in Bangkok after trying to escape her abusive family has told of her fears that she will be killed if she is deported as planned in a few hours.
Rahaf Mohammed al Qunun, 18, has been trapped in the airport since arriving in the early morning hours of Sunday as she now desperately reaches out in the hopes of attaining asylum. 
The teen also going by the name of Rahaf Mohammed Mutlaq Alqunun said she'd intended to reach Australia (where she has a visa permit) and apply for asylum there- only to be preempted when Saudi officials in the Thai airport confiscated her passport after her father reported her for traveling without her male 'guardian'. He claimed she was mentally ill but failed to provide any evidence.
The BBC is now reporting Rahaf is due to be escorted on to the 11.15am Kuwait Airways flight 412 from Bangkok to Kuwait, Monday morning.
Speaking from a guarded airport hotel room, the woman spoke with the dailymail.
Told the Saudi teen, 'I am scared.
'My brother told me that he's waiting with some Saudi men.
'They will take me to Saudi Arabia and my father will kill me, because he is so angry.
'He will kill me. My family do this. I know them.
'They kept telling me they will kill me if I do something wrong – they say that since I was a child.'
The flight schedule to return me is flight Kuwait 412

https://t.co/0OJLHmhANO please help me by step it from leaving

— Rahaf Mohammed (@rahaf84427714) January 6, 2019
I seek protection in particular from the following country
Canada/United States/ Australia /United kingdom, I ask any if it Representatives to contact me.

— Rahaf Mohammed (@rahaf84427714) January 6, 2019
Rahaf Mohammed al Qunun makes her escape: But who will come to her aid? 
Rahaf, her parents, and her six siblings live in Ha'il in Saudi Arabia, where her father works as a top level government official. According to Rahaf, she has suffered beatings and emotional abuse from her family, including being locked in her room for six months for cutting her hair.
The teen confessed to making her 'escape' after her family taking a trip to Kuwait.
With the aid of a family friend, Rahaf bought flights from Kuwait to Thailand and from Thailand to Australia– before taking a taxi to the airport at 4am after checking her father was asleep.
She said: 'When I came to Thailand someone told me that he will help me to get a visa for Thailand in the airport. After that he took my passport. After one hour he came back with five or six people, I think they were police or something and then they told me my father is so angry and I must go back to Saudi Arabia. They know I ran away from him.'
After having her passport confiscated, Rahaf asked her passport be returned and demanding she be allowed to fly to another country. Instead officials insisted she would be deported.
She said: 'They kept telling me I can't get a visa. The airline told me I have to stay here so I can go back to Kuwait. From Kuwait they [my family] will take me to Saudi Arabia.
'They will kill me. I am so scared.
'I want to go to another country, and stay safe. I have a visa for Australia, I want to go there.
'I don't know what I will do.
'I have to fight, because I don't want to lose my life.'
— Rahaf Mohammed (@rahaf84427714) January 6, 2019
— Rahaf Mohammed (@rahaf84427714) January 6, 2019
Rahaf Mohammed al Qunun human rights: Humanitarian agencies maintain 'Hands off policy'
Human Rights Watch has called on the Thai government to grant sanctuary to Rahaf, who they believe may be at 'serious risk of harm' if returned to her family.
The charity said no visa was necessary because Rahaf had not applied to enter Thailand before her passport was taken, along with her plane ticket to Australia – and that Thai authorities have prevented her from having access to UNHCR to make a refugee claim.
Told Human Rights Watch Asia deputy director Phil Robertson via AFP, 'What country allows diplomats to wander around the closed section of the airport and seize the passports of the passengers?'
Told Robertson via the dailymail, 'As far as we can tell, her father is a prominent government official, I expect he's going to be very very harsh.
'Certainly he's senior enough to do whatever he wants to his daughter and nobody is going to raise a finger against him.
'There's a long history of what they call "honor violence".
'I think she's at serious risk. We've been pressing the UN to get in there. They need to go to the airport.
Come Sunday afternoon, Rahaf even went so far to try to plead with the President of the United states directly, tweeting: '@realDonaldTrump please help me. I'm hoping that you heard about me. I'm Saudi girl who fled from her family. Now I could be killed if they drag me back to my male guardian.'
Thai officials claim have countered, calling the situation a family matter and insisting Rahaf will be deported to Saudi – where renouncing Islam is punishable by death, and activists say women are at risk of 'honor killings' by family members – tomorrow morning.
A Thai official confirmed today that an 18-year-old Saudi woman seeking asylum was denied entry to Thailand and held in Bangkok's airport.
Thailand's immigration chief Surachate Hakparn told AFP: 'Rahaf Mohammed M Alqunun ran away from her family to avoid marriage and she is concerned she may be in trouble returning to Saudi Arabia'.
 He said: 'She had no further documents such as return ticket or money.
He added that Thai authorities contacted the 'Saudi Arabia embassy to coordinate'.
When 18-year-old Rahaf Mohammed al Qunun arrives by plane tomorrow in #Kuwait there should be diplomats from the embassies of democratic countries meeting her at the airport to protect her.#SaveRahaf
cc: @AuswaertigesAmt @FranceKoweit@CanadaKuwait@AusAmbKuwait@USEmbassyQ8 https://t.co/BSrgzPt5xG

— Anonymous (@YourAnonNews) January 6, 2019
Rahaf Mohammed al Qunun diplomatic red tape:
Thai police Major General Surachate Hakparn told the BBC that Rahaf Mohammed al-Qunun was escaping a marriage but because she did not have a visa to enter Thailand, police had denied her entry and were in the process of repatriating her through the same airline she had taken, Kuwait Airlines.
Gen Surachate said he was unaware of any passport seizure and it is unclear why Ms Mohammed al-Qunun would need a Thai visa if she was in transit to Australia and had an Australian visa.
Online, Arabic speakers, human rights activists and journalists have attempted to bring a media spotlight to the case on Twitter using the hashtag #SaveRahaf.
Rahaf's case comes as the ultra-conservative Middle Eastern kingdom continues to be called out for imposing some of the world's toughest restrictions on women.
That includes a guardianship system that allows men to exercise arbitrary authority to make decisions on behalf of their female relatives.
If punished for 'moral' crimes, they could become victims of further violence in 'honor killings' at the hands of their families, activists say.
A spokeswoman for Amenesty International said the charity was 'not involved' in the case.
Another Saudi woman, Dina Ali Lasloom, was stopped in transit in the Philippines in April 2017 when she attempted to flee her family.
An airline security official told activists that Lasloom was heard 'screaming and begging for help" as men carried her "with duct tape on her mouth, feet and hands' at the airport.
The Saudi embassy in Thailand and officials in Riyadh has declined to respond to media overtures for comment.
20yo Rahaf fled KSA for Australia and was detained by Saudi embassy staff in Thailand.
Confined to room and deported to Kuwait tomorrow, then Saudi Arabia where she expects to be killed.
Aus embassy Thailand, demand they help.
+66 (0) 76 317 700#saverahaf https://t.co/QK59p3q8ph

— zharris stercum leno (@goforgold80s) January 6, 2019
Urgent,

I have just finished an important call with the Director of the Office of the Canadian Foreign Minister @cafreeland, about the Saudi girl @rahaf84427714

There is a lot of hope guys#SaveRahaf

— Ensaf haidar ⚜️🍁 (@miss9afi) January 6, 2019