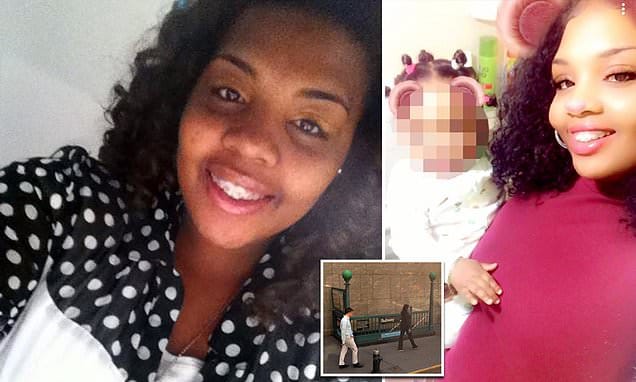 What led to 

Malaysia

 Goodson a young mother falling down a flight of stairs while accessing a NYC subway station- and killing herself? Baby survives. 
A 22 year old Connecticut woman has died after falling down a flight of stairs at a  NYC subway station while pushing her daughter in a stroller.
A spokesperson for the New York Police Department said that Malaysia Goodson fell down the stairs at and onto the platform at the B/D/E at 53rd St. and Seventh Ave. at about 8 pm on Monday.
Goodson, from Stamford was discovered unconscious on the southbound platform of the station after the fall.
A station employee told the New York Daily News she called the cops after panicked commuters rushed up the stairs to tell her a woman had fallen.
Goodson, a daycare worker, was then rushed to an area hospital, where she was pronounced dead.
Her one-year-old daughter Rhylee was found conscious and was treated at the scene. Goodson's infant daughter was not injured in the fall, cops said.
Told Goodson's aunt, Curtessa Goodson via NBC New York, 'Malaysia was a distant niece of mine. [She] was smart, caring, beautiful, and will be extremely missed.' 
The family used to live in New York, according to NBC New York, and she was in the city visiting a cousin.
It's still not clear whether Goodson accidentally fell down the stairs or if she had some sort of medical episode, or if she was killed by the impact from the fall, authorities said.
The medical examiner will determine her cause of death.
The Seventh Avenue/53rd Street station does not have an elevator and only has an escalator that goes up.
Malaysia Goodson might still be with us if this station was accessible. Governor Cuomo and state legislators must fully fund the MTA's Fast Forward plan so every station can be made accessible for all riders, including parents like Malaysia. https://t.co/A3mSptBWwz

— TransitCenter (@TransitCenter) January 29, 2019
This is 22 year old Malaysia Goodson. The Stamford mother fell down the stairs at a subway station in NYC last night and died. Her one year old daughter was with her in a stroller but is ok. @News12CT pic.twitter.com/4mRmwOAZKx

— Marissa Alter (@MarissaAlter) January 29, 2019