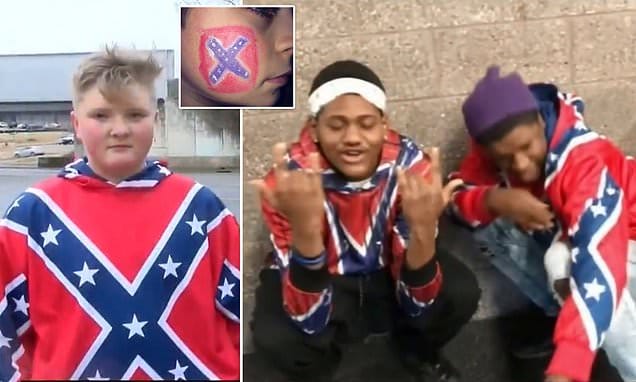 Jagger Starnes an Arkansas 

Fayetteville High School student is suspended after refusing to wear Confederate Flag regalia – citing freedom of expression and Southern pride.
An Arkansas high school student has been suspended after refusing to remove a Confederate flag themed shirt and face paint- claiming that he was just showing 'Southern pride'.
Jagger Starnes's suspension comes after the boy and several students showed up at Fayetteville High School wearing apparel and face paint that was themed toward the Confederacy and in support for pro-flag movement #HistoryNotHate.
But when administrators instructed the students to remove the problematic paraphernalia, Starnes refused and was subsequently suspended.
'I told him I wasn't going to take it off. So then I went to the office, had a discussion, and then the head principal ended up calling me racist,' he explained to the KNWA. 
Multiple students took part in the 'action,' including some black students. They claim to be in support of #HistoryNotHate, a social media driven campaign that aims to support the rights of Americans donning the Confederate flag. 
'I just put Confederate flags all over their hands, on their face, wherever they wanted it. During lunch they had the police, the principal, vice principal Mr. Smith, all of the deans, and they were all telling us we either had to wash it off or go home,' described student Morrigan White. 
EXCLUSIVE: Students at Fayetteville High School wore confederate flags in support of #historynothate. I met up with the students who share why they're upset with how the administrators are handling the situation. Tonight at 9 on @Fox24News & 10 on @KNWAnews pic.twitter.com/6zXWQ7bcri

— Katie Davila (@KatieeDavila) January 23, 2019
B

y wearing the Confederate flag, students were going against the school's policy to keep a safe and undisrupted environment. 
In suspending Starnes, school officials say they not looking to take a political stance or seeking to impede anyone's rights as an American. Instead, they're trying to keep the peace, they say.
Principal Dr Jay Dostal asserted that by wearing the Confederate flag, students were going against the school's policy to keep a safe and undisrupted environment. 
According to the school district's rules, policy states that 'attire that disrupts the educational process or otherwise interferes with the rights or opportunities of others to learn or teach [is considered improper and unacceptable].'
Dostal added: 'We're not trying to trample on their First Amendment rights we're just trying to have a safe and orderly school environment.
'We have validated that the Confederate flag in our building can cause a substantially disruptive environment for some of our students, and because of that we're going to take measure to make sure that all of our kids remain safe.' 
Countered Jagger Starnes who doesn't attach the divisive legacy of the flag in his reasoning to wear it, 'To me it's southern pride, it's our heritage'. 
'None of us are racist, none of us are doing it for hate it's southern pride and we're not going to take it off for anyone, it's our flag, it's Arkansas. This is the South,' reiterated Starnes.
The #HistoryNotHate hashtag was created on social media as a campaign to support the right of Americans to bear the Confederate flag. Critics slam the movement for promoting racist ideologies. 'Maybe they should study enough history to know what the confederate flag stood for,' one Twitter user wrote. 'What part of confederate history are they proud of? The slavery?'
Which is to wonder when a teen in 2019 celebrates 'southern pride' shouldn't they be allowed their point of view and how they feel about themselves and their environment or must they be mindful to the volatile history of the region which included the negation of African Americans?
The students say they stand by their convictions and won't back down from wearing the Confederate flag. 'They're both going to keep wearing their jackets,' White said of Starnes and another fellow student. 'And if I have makeup, I'm going to put hashtag history not hate on my hands. I'll still keep putting the flag on my face.'