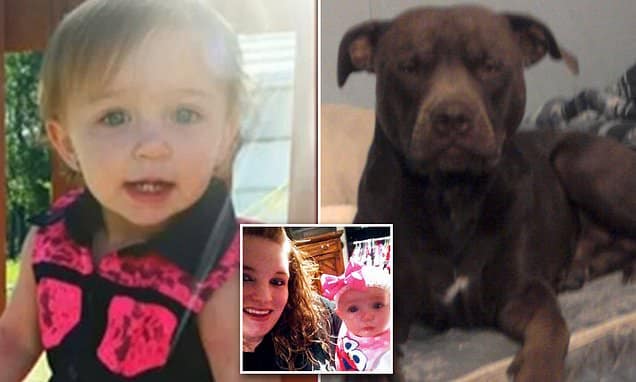 Triniti Harrell pit bull attack: One year old Rocky Mount, North Carolina girl succumbs to injuries during family dog attack. Dispatcher 911 call released. 
A one year old North Carolina baby girl has died after being mauled to death by the family pet pitbull.
Despite being rushed to hospital, Triniti Harrell died a week later following the October 21 attack at the family's Rocky Mount residence.
The Fayetteville Observer reported the baby girl's mother, Miranda, calling 911 during the pit bull attack on her daughter – with the mom given instructions to try to save Trinity's life.
During the 9 minute call, Miranda Harrell urged the dispatcher to 'hurry up' and send help.
Told the mother upon initially calling 911, 'Hurry, she's dying, Please hurry.'
'Can you get a hold of anything to try to get the dog off her?' the dispatcher responded. 'Can you try to get something to separate them? I've got everybody I can get en route to you'. 
The male dispatcher then told the mother to put a stick in the dog's mouth to try to separate them. 
He then instructed the mother to use a shovel or pan to hit the animal with and knock it out. 
'Hit him with it. Hit him right in the center of the top of his head. If you hit him hard enough, you'll knock him out,' he said. 
The mother replied that she was hitting the animal as hard as she could but that it was not working. 
That is when the dispatcher instructed her to go inside and retrieve a kitchen knife to slit the animal's throat. 
'Can you run in the house and grab a steak knife or something?'
'If you will run in the house and get a knife, I will tell you how to get him off her,' he said. 
Sweet one-year old Triniti Harrell has become the latest to die from a "family pet" pit bull attack. It makes me so sad and so angry. @RachelNuwer https://t.co/zcjIxjukjo pic.twitter.com/pkzrTYVINW

— Eric Bongo (@BD1W) October 29, 2018
The mother pleaded that she could not go inside and leave the child alone, but he persisted: 'It'll take you 30 seconds to run in the house and grab it,' he said. 
She ignored him and continued to scream at the dog, prompting him to tell her: 'Ma'am, yelling at him is not going to change anything.
'I need you to find something sharp, and I'll explain to you how to get the dog off of her.' 
When she finally went to get the knife and bring it back outside, the dispatcher instructed her: 'Cut him across the bottom of his neck. 
'It's going to release his jaw muscles. 
'He won't have a choice but to let go.' 
Harrell said she was trying but that the blade was not sharp enough. 
'I need you to do anything you can do with that to make that dog let go.'
The dog's life is not a concern to me at this point,' the dispatcher went on. 
Afterwards, the call dropped. 
WRAL reported an off-duty police officer arrived at the scene shortly afterwards and shot the dog but had to fire his gun twice before the animal died. 
Triniti was taken to the hospital but died Monday past on October 28.