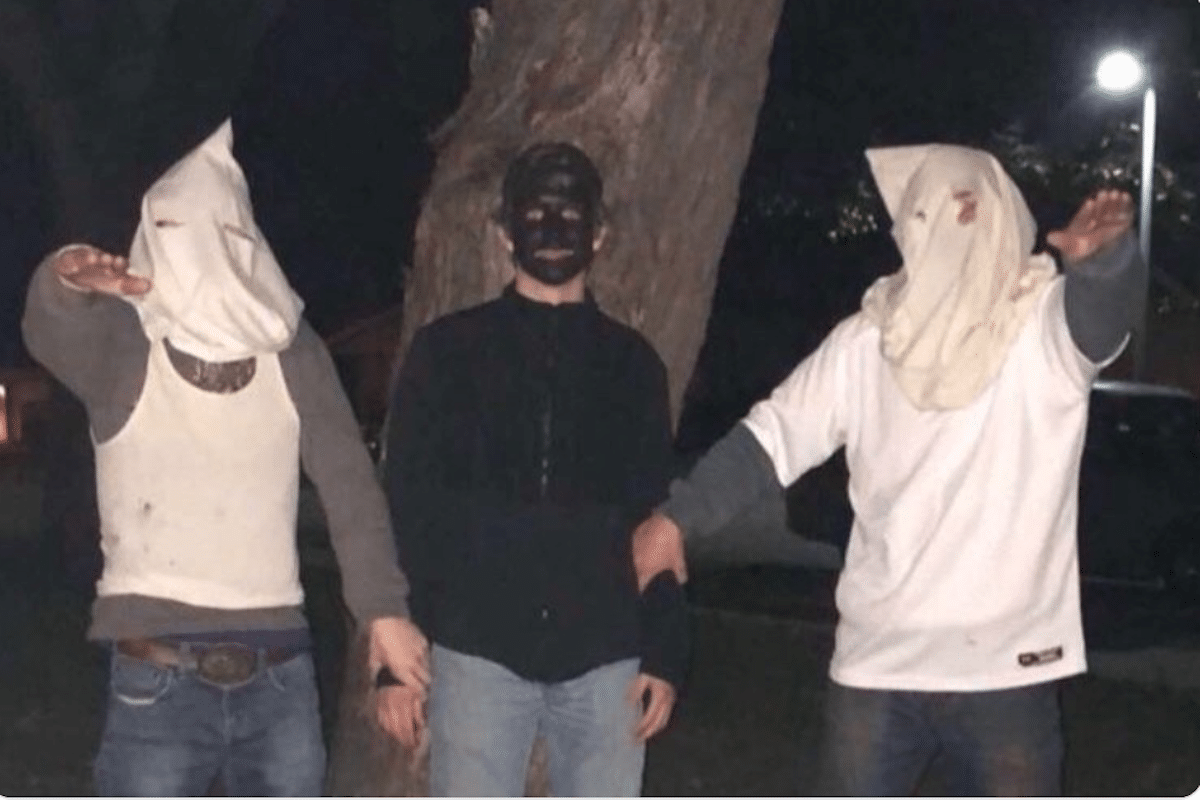 Rochester Public School racist KKK costumes- featuring Minnesota, John Marshall High School students leads to wide rebuke from the school district and community leaders. 
A viral photo showing Minnesota high school students dressed in KKK attire has led to wide condemnation and a resulting investigation.
The controversial image shows two students in KKK robes, displaying a Nazi salute. Standing between the hooded Klansman appears to be an apprehended third student, who appears in blackface (the suggestion seems to be one of dominance of the black man). 
The image which first surfaced Wednesday night- led to John Marshall High School, where at least two of the teenagers were students, issuing a statement condemning the costume.
'The social media post is not a reflection of what our district students and staff believes and feels,' Rochester Public School district said in the statement according to the Med City Beat. 'We will use this as an opportunity to talk, educate, and grow as a community as we work to become even stronger and more inclusive to all students.'
'Rochester Public Schools is aware of and investigating a racially-charged image that is circulating on social media allegedly involving students at one of our schools. We want to ensure you, and our community, that the District will respond in an appropriate manner based on the results of our investigation,' reiterated Rochester Superintendent Michael Muñoz.
Muñoz added that Rochester Public Schools 'strives to create a welcoming environment for students of all backgrounds and is committed to providing a learning environment that is free from discrimination.'
Rochester Public Schools says it is "aware of and investigating" a racially-charged image circulating on social media allegedly involving students from John Marshall High School. #rochmn https://t.co/bbbXA7k5nV pic.twitter.com/EvDc5Cg0z1

— Sean Baker (@SeanBakerMN) November 1, 2018
Rochester Public School racist KKK costumes: Social media and Army recruiters swift response.
In turn an Army recruiter at the school responded by saying said involved students were not welcome to join the US armed forces.
'Because the questionable conduct of these three individuals is inconsistent with Army values, they will no longer continue the process to become U.S. Soldiers,' said Marlene Bland of the 3rd Recruiting Brigade. 'The Army does not tolerate inappropriate behavior by anyone within our ranks, [including] recruits who have signed a contract to join in the future. It is important for everyone on our team to live and demonstrate the Army values every day.'
It remained unclear whether the involved students ever sought admission in the first place and if the forces had sought to simply take advantage of the divisive issue to score morality points.
Nevertheless social media come Friday seemed to indicate that the involved students may may have certainly sought entry to the army – which can only cause further cause for concern. 
While Minnesota state and school officials sought to distance themselves from the troubling phenomenon of vitriol white racism, the Minnesota Historical Society, noted fifty-one KKK chapters once exhibiting in the state. Which is to suggest art often imitates real life. 
To date the identities of the three individuals has yet to be publicly revealed save for one Facebook post directed at the employer of one the students which elicited the following reaction: 'This behavior is not condoned by Hy-Vee and we will address this matter with this employee right away.'