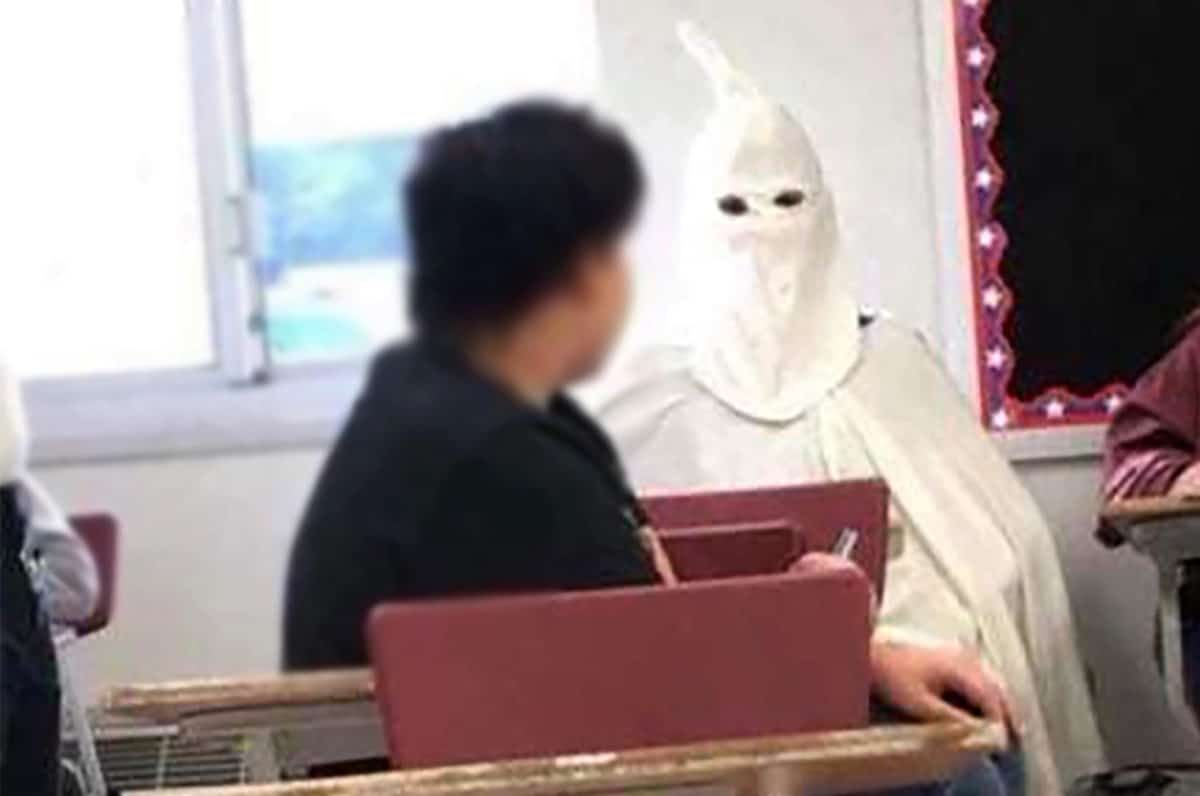 Missouri, 

Poplar Bluff High School teacher suspended over KKK outfit. Student dresses in racist outfit for history class. Indoctrinated racism. 
Too close to home? A school teacher in Missouri has been suspended after a student dressed up as a member of the Ku Klux Klan as part of a history class presentation.
A ninth-grader at Poplar Bluff High School dressed as a member of the KKK on Friday as students in an American history class made presentations pertaining to amendments to the US Constitution. The student in question, wearing a white robe and hood, was part of a group assigned to the 15th Amendment — guaranteeing voting rights regardless of race or color, KFVS reported.
According to the Anti-Defamation League, the KKK dates back to 1865, at the end of the Civil War. It is a white supremacist/white nationalist group with a history of oppressing, and sometimes killing, African Americans, Jews, Roman Catholics and others.
The episode led to district officials suspended the teacher as they now investigate how and why the child turned up to school in the racist costume. Officials said they don't believe the boy was acting with intent to offend or discriminate against other students. 
'There's no context for this,' Poplar Bluff School District Superintendent Scott Dill told KFVS. 'There's no point at which anyone in our public school system is going to say that this is OK. It is very obvious that this can't happen in any setting anywhere, and so we will do our best to ensure that we do what we do best, which is education.'
District officials are now taking steps to ensure teachers are providing 'age-appropriate historical context' on key topics in a responsible manner.
'And we will make sure that our students, our teachers and our community understand the context, understand what is acceptable and what will never be acceptable,' Dill continued.
A letter of apology was sent by the unidentified teacher and read to students. 
'I made a mistake on Friday during our skit assignment,' the teacher wrote. 'I let a student wear an inappropriate costume that was unacceptable and hurt many people's feelings. As the professional in the room, I should have known better. I am sorry.'
Continued the apology, 'I am so sorry for making this mistake, and I hope that you can forgive me and we can work through this together. I understand that healing and forgiveness take time, and I am absolutely okay with that.'
Apology or not. Poor taste. Poor judgement. Or veiled intent. It wasn't long before a photograph of the teen dressed as a Klansman began circulating on social media.
A former student who graduated from the school last year shared a Facebook post depicting the student but she had not been in the classroom at the time, the Springfield News-Leader reports.
'I've never ever heard of a history teacher who said it was okay to use a KKK costume for a project,' graduate Brianna Anthony told the newspaper. 'Because when people walk into that classroom and see that uniform, that's automatically a red flag.'
Which is to wonder how was the responsible teacher not aware that they were setting up a red flag?
Or as others wondered- is racism and discrimination so pervasive and part of the landscape that the assigning teacher hadn't even reckoned the possibility of the student walking into school dressed in KKK being offensive in the first place? Never mind the teacher's own views towards race.
Costumes weren't a part of history classes during her time at Poplar Bluff, Anthony reiterated. 
'We just got in group projects and did, like, reports,' she told the newspaper. 'We used costumes in English, going over stories.'
'I'm not going to lie, there's racism,' she added. 'But there's racism in every town you live in.'
@shaunking this happened in Poplar Bluff Missouri at my daughters High School a student was allowed to wear a KKK costume! When I contacted school @573-785-6471 they told me that this was part of an Assignment in History class and nothing was meant by it! pic.twitter.com/IyulaMN8bG

— MsClay (@Tasha91983544) November 10, 2018