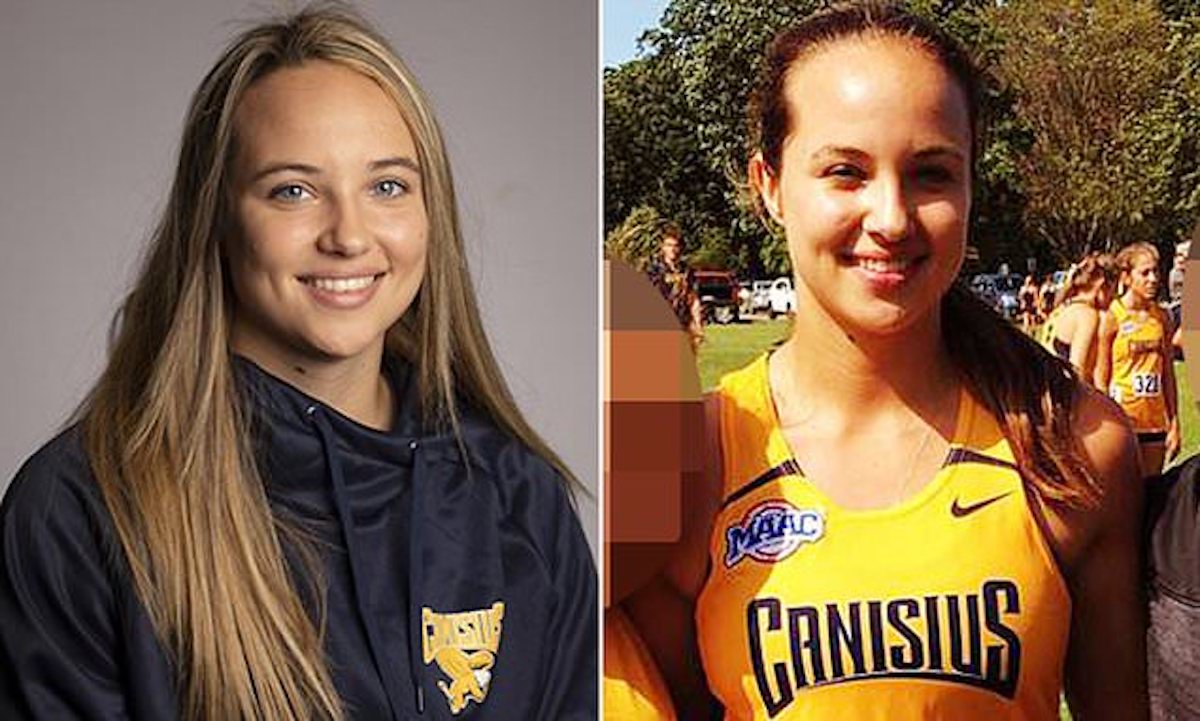 Emily Scheck: Canisius College sophomore athlete disowned for being gay becomes viral sensation as donations pour in with the teen's parents now relenting after kicking her out of their Rochester home. 
A GoFundMe page set up on behalf of an upstate New York college athlete disowned by her parents after they learned she has a girlfriend as of Sunday evening, raised just on $58,000.
According to an interview, Emily Scheck, 19, gave with The Buffalo News, the teen's parents gave her an ultimatum; either come home and get therapy (including giving up her partial athletic scholarship) or be prepared to be completely disowned.
The college sophomore at Canisius College was soon after kicked out of her family's Rochester-area home following her parents discovering about their daughter's sexual orientation through social media during the summer.
Rather than drop out of school, Scheck chose to stick with studies at Canisius along with her commitment with Division I Cross Country and Track team. Struggling to make ends meet, the sophomore took on two part-time jobs in a bid to afford school, groceries in addition to homework and her sport.
Inspired by the sophomore's resolve, Grace Hausladen, Scheck's roommate at the Buffalo college, set up a GoFundMe page to support her friend Nov. 7, writing that 'no one deserves to have their home and siblings taken away from them for being their true selves.'
Over the weekend, donations skyrocketed after The Buffalo News published a story on Scheck's plight.
Contributions came with messages encouraging Scheck to continue embracing her true self.
'You deserve love and support. Be strong and know that there is nothing wrong with you,'one contributor wrote.
But there was some extra headwind to reckon with….
Official statement on Emily Scheck eligibility and crowdfunding. pic.twitter.com/nQP3gLAKBg

— GoGriffs (@GoGriffs) November 16, 2018
Emily Scheck: Canisius College sophomore finds her resolve and social media rallies behind her.
When Canisius officials learned of the fundraising page, they alerted the NCAA, which generally bars students from using their status as athletes to raise money. 
Sheck told SBNation's Outsports page that a Canisius NCAA compliance officer said she'd be kicked off the running team unless she returned the money.
Under NCAA rules, the college sophomore could have been forced to return the money if she wanted to retain her eligibility to run with Canisius College's cross country team.
But by Friday, Canisius and the NCAA had worked things out. The NCAA said Scheck could stay on the team and continue to use donations to help cover her living and educational expenses, so long as the school monitors the situation.
'NCAA rules and waiver precedent allow a school to assist a student-athlete with a fundraiser after a significant life event occurs,' the college said in a statement.
Scheck told The Buffalo News that in August, she received a text from her mother that read, 'Well, I am done with you. As of right now, you declare yourself independent. You are on your own. Please don't contact us or your siblings…. Because you disgust me.'
The athlete also said that even though she purchased her own car, her parents removed her from their insurance, and her father drove to Canisius to strip her car of its license plate and fill it with all of her personal belongings she'd left behind at home — including her birth certificate, stuffed animals, childhood photos, and clothes.
'I never would have guessed in a million years that this was something that was going to happen to me,' she said.
But it seems Emily's parents may have been compelled to do an about face…
Scheck's father Timothy told the newspaper that his family loves and accepts Emily, and that any mentions of disowning her were only attempts to pressure her to come home. He also denied that he and his wife meant conversion therapy when they urged their daughter to seek counseling.
Good follow up and reporting by ⁦@SandraTanBN⁩ here — I was curious to hear the parents/father comment on this:

"The family asked her to participate in counseling sessions, but he said that did not mean conversion therapy."

Um, sure …

— Lyndsey D'Arcangelo (@darcangel21) November 17, 2018
Since this story was published Friday evening, people moved by her story have contributed thousands more dollars to help with her college expenses. Thanks to Emily for sharing her story. I hope she and her family eventually do find healing. https://t.co/CR2ggKeIst

— Sandra Tan (@SandraTanBN) November 17, 2018
Can this honestly still be happening in our country? Parents disowning their child because of sexual orientation? Shame on these people!https://t.co/GhYSa0s6N0

— Amy Siskind 🏳️‍🌈 (@Amy_Siskind) November 18, 2018