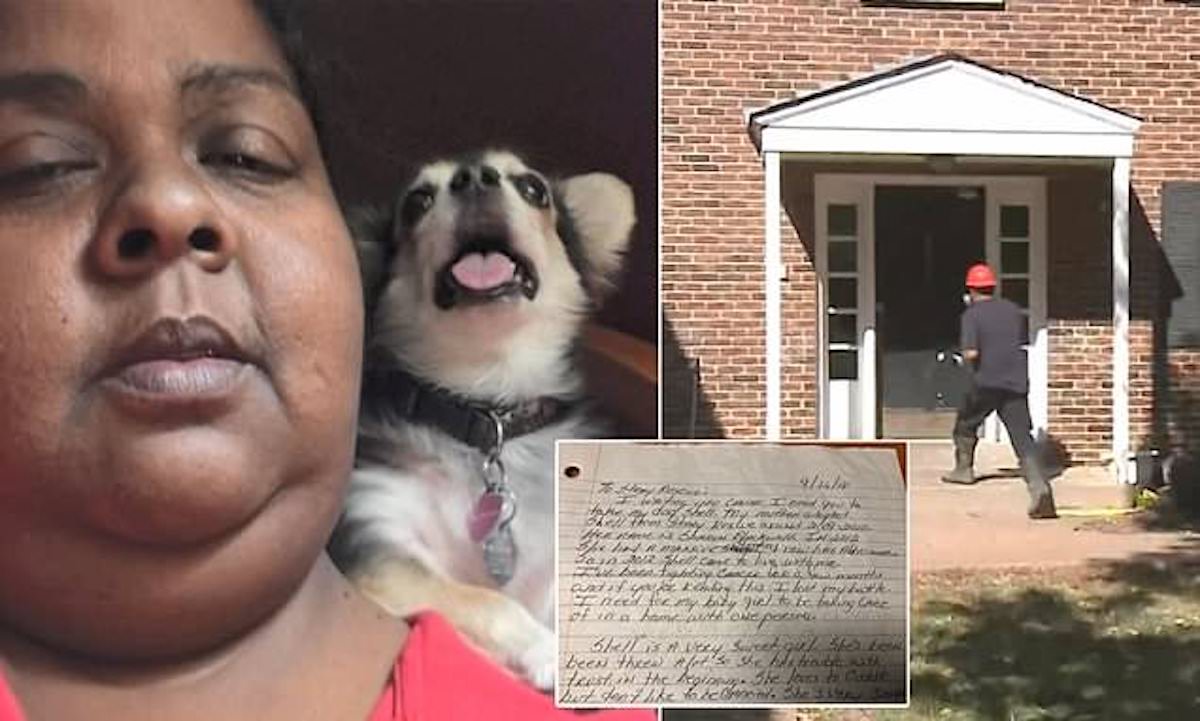 Crystal Chrisp an Affton, Missouri woman suffering cancer pens a suicide note asking Stray Rescue animal rescue shelter to find her pet a new home before killing herself.
A St Louis woman suffering from cancer has killed herself shortly after penning a note asking a local animal rescue shelter to find her dog a home.
The apparent suicide note was delivered a day before authorities were called to the Affton, Missouri, home of Crystal Chrisp after shooting herself dead.
Notice of the 46 year old cancer sufferer's shooting death came after fire was observed coming from the woman's unit in the 8900 block of Kidder Avenue circa 1pm, Tuesday.
Neighboring apartments were evacuated with the fire remaining under investigation.
The St Louis Post-Dispatch reported the woman's dog not being in the apartment at the time of her owner's suicide after Sharp dropping her off at Stray Rescue of St Louis the previous day, along with her handwritten note.
Read the letter, dated September 19,  'I [am] writing you cause I need you to take my dog, Shell. My mother adopted Shell from Stray Rescue around 2009-2010…. In 2012, she had a massive stroke [and] now has Alzheimer's. So in 2012 Shell came to live with me. I've been fighting cancer for a few months and If you're reading this I lost my battle. I need for my baby girl to be taking [sic] care of in a home with one person.
'She is a very sweet girl. She's been [through] a lot so she has trouble with trust in the beginning. She loves to cuddle but don't like to be carried. She's very smart…In these days all I do is worry about what's going to happen to her. I love this girl, she is my daughter.'
Woman found dead from self-inflicted gunshot wound in burned #Affton apt was 46 y/o Crystal Chrisp who recently found out her breast cancer returned. Had dropped off her dog at @StrayRescue w/heartbreaking note, "need for my baby girl to be taken care of." @KMOV pic.twitter.com/iz4uZTZBFb

— Russell Kinsaul (@russellkinsaul) October 3, 2018
Crystal Chrisp had beaten breast cancer until it made a recent comeback:
As of Friday morning, the letter posted on the shelter's Facebook page has been shared more than 1,849 times. 
Many people have asked to take Shell in, and on Wednesday the shelter said that the a new home had been found for the animal (see below).
KMOV4 reported Shell's owner, working as a Metro bus driver for 18 years. Her close friend and colleague Sharon Hyster-Harris told of Sharp having beaten breast cancer several years ago, only for the disease to make a comeback earlier this year.
'I think she just decided she couldn't deal with it anymore,' said Hyster-Harris.
Chrisp had no children of her own and treated animals as her kids, according to those who knew her.