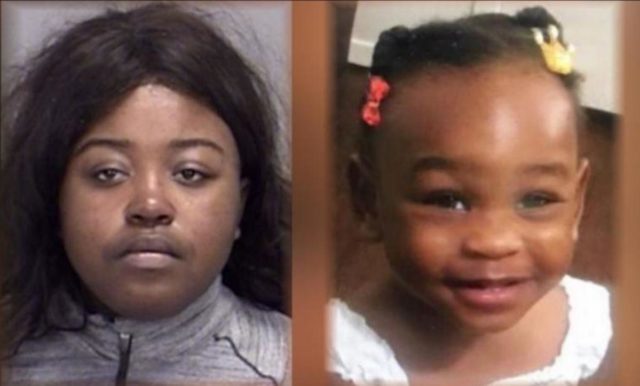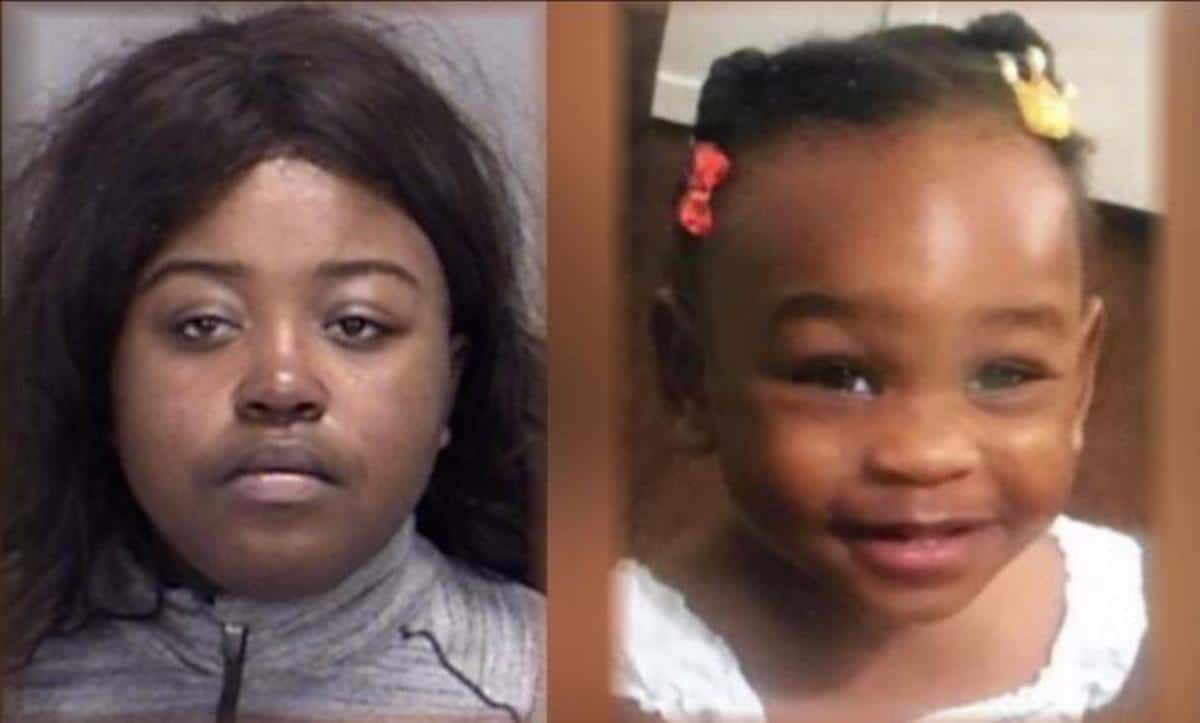 Tiaundra Kae Christon a College Station, Texas mother arrested after withholding information regarding the disappearance of her two year old daughter, Hazana Anderson.
###Update October 31: Human remains of a small child have been discovered in the search for the missing girl Hazana Anderson, according to College Station police.
In a press conference Wednesday afternoon, College Station Police Chief Scott McCollum told reporters, 'Investigators responded to the greater Houston area where they coordinated with local authorities and were able to recover remains that are consistent with that of a small child.'
According to investigators, efforts are still underway to positively identify the remains.
### Original post: October 30: A College Station, Texas mother has been arrested- a day after claiming her two year old daughter went missing.
Tiaundra Kae Christon, 21, was charged on Monday with making a false report and abandoning- endangering a child.
According to a Facebook post from police, Tiaundra Christon was taken into custody after investigators discovered that she was not providing truthful information regarding her daughter's disappearance.
The woman was booked into the Brazos County jail.
Come Wednesday, Click2Houston reported Christon appearing before a magistrate where it was revealed police found clothes belonging to the missing child in a dumpster at the park she was allegedly last seen.
A police arrest affidavit indicated evidence Christon handling those clothes. However, police said when Christon was questioned about the clothes, she denied knowing anything about it.
To date, College Station police have yet to locate the missing two year old girl, Hazana Anderson who was reported missing Sunday morning. 
The two year old girl was last seen at Gabbard Park at 1201 Dexter Dr. S.
According to cops, Tiaundra Christon said she arrived at the park with her daughter around 8 a.m. She then said she returned to her car to get a bottle for Hazana.
Upon returning from her car, the mother discovered the 2-year-old had vanished from her stroller.
Two fishermen later told police they heard the mom screaming for help reported KBTX-TV.
Update: The mother of a girl who went missing from a College Station park was arrested early Monday. Online records show Tiaundra Christon was arrested early Monday and charged with child endangerment and giving a false report to police. pic.twitter.com/4iyoAvuyeF

— Locate The Missing (@MissingCases) October 29, 2018
Search for Tiaundra Kae Christon missing daughter comes up short: 
College Station Criminal Investigation division launched a search for the missing girl, which included checking nearby homes and backyards. Police dogs were brought in but failed to find Hazana's scent. Drones helped widen the search beyond the park. Divers were used to go through the pond located inside the park, in case Hazana had fallen in. The search came up empty.
Hazana is described as a black female, approximately 3′ tall and weighing 28 pounds. She has black hair and brown eyes. The 2-year-old was last seen wearing an olive green jacket, with a black "girl squad" shirt, cream-colored pants, dark pink shoes, and a purple beanie.
Police say Hazana also has a dark-colored birthmark around her big toe on her left foot.
Hazana's father, Taboerick Anderson, since split up with the girl's mother, told KTRK-TV that Christon started acting strange and avoiding him within the last couple months. The father added he 'didn't see her doing anything like this' when the two were a couple and is 'blindsided' by her arrest.
The father revealed Christon had recently begun dating someone new. Anderson said officers had searched the boyfriend's apartment. KBTX-TV confirmed police statements that they were interviewing potential witnesses and that Christon's boyfriend had been included on that list.
Of note, an online search revealed Tiaundra Christon previously embroiled with legal woes. In November 2012, she pleaded no contest to a charge of disorderly conduct in Brazos County, Texas. The case type was labeled as 'Criminal Non-traffic.' She was ordered to pay a fine.
Missing posters are hanging in Gabbard Park in #CollegeStation where 2-year-old Hazana Anderson was reported missing Sunday morning. Her mother, Tiaundra Christon, is in the Brazos County Jail for giving a false report & child endangerment. @CW39Houston pic.twitter.com/8W8tZn4LMq

— Courtney Carpenter (@CourtneyCW39) October 30, 2018