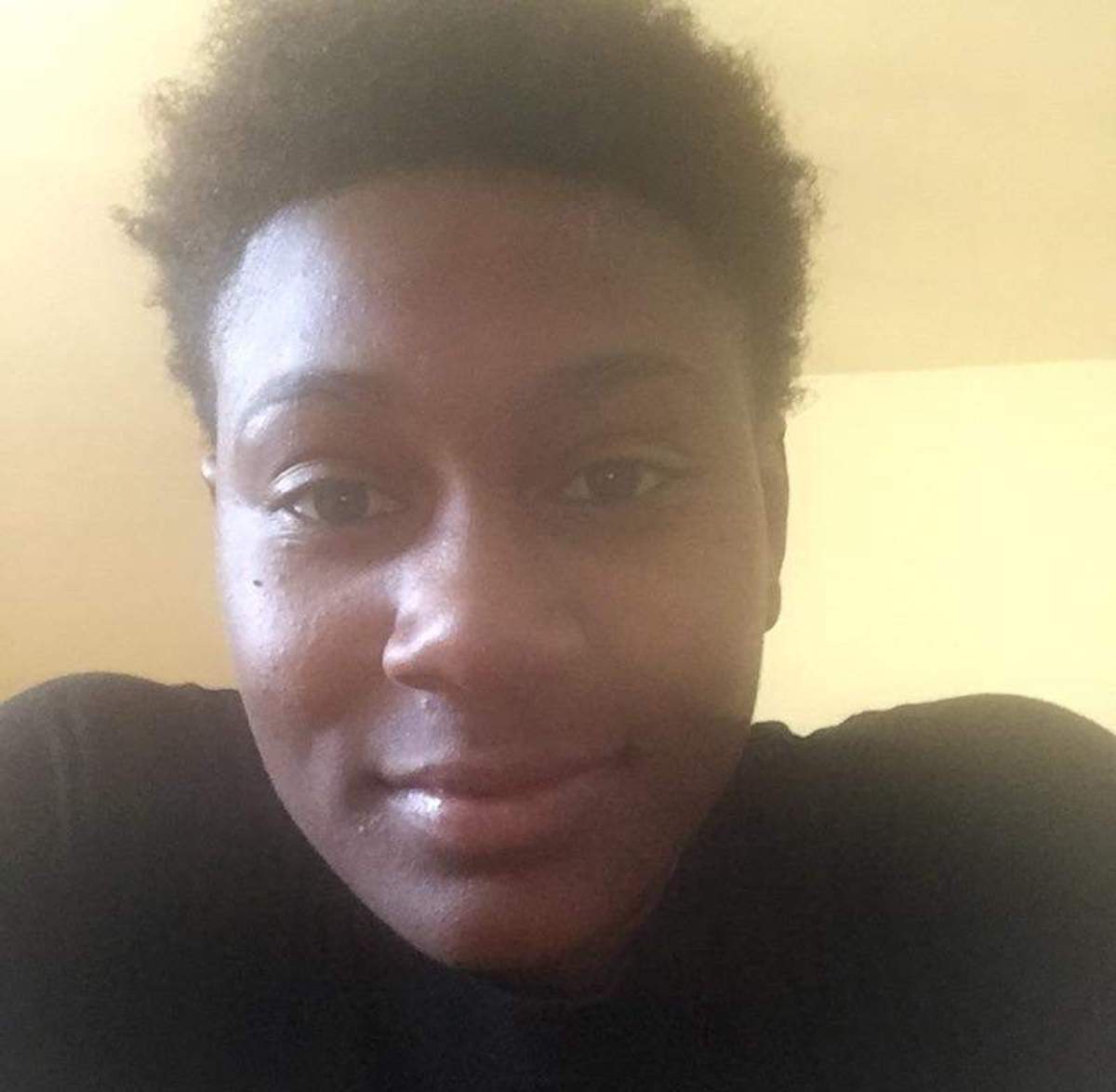 Maryland, Rite Aid-Aberdeen shooter, Snochia Moseley goes on shooting rampage after 'fed up' temp worker picks fight with coworkers. 3 dead, three injured, shooter kills self.
The female shooter who killed three co workers at her place of work along with injuring three more before fatally shooting herself at a Maryland Rite Aid warehouse has been identified as a 26 year old temp worker. 
Local reports told of Snochia Teosha Olivia Moseley opening gunfire at her place of work shortly after arriving at the Aberdeen, Hartford County facility in Enterprise Business park, about 30 miles northeast of Baltimore. 
Witnesses described the temp worker opening fire outside the building just on 9.06am, Thursday morning before making her way inside.
When she would be finished, Snochia Moseley left three co workers dead and three others injured. Two of them died at the scene and one was taken to hospital where they succumbed to their injuries later in the day. 
Survivors said Moseley was a 'nice person' (define nice…) who came to work in a bad mood, 'wanting to pick a fight'.  
DEADLY WORKPLACE RAMPAGE: Police in Aberdeen, Maryland, say a 26-year-old female employee opened fire outside and then inside a Rite Aid distribution center, fatally shooting three before she took her own life. @David_Kerley reports. https://t.co/wOFDvMeae4 pic.twitter.com/Qzd6fI4kBo

— World News Tonight (@ABCWorldNews) September 20, 2018
Police Identify Maryland Shooter as Snochia Moseley, 26 – https://t.co/uFi3UzNXUL pic.twitter.com/wPaLiuhwKj

— Breaking911 (@Breaking911) September 20, 2018
Snochia Moseley arrived with two- three magazines and a registered gun in her name:
A report via WBLA-TV told of Moseley using a single handgun which she legally owned and was registered under her name. 
According to witnesses, an injured person was seen running out of the warehouse as the shooting unfolded and collapsed in a nearby cemetery. Moseley's vehicle is still at the scene and will be towed away soon.  
Told Harford County Sheriff Jeffrey R. Gahler during a press conference: 'Seven people who have been shot including the shooter,'
'Three are suffering from injuries from which they are expected to survive. Three others are victims of our shooter who lost their lives. 
'The fourth loss of life is the suspect. We are not prepared to release the victims' names. Our suspect is a lone female, aged 26, who had a last known address in Baltimore County. 
'She has died in the hospital from a self-inflicted gunshot wound. She was armed with one handgun and several magazines.' 
Moseley was described carrying a 9mm Glock handgun along with two or three magazines.
Aberdeen Rite Aid shooting victims id: Dreams shattered
"I love you both more than u will ever know. There is a shooter in the building. I am hiding. I love you. Be good an take care of daddy an the pets if something should happen." https://t.co/2XmZR7PGVA

— FOX 46 Charlotte (@FOX46News) September 20, 2018
VIDEO: Sisters reunited after Aberdeen,Maryland shooting pic.twitter.com/WukOK6eo90

— azcentral (@azcentral) September 20, 2018
Snochia Moseley came to work in a bad mood.
Mike Carre, who works at Zenith Global Logistics nearby, said Rite Aid employees came pouring out of the building, running for their lives, as the terror unfolded. 
One person said she'd seen her friend get shot in the head.
He told The Washington Post of the shooter: 'Normally, she was a nice person, but she came in in a bad mood. She wanted to pick a fight. 
'And then she started shooting.' 
It wasn't immediately clear how Moseley was able to bring her weapon cache to her place of work. Also not clear was why the worker felt compelled to dole out her 'bad mood,' at her place of work and if she felt herself the victim? Not also clear was whether Moseley's shooting victims were racially targeted with some on social media saying the woman picking off 'white' co-workers…..
Snochia Moseley the woman who murdered people today and started a mass-shooting was black and a woman. Still waiting for your outrage… @Blklivesmatter? @DNC? @TheDemocrats?@davidhogg111? @Alyssa_Milano? pic.twitter.com/1RxAdvPDUL

— Michael Moates (@freedom_moates) September 20, 2018
The mass shooter in Maryland:
Not white ???
Not a male ???
Not a NRA member ???

The mass shooter in Maryland:
Is a Democrat ???
A radical Lefty ???
How's the Left going to spin this ?????????????

Snochia Moseley

— Keith Ellison ASSAULTED His Girlfriend (@Leftsucks2) September 20, 2018
Institutionalized racism is Snochia Moseley being identified as the mass shooter within hours of the shooting but not yet knowing the identities of the mass shooters from yesterday in Wisconsin and Pennsylvania. ?

— Master Splinteress (@amsamsamiam) September 20, 2018
Snochia Moseley: 'A build up of rage'– but why?
While authorities had yet to determine what may have motivated Moseley, a report via the baltimoresun gave some clues.
Noted the balimoresun: 'Troi Coley, a friend of Moseley's since high school who had stayed in frequent contact with her in Facebook Messenger, said Moseley sometimes felt as if the world was against her but was not an angry person in spite of her alienation.'
An alienation which may have been precipitated by Moseley struggling with gender identity issues which may have led to her being vilified a work- see more below
A friend of Moseley's wrote on Facebook that the shooter 'got into it with some co workers and just started letting off shots.' That friend, citing other workers at the distribution center, said Moseley 'was arguing with someone in the break room and just started shooting. Not aiming, just letting off shots in every direction.'
Added the friend, 'I don't that this was 1 bad day. This was built up rage.' In that same comments thread, another friend said, 'I don't want her to be painted as a monster because she is not.'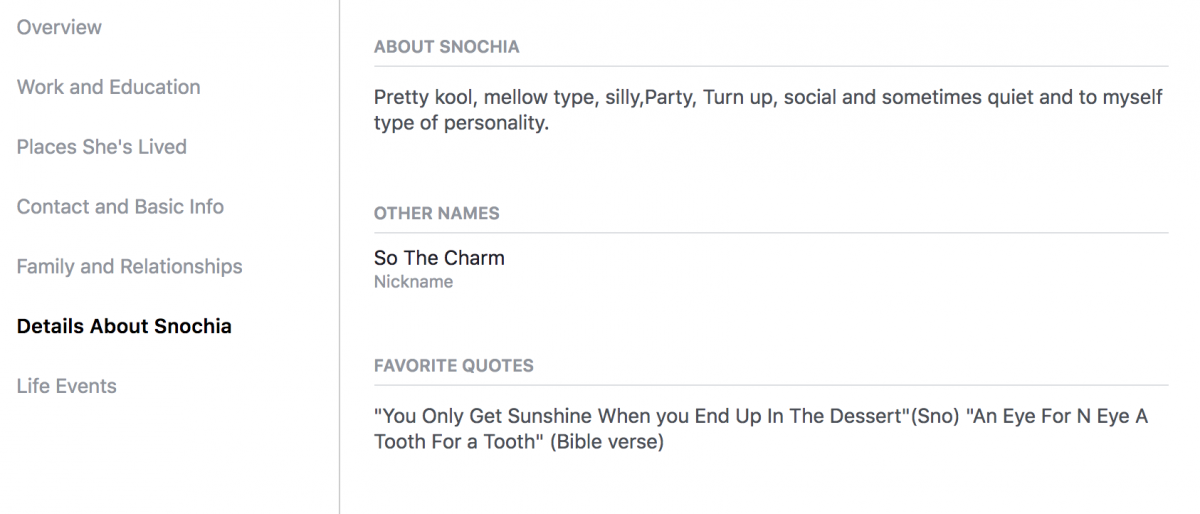 Snochia Moseley: 'An eye for an eye'.
A regard of the shooter's facebook page revealed Moseley describing herself as 'pretty kool, mellow type, silly,Party, Turn up, social and sometimes quiet and to myself type of personality.'
Favorite quotes included, "You Only Get Sunshine When you End Up In The Dessert"(Sno) "An Eye For N Eye A Tooth For a Tooth" (Bible verse)
A further regard of her page revealed the shooter prefacing an overt same sexual preference steeped in what some on social media described as 'leftist' sensibilities (see below).
Snochia Moseley identified as transgender:
Private Facebook messages between Moseley and close friend, Troi Coley cited by the The Baltimore Sun, revealed Moseley described herself as transgender. Not clear was whether Moseley preferred to be addressed using masculine or feminine pronouns.
In messages that Coley said were sent in December 2016, Moseley discussed beginning hormone treatment soon.
'I just started talking about [being transgender],' Moseley wrote in another message according to the Baltimore Sun. 'My sister is totally supportive, my brothers already had an idea, my mom I haven't gotten around to admitting it to yet. but she's heard about it somehow.'
Coley said Moseley sought refuge through her art and expressed herself through writing. She had written a manuscript, the friend said, and the pair had plans to turn Moseley's 'traumatic' experiences into a documentary film.
But, Coley said, Moseley was shy.
'I hate being in the spotlight whether it's good or bad,' Moseley wrote in one message to her friend.
On Sept. 2, an account on a poetry website was created in Moseley's name. The account included four poems posted between Sept. 6 and 10.
One titled 'IDENTITY' was tagged 'Struggles in Life.'
Snochia Moseley traffic infractions but no prior convictions:
Maryland court records revealed Moseley having scant prior infraction, with heavy citing the Trenton, NJ transplant having several open traffic cases. Moseley was cited in early September for driving without registration plates and validation tabs, failure to have insurance, driving with a suspended registration. That case was still pending at the time of her death.
Court records also revealed Moseley being sued in Towson District Court on April 30, 2018, by the Office of Budget & Finance for the City of Baltimore. The case, filed in Towson District Court, was listed as a contract claim.
The Rite Aid center shooting is the third in the United States in 24 hours. On September 19, three people were shot in a shooting at WTS Paradigm in Middleton, Wisconsin, a suburb of Madison. The shooter, an employee at the company, was wounded in that incident. A couple of hours later, four people were shot when Patrick Dowdell, 61, shot four people outside of a magistrate's office in Masontown, Pennsylvania. Dowdell was later shot-and-killed by police.
Thursday marks the 323rd mass shooting in the U.S. since Jan. 1, 2018.
Welcome to a brave new America…
#Black #Lesbian #SnochiaMoseley Goes on a Shooting Rampage Targeting #Whites & #StraightWhiteMales at a #RiteAid distribution center. Murders Three Wounds Three #MarylandShooting #LGBTQ #Tempagency https://t.co/0XrhBz5CyZ pic.twitter.com/ancKGSBOij

— Michael Warning (@dxv515) September 20, 2018
#AberdeenShooting Growing Pattern of Young, #Millennial #Women – Mass #Shooting Killers in 2018 – two in past 5 months attacking public and workplace areas –#Aberdeen shooter Snochia Moseley #SnochiaMoseley (aka Snochia_Mo and "DreadHead Mo") and #California shooter #NasimAghdam pic.twitter.com/qQi9yXJqAL

— Toby Peters (@TobyPeters20) September 20, 2018