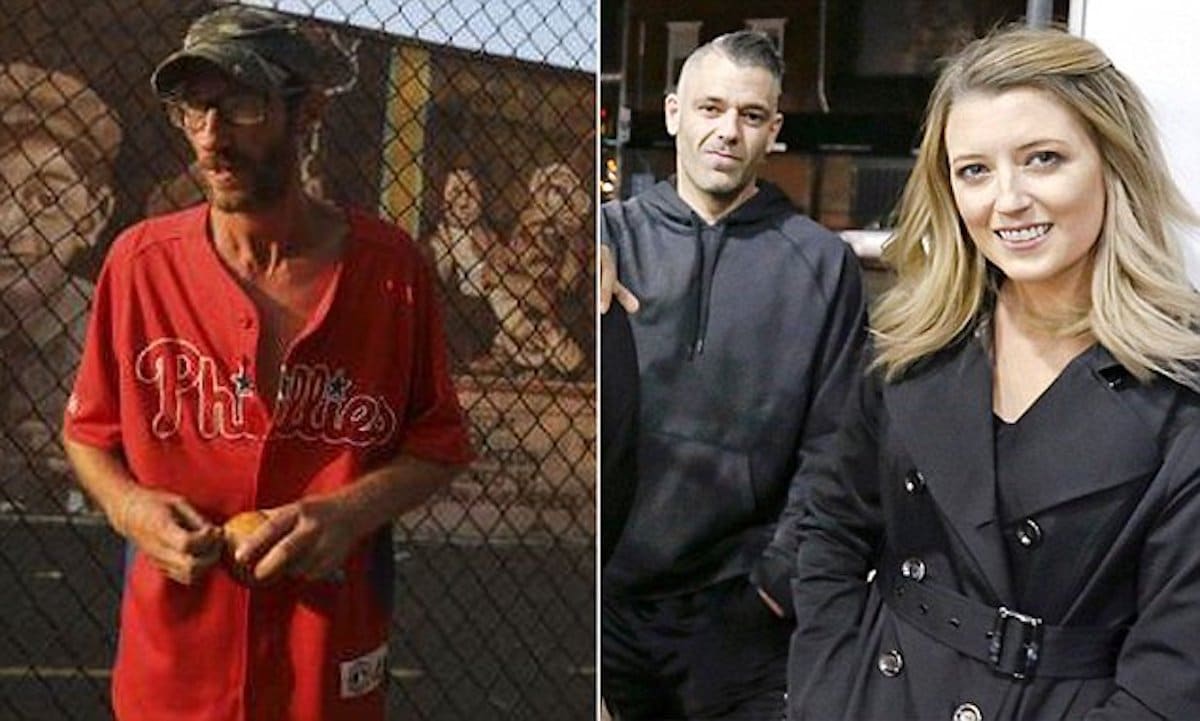 Lawsuit: Did Mark D'Amico and Kate McClure a Philadelphia couple use $400K raised via a gofundme account for homeless vet, Johnny Bobbitt on themselves? 
The lawyer of a homeless vet in Philadelphia whose selflessness led to donations of more than $400,000 through an online fundraising page says all the money is gone.
Johnny Bobbitt's attorney, Chris Fallon, said he learned the cash was gone in a call with lawyers for Kate McClure and Mark D'Amico.
They're the couple accused in a lawsuit brought by Bobbitt of mismanaging donations raised for him through GoFundMe.
'It completely shocked me when I heard,' Fallon told via philly.com. 'It came as a complete surprise to me.'
The about turn in matters has since led to Bobbitt now being homeless all over again.
Matters first came to the fore in November 2017, when Bobbitt came across the couple when they ran out of gas on Interstate 95. Bobbitt walked several blocks and used his last $20 to help fill their tank. The selfless act quickly took the internet by storm. Soon after, McClure set up an online fundraising campaign to repay Bobbitt. It raised more than $400,000 from more than 14,000 people.
The money raised was understood to be solely for the benefit of Bobbitt. A suggestion many on the internet wonder has turned out to be anything but.
Mark D'Amico and Kate McClure deny misusing funds raised for Johnny Bobbitt:
The gratitude and goodwill between the couple and Bobbitt soured following claims of misappropriation of raised funds at the hands of McClure and D'Amico. 
The New Jersey couple denied any wrongdoing, claiming they were wary of giving Bobbitt large sums because they feared he would buy drugs.
Bobbitt's lawsuit contended the couple committed fraud by taking money from the fundraising campaign for themselves.
Last week, a Burlington County, New Jersey, judge ordered McClure and D'Amico to turn over the donation money. The judge said the couple must give the money to their defense lawyer, who was directed to place funds into an escrow account as the case continues. The judge also ordered McClure and D'Amico to provide a full accounting of the money they raised.
Where exactly did 

Johnny Bobbitt $400K Gofundme donated money go?
McClure and D'Amico have repeatedly denied misusing any of the money. D'Amico said Bobbitt spent $25,000 in less than two weeks in December on drugs, in addition to paying overdue legal bills and sending money to his family.
The couple also bought Bobbitt a camper with some of the funds and parked it on land McClure's family owns in Florence. But Bobbitt became homeless again after D'Amico told him in June that he had to leave the property.
The couple claim along with Bobbitt going through $25,000, allegedly on drugs, in just 13 days, an additional $30,000-$40,000 was absorbed by GoFundMe's fees and that another $135,000 were spent on lawyers, a trailer, an SUV, TVs, a laptop, a cell phone and a hotel where Bobbitt stayed when he first got off the street.
Nevertheless of disconcert, D'Amico conceded via the Philadelphia Inquirer having spent $500 of the GoFundMe money to gamble because he didn't have his casino card one night, while stressing he repaid it with his winnings.
Bobbit and his legal team also point to the couple since the funds were raised buying a new BMW along with taking several expensive vacations across the United States . It remained unclear how the couple managed to fund such acquisitions.
McClure works as an admin assistant with NJ state and is thought to be on a $40K annual salary. D'Amico works as a carpenter.
Of intrigue, appearing on the Megyn Kelly show last week, the couple said they spent $200,000 on Bobbitt in total and that $150,000 was left. Or is there?
Which is to wonder, assuming there is $150K left over, where did the other $250K go in the space of 9 months and who exactly spent it on whom? Or to ask another question, can the public reasonably assume, that despite their best efforts at generosity, where they the ones, as they usually are, who were ultimately had by all the players involved…?
Homeless vet, NJ couple GoFundMe scam: Ripping off America worked
There should still be around $300,000 left for the homeless veteran to start a new life, his lawyer said, but Johnny Bobbitt doesn't appear to have access to those funds. https://t.co/6DMCbJoJCl

— NBC News (@NBCNews) August 28, 2018
Just the latest sickening, infuriating development in a truly demoralizing story.https://t.co/Eo2VCGJNoB

— Allison Steele (@AESteele) September 4, 2018
I'm glad @GoFundMe will honor the money that rightfully belongs to Johnny Bobbitt, a US Marine Corps veteran.

I hope Kate McClure and Mark D'Amico get jail time for committing fraud well into the hundreds of thousands. What despicable trash!https://t.co/kHqQ3tpFSa via @ABC

— ? It's me y'all ? (@yayitsnaya) September 5, 2018