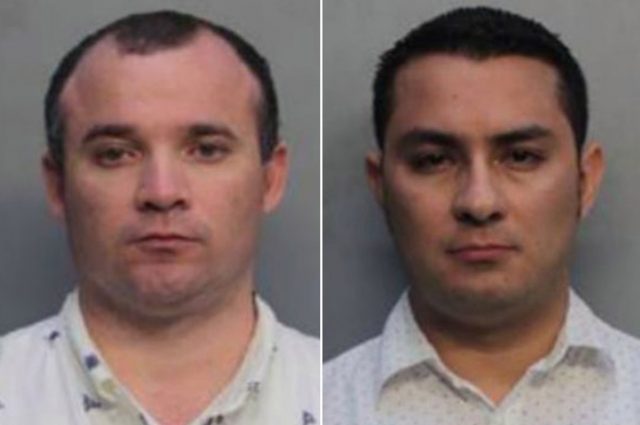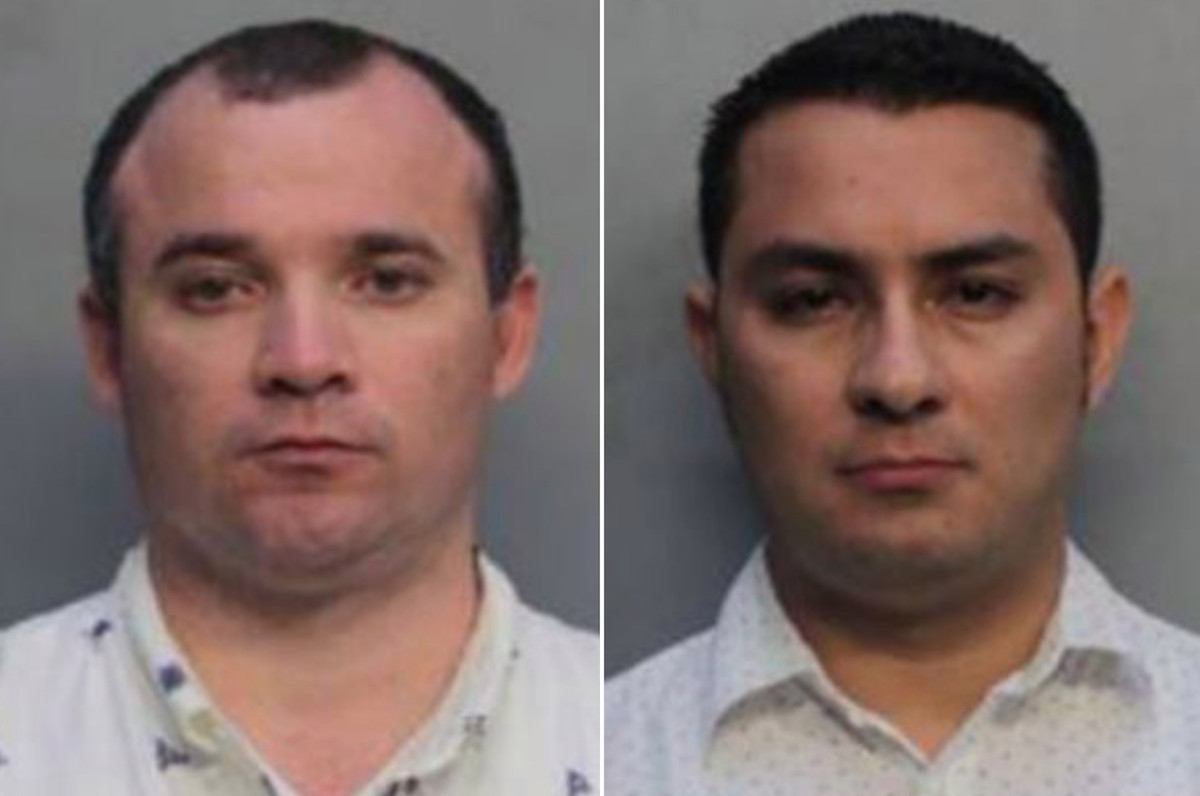 Father Diego Berrio and Edwin Giraldo Cortez arrested for lewd and 

lascivious in parked car rental in full open view near Miami Beach. 
Two Chicago area Catholic priests have been arrested after being caught performing lewd acts on each other in a parked rental car near Miami Beach.
CBS Miami reported Father Diego Berrio, 39, and Father Edwin Giraldo Cortez, 30, being charged with lewd and lascivious behavior after a passersby spotted their tryst in broad daylight inside a Volkswagen Beetle, which was 'in full view of the public,' according to a cited police report.
After receiving a complaint, police arrived at the scene to observe the two continuing to 'physically' satisfy each other. The officers were easily able to spot the two, as the car was parked next to a playground and did not have tinted windows.
But it gets grimmer.
So engaged were the priests, that the 'men of God' didn't even notice police until they tapped on the window, according to CBS.
They were arrested 'without incident,' according to the police report. The charges they face are misdemeanors.
No comment from Rev. Diego Berrio as he walked out of jail. The Chicago-area priest is accused of lewd & lascivious behavior on #MiamiBeach. @nbc6 @nbcchicago pic.twitter.com/EFxF7ffyJQ

— Laura Rodriguez (@LauraNBC6) September 4, 2018
Archdiocese of Chicago: 'We take this matter very seriously.'
Both Berrio and Cortez hail from Arlington Heights, Illinois, a suburb of Chicago. Berrio is a priest at Mission of San Juan Diego, while Cortez was an extern priest from Soacha, Colombia, who served at St. Aloysius Parish in Chicago for one month.
The indiscreet rendezvous led to both men being removed from the ministry, according to WPLG.
'It is our responsibility to ensure those who serve our people are fit for ministry,' Anne Maselli, a spokeswoman for the Archdiocese of Chicago, told WPLG. 'We take this matter very seriously.'
Berrio was released on Tuesday afternoon, while Cortez remains in custody.
Of note, Father Berrio is the spiritual director and canonical adviser for a youth group called Iskali. According to its website, 35 percent of its members are between the ages of 15 and 18 and 55 percent are 19 to 30 years old. Iskali runs 'faith awakening retreats' and 'seeks to provide a culturally sensitive evangelization experience to evangelize young Hispanics in the U.S.'.
The Catholic Church teaches that homosexual acts are 'intrinsically disordered.'
'They are contrary to the natural law,' it says. 'They close the sexual act to the gift of life. They do not proceed from a genuine affective and sexual complementarity. Under no circumstances can they be approved' (CCC 2357).
Not necessarily clear was whether there had been other 'indiscretions' between the two men and the rate of 'engaged' incidence amongst other church clergy, including their attending constituency….
https://t.co/jseCgJv7d6 can't make this up. Father Diego Berrío is in charge of bringing international priests to the diocese, granted there is no misconduct allegations or other questionable behavior.

— Aya (@AyaInLV) September 4, 2018
One of the priests charged yesterday, Fr. Diego Berrio, was appointed this summer the interim "coordinator of the Office for Extern and International Priests" for the Archdiocese of Chicago.https://t.co/d3amN8TmmT

— JD Flynn (@jdflynn) September 4, 2018