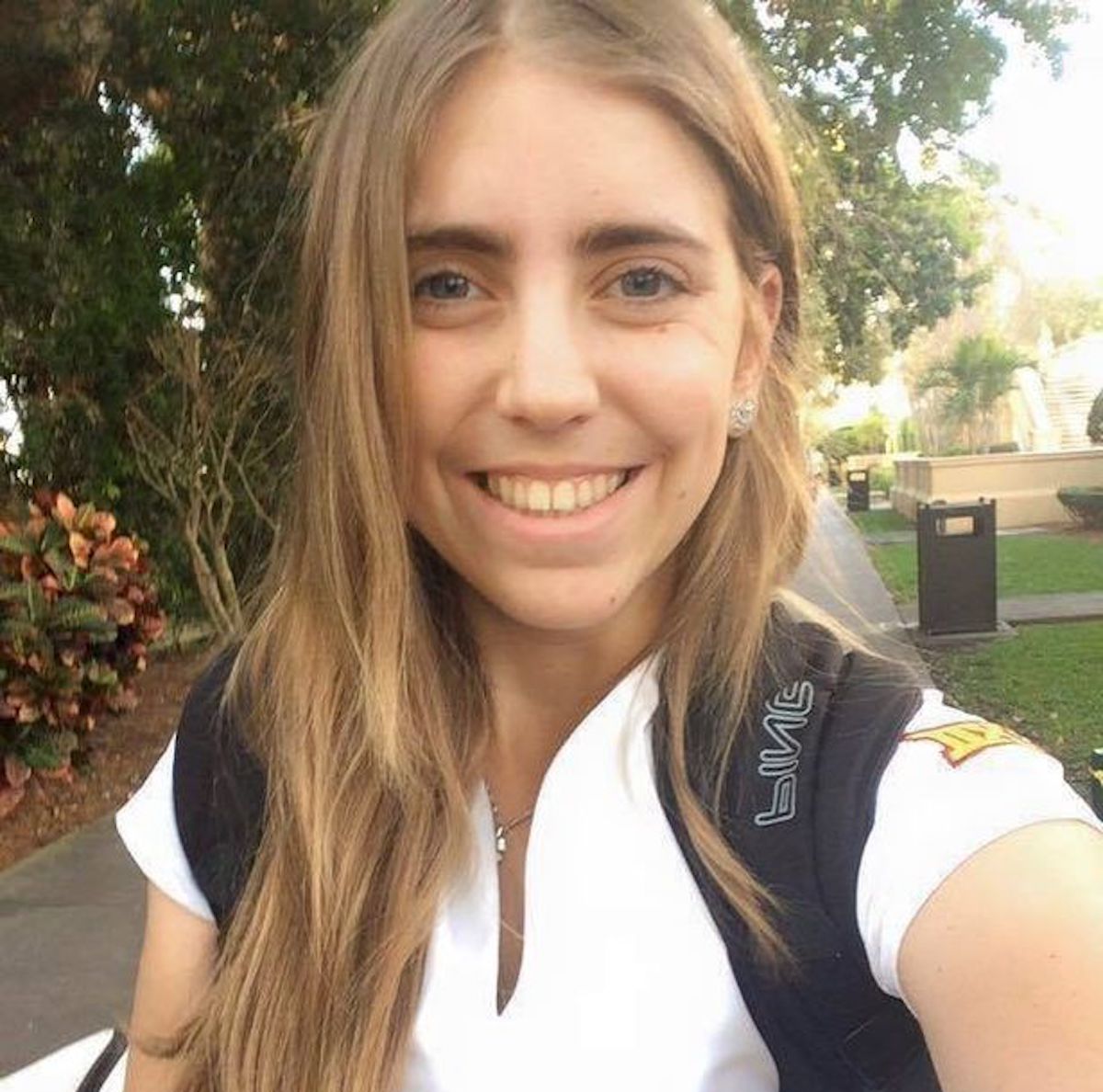 Celia Barquin Arozamena Iowa State golf champion murdered at Coldwater Golf Links by Collin Daniel Richards.
A 22 year old man has been charged with murder after a former Iowa State University golf champion was killed at a golf course.
Celia Barquin Arozamena, 22, was found dead at Coldwater Golf Links in Ames, Iowa, on Monday.
Notice of the student player's death followed police being called to the golf course around 10.20am, Monday morning after golfers found an unattended golf bag. 
A search of the area led to Barquin Arozamena's body some distance from the bag told Ames Police in a press release.
Police determined the Spanish national had died following an assault.
The Des Moines Register reported Collin Daniel Richards being arrested and charged with first degree murder.
A police bookings photo showed Richards sporting scratches under his right eye and on his left cheek. 
He was booked into the Story County Jail just after 12am Tuesday morning.  
Investigators said the golfer's body was found in a pond after being repeatedly stabbed at the course, which is near her university campus. 
Barquin had stab wounds to her upper torso, head and neck.
A police dog tracked Barquin's scent to a temporary camp along a creek near the golf course, where Richards had been living in a tent, the complaint said.
Authorities said Richards has no known address, while having a history of domestic violence.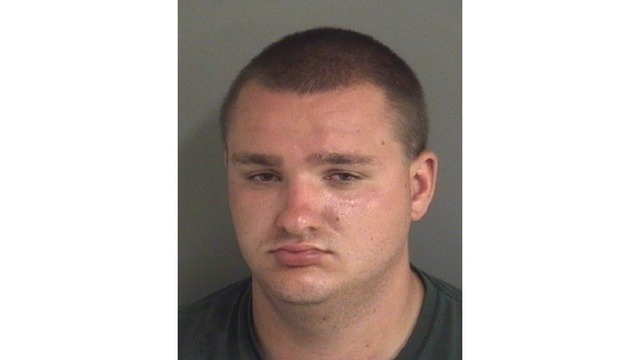 Per @alexwilsonwoi, criminal complaint lists Collin Richards as homeless. Celia Barquin Arozamena "sustained several stab wounds". Police made contact w/ man on trail, who said he had lived in same temporary area as Richards. Stated Richards spoke of having urge to rape & kill. pic.twitter.com/gEwkPI2n0i

— Mario Rossi (@mariovrossi) September 18, 2018
Our prisons are packed with people who committed low level drug offenses but this violent scum bag, 3 times convicted, got counseling and suspended sentences until he finally murdered someone. WTF? https://t.co/bXkCVSYr0p

— #ImpeachTrumpNow (@mheido03) September 18, 2018
Collin Daniel Richards a history of predatory and violent attacks:
The Iowa State Daily reported Richards previously being convicted or pleading guilty to charges of domestic abuse assault, first-degree harassment and third-degree attempted burglary.
Of disconcert, arresting papers noted Richards speaking of having told an acquaintance of having an urge to rape & kill a woman.
Richards pleaded guilty to first offense first-degree domestic abuse assault in September 2015 from an incident that occurred on May 31, 2015. Richards was sentenced to a suspended sentence of 60 days in jail, one year of probation and $315 fine.
Richards pleaded guilty to first-degree harassment in January 2017. Richards was sentenced to completion of an anger management program, two years of probation, a 90-day suspended jail sentence and a $625 fine.
Richards pleaded guilty to third-degree attempted burglary and third-degree theft in January 2017 and was given a suspended sentence of two years in prison, two years of probation and a fine of $625.
Most recently, Richards pleaded guilty to public intoxication on July 2, 2018.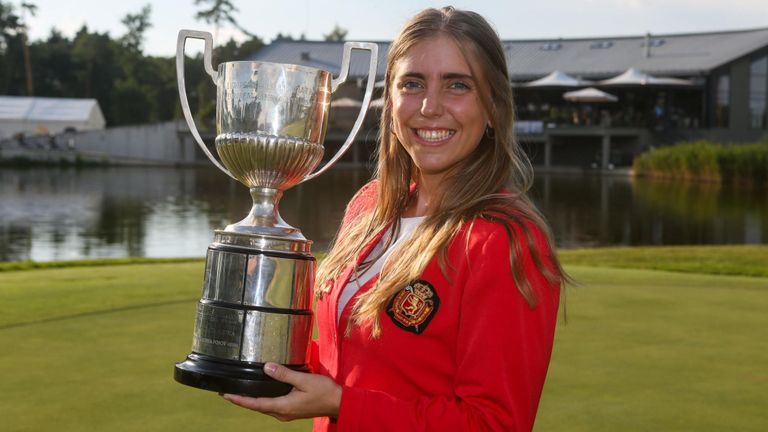 Celia Barquin Arozamena revered golfing champion remembered:
Barquin Arozamena, from Puente San Miguel in Spain, was the Iowa State Female Athlete of the Year and was finishing a civil engineering degree this semester, having missed the beginning of her university life to take part in the Youth Olympic Games in China.
Notably, Barquín had won the European Ladies' Amateur championship in July.
Iowa State University said she was one of the most accomplished players in their golf history.
'Celia had an infectious smile, a bubbly personality and anyone fortunate enough to know her was blessed,' Iowa State Director of Athletics Jamie Pollard said in a statement from Iowa State. 
'Our Cyclone family mourns the tragic loss of Celia, a spectacular student-athlete and ISU ambassador.'
Iowa State University President Dr Wendy Wintersteen said: 'This is a tragic and senseless loss of a talented young woman and an acclaimed student athlete.
'We mourn with her family and friends in Spain, her teammates here and all who knew her. On behalf of the entire Cyclone family, I extend our deep condolences to Celia's family and her many friends and teammates at Iowa State. We are deeply saddened.'
Wintersteen described her as a 'dedicated civil engineering student' and an 'acclaimed golfer with a bright future'.
In April, she became only the second women's golfer at the university to earn medalist honors at a conference tournament when she won the 2018 Big 12 Championship with a three-shot victory (73-71-69=213).
Barquin reached the apex of her career in July, just two months before her death, when she hit a course-record at Penati Golf Resort in Slovakia in the third round on her way to a one-shot victory in the European Ladies Amateur Championship.
She became the third Cyclone women's golfer to compete in the US Women's Open Championship and was ranked No. 69 nationally by Golfweek.  
Head women's golf coach Christie Martens said that Barquin Arozamena was 'loved by all her teammates and friends' and was an 'outstanding representative of our school.'
'We will never forget her competitive drive to be the best and her passion for life,' Martens added.
Her European win meant she would have been a competitor at next year's Women's British Open at Woburn. 
Nacho Gervás, technical director of the Spanish Golf Federation, told El País newspaper: 'She was a player who was heading for the very top, without a doubt.'  
Iowa State athletics are planning to honor Barquin Arozamena when they play Akron at football on Saturday.
Her funeral arrangements are still pending.
Mollie Tibbetts was murdered while on a run in her hometown. Celia Barquin Arozamena was murdered while golfing in the morning.

Do not tell me to "be careful". The issue is not women's actions.

The issue is that men continue to commit senseless acts of violence against women.

— Katy Fish (@_katyfish) September 18, 2018
The murder of Celia Barquín Arozamena is shocking, sickening and heartbreaking. Where is safe? If not on a golf course in Ames, Iowa, in broad daylight, then where? Her poor family and friends. Not enough sympathy in the world to give them. RIP Celia.

— Paul Clark (@cyclonereport) September 18, 2018