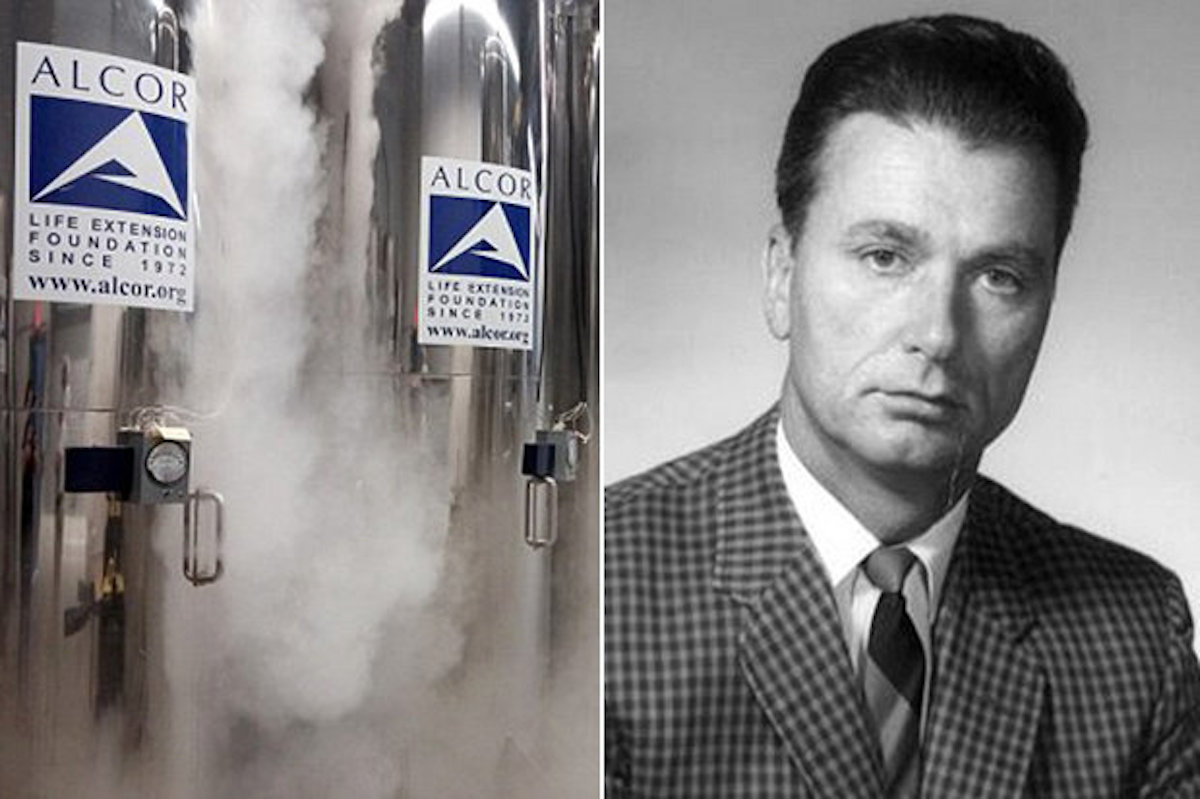 Kurt Pilgeram sues Arizona cryogenics lab for freezing scientist father's head instead of whole body- after discarding body and cremating it.
The son of a late California scientist is suing an Arizona cryogenics firm on account of the lab only preserving the man's head and discarding the father's body after cremating it.
In his $1million suit against the Scottsdale lab, Alcor Life Extension Foundation, Kurt Pilgeram told of receiving a package containing the ashes of Dr Laurence Pilgeram-his father's cremated body- which was allegedly against the family's agreement.
Court documents cited by The Telegraph state that Kurt opened the package that 'purportedly contained his father's cremated remains, except allegedly for his father's head.'  
According to the son, it was the family's intent to have his late father's entire body frozen for a potential chance to come back at some point in the future intact.
Filed documents told of the scientist father dying aged 90 from an apparent cardiac arrest outside his Goleta home on April 10, 2015.
Pilgeram, who also worked in cryogenics, according to the Arizona lab's website was the the outlet's 135th patient, three years ago.
Cryogenics firm sued for freezing man's head instead of whole bodyhttps://t.co/2JNXayf5iP

— The Telegraph (@Telegraph) September 10, 2018
Was 

Arizona cryogenics lab just following scientist father's demands? 
The filing states that British-born Dr. Max More was required to preserve all of his remains, 'no matter how damaged'. 
Kurt according to filed documents was left 'shocked, horrified and extremely distressed' over the lab's alleged wrongdoing.
'Kurt has suffered extreme emotional distress as a result of Alcor's accusations and has been injured as alleged in an amount in excess of $1million,' the suit noted. 
Continued the suit, 'Alcor undertook such actions maliciously and oppressively, and with intent to cause injury.' 
'There is little, if any, hope of bringing his head "back to life" under the circumstances here.'   
Not immediately understood is how the Arizona lab came to allegedly make such an egregious error in its handling of affairs or whether it had simply arrived at the view the father's body was of no practical working order and deteriorated.
It was also intimated that the scientist father had told handlers that he only wanted his head preserved as science would be able in the future to replace the father's body.
To date the cryogenics company declined issuing a comment, pending litigation.
An initial trial date has not yet been set.