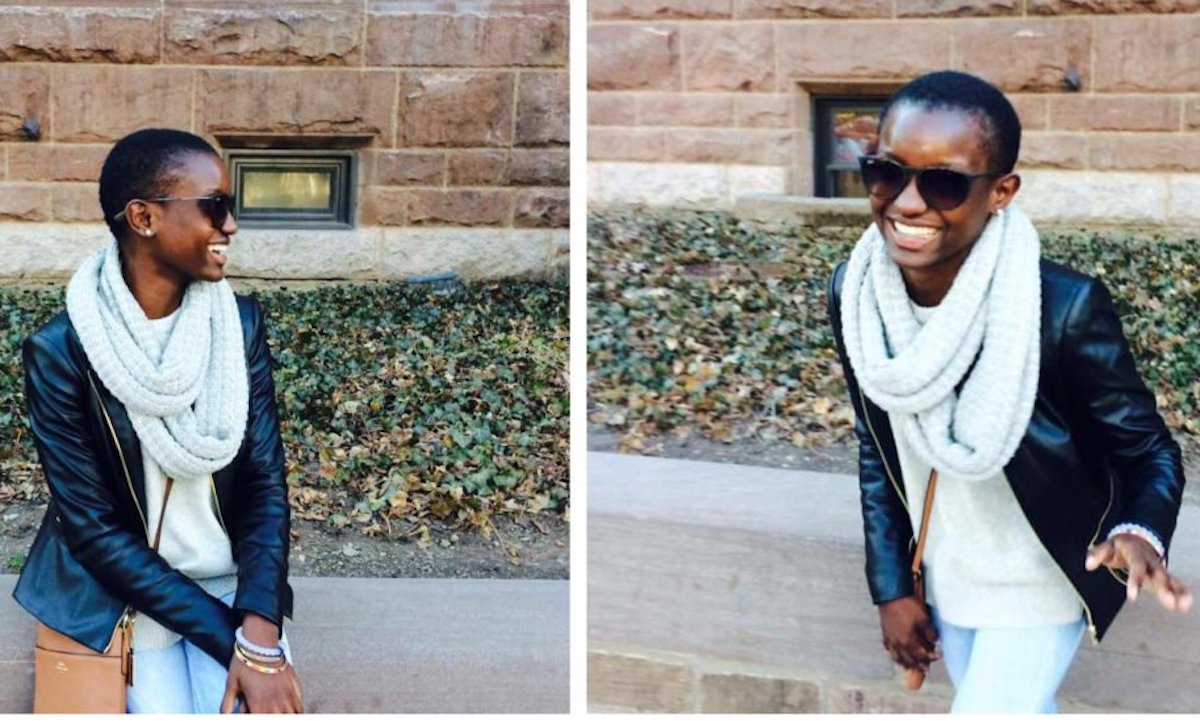 Oumou Kanoute black Smith College student has cops called on her by white staff member because she seemed suspicious and out of place.
A black student at a Northampton, Massachusetts liberal art college claims police being called on her on Tuesday while reading and eating lunch in a common room by a white staff member who believed her to be 'out of place'. 
'All I did was be black,' Oumou Kanoute posted on Facebook following police being summonsed by the staffer who demanded to know if the rising sophomore student was actually a student at the school.
In a video posted on Facebook, the voice of an off camera person is heard asking the 'suspicious' student what she's doing in the room.
'Well I was eating lunch, I'm working the summer program,' the student is heard responding. 'I was just relaxing on the couch.'
In her post, the undergraduate student wrote working at the school over the summer as a teaching assistant and resident adviser.
Continued the student's post, 'I am blown away at the fact that I cannot even sit down and eat lunch peacefully,'
Adding, 'Today someone felt the need to call the police on me while I was sitting down reading, and eating in a common room at the Massachusetts school. This person didn't try to bring their concerns forward to me, but instead decided to call the police.'
'I did nothing wrong, I wasn't making any noise or bothering anyone'. 
Kanoute said it was 'outrageous' that someone would question her presence at the school based on her race.
'No student of color should have to explain why they belong at prestigious white institutions,' she wrote. 'I worked my hardest to get into Smith, and I deserve to feel safe on my campus.'
Kanoute said the staff member reported her as a 'suspicious black male sitting in the common room.'
Another video she posted shows an unarmed campus police officer apologizing to her about the situation.
'It's okay,' she says. 'It's just like, the kind of stuff like this happens way too often, where people just feel threatened.'
"I belong here, I should feel safe on my campus. I shouldn't have to explain why I'm here because somebody feels threatened by the way I look. It's just wrong." @smithcollege student Oumou Kanoute tears up, explains police were called on her for eating in a common room at school pic.twitter.com/g8fzC9tCrO

— Sharman Sacchetti (@SharmanTV) August 2, 2018
Oumou Kanoute; Victim of rising trend of national racial profiling? 
Kanoute has since demanded that Smith release the name of the staffer who reported her so that 'they can confront and acknowledge the harm done to me as a student.'
The school said their policy prevents them from releasing the name of the caller.
In a statement on Wednesday, Smith College said that there was 'nothing suspicious about the student's presence' and said the behavior of the caller 'has no place in our community.'
'This incident has raised concerns in our community about bias and equity,' diversity director Amy Hunter said in a statement. 'Smith College does not tolerate race- or gender-based discrimination in any form.'
The incident seems to mirror another case at Yale, where a white student in a dorm called the police on a black student who was napping in a common room—one of a series of calls made by white individuals seemingly singling out 'blacks' to police in recent months.