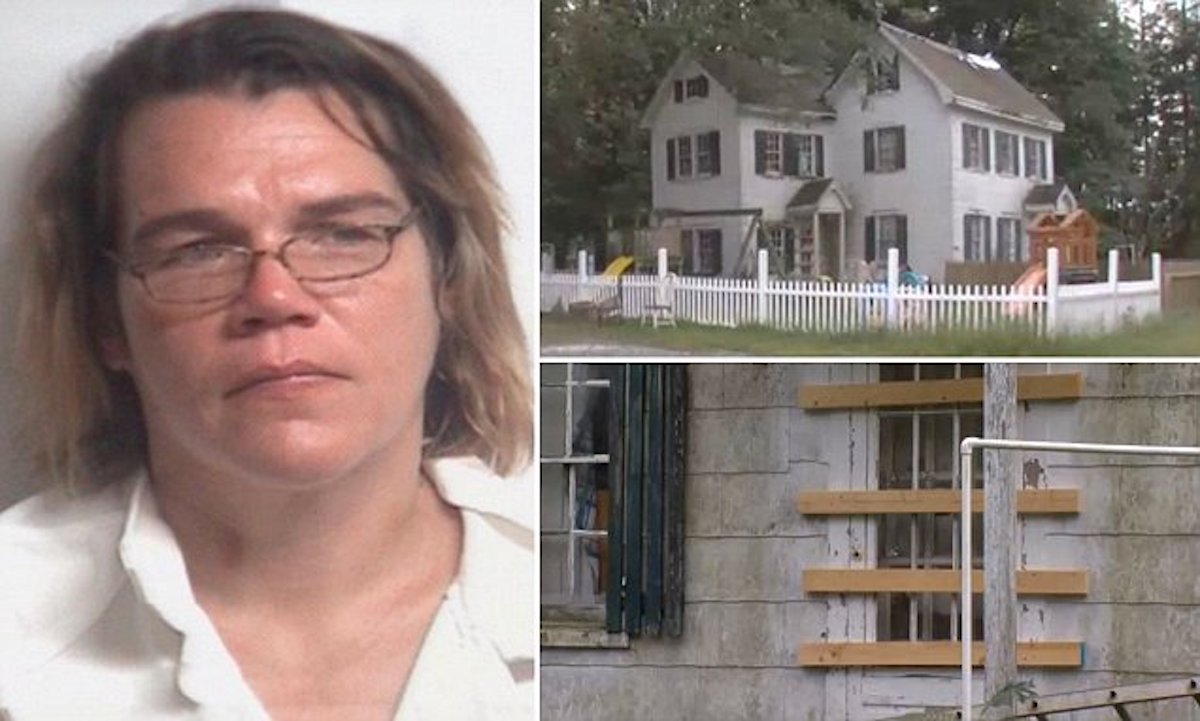 Malista Ness-Hopkins an Accomack County, Virginia mother pleads guilty to child neglect after keeping two of her five children in cages. Struggling with depression, PTSD and no income. 
An Accomack County, Virginia mother on Thursday pled guilty to keeping her children in makeshift cages along with derelict conditions. 
The plea follows, Malista Ness-Hopkins, 39, being arrested after social workers in July 2017 found the woman's five children, aged one through six, living in a Mears home in unwholesome and unsafe surroundings, covered with filth, dirty diapers, urine, feces, lice and insect bites, including two children forced to live in crib cages.
The woman's arrest led to her at the time being charged with with five counts of child neglect.
An arrest affidavit cited two toddlers being found in an upstairs bedroom, confined in makeshift cages — cribs with lids screwed on to the top from which they could not escape, according to court records and testimony.
USA Today reported Judge W. Revell Lewis III accepted the guilty pleas on all five counts and allowed Ness-Hopkins who'd been out on bond to remain free until her sentencing in December, on condition she continue treatment at the Eastern Shore Community Services Board.
At a preliminary hearing, an Accomack County Social Services worker testified she visited the woman's home July 28, 2017, after a complaint was made to her agency.
In the bedroom where the three younger children slept, the social worker found the 2- and 3-year children in separate cribs with tops that were affixed with multiple screws. She said the tops appeared to be made from the side rails of other cribs, making them into cages.
Another crib with a 1-year-old child in it had no top.
Social worker Kate Bonniwell described them as 'filthy, with multiple bug bites.' and infested with lice.  In another bedroom, social workers found the 5- and 6-year-old children lying on mattresses on the floor. They were filthy, with no sheet and no pillow, just a bare mattress.
The entire house was littered with debris, broken glass and rotting food, Bonniwell said.    
Malista Ness-Hopkins Accomack mom dealing with depression, PTSD and no income.
Defense attorney Tucker Watson claimed the mother overwhelmed with trying to care for five young children by herself and suffering from depression and post-traumatic stress disorder at the time, he said.
Ness-Hopkins had been undergoing treatment at the Eastern Shore Community Services Board since her arrest, Watson said.
Looking back at the situation, 'she is heartbroken for many reasons,' he said.
Watson said at the time of her arrest, Ness-Hopkins was living in a dilapidated house owned by her deceased boyfriend's grandfather.
She had no income and little in the way of resources, and was making plans to move to Whitestone, Virginia, at the time, he said.
Ness-Hopkins' boyfriend died May 16, 2017, when her youngest child was only 4 months old, Watson said, adding, 'To say that that was a devastating point in her life would be true.'
The lawyer claimed the mother putting the homemade lids on the cribs of the toddlers not as punishment, but as a safety measure to keep them from climbing out and hurting themselves — which he said is a common problem with children that age.
Furthermore the mother it was claimed did not have money to purchase devices for the purpose of preventing toddlers from climbing out of their cribs, noting Ness-Hopkins only using the lids when both she and the children were sleeping.
The lawyer stressed there being no evidence the mother intentionally, physically abused the children. 
Not immediately clear was what aid if any the mother was afforded by the community or civic groups to avail herself and her children's needs.
Mom kept toddlers in makeshift cages, police say: Malista Ness-Hopkins, 38,.. #usa #news https://t.co/ppObeRBeHM pic.twitter.com/Dj9VlUcZJr

— Jon (@NewsJunkieJon) September 11, 2017
Malista Ness-Hopkins children endured physical and emotional trauma but mother still loved them.
Nevertheless the lawyer said his client understood 'that in fact it was a bad decision' to use the lids, adding that Ness-Hopkins 'loved her children — she still loves them.'
Four of the children were placed in foster care and the fifth went to live with his grandmother after her arrest. Cases are still pending in Juvenile and Domestic Relations Court related to the children reported WMDT.
Despite the defense's claims that there was no evidence the conditions in the home "were directly harmful to the children', prosecutors said one child has been diagnosed with PTSD and another had a separation disorder. Prosecutors also cited medical records relating to the trauma the children lived through.
If given the maximum sentence, Ness-Hopkins faces 25 years behind bars and a $12,000 fine.