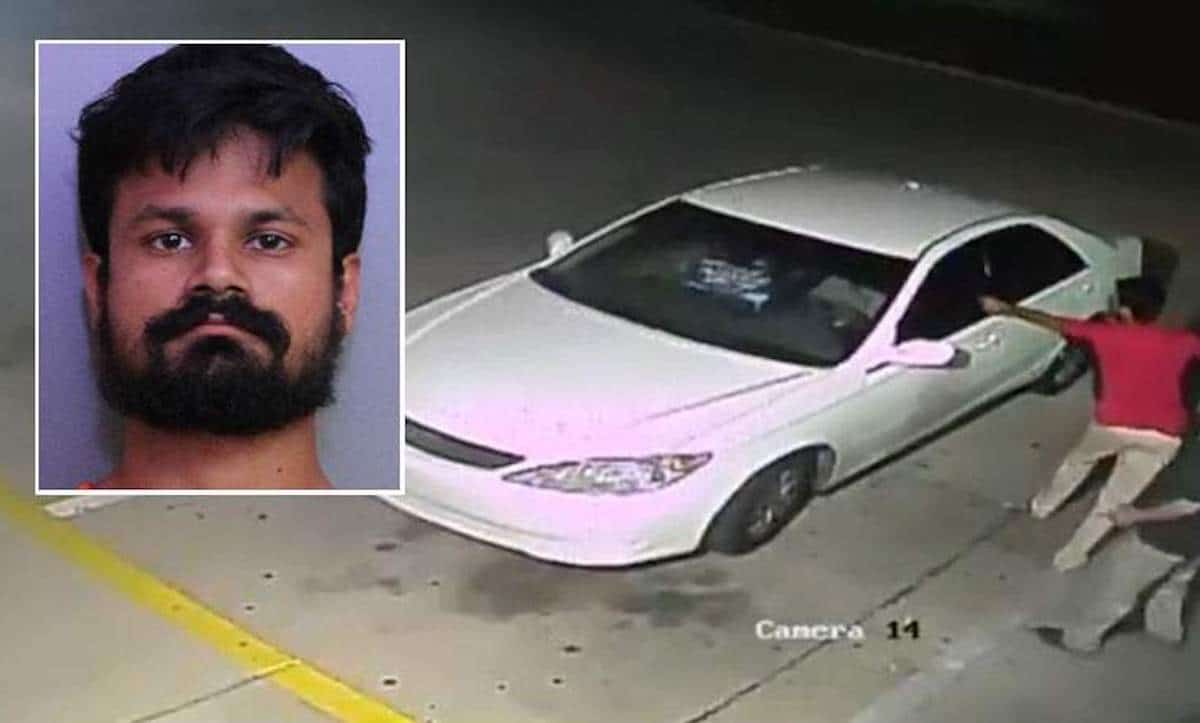 Mehedeun Hasan a 

A Lakeland, Polk County, Florida gas station owner is charged with second degree attempted murder after shooting fleeing beer thief and career criminal, Rennie Defoe Jr.
A Lakeland, Polk County, Florida gas station owner has been arrested after allegedly shooting a man who stole roughly $36 worth of beer from his shop.
Charged with second degree attempted murder was Mehedeun Hasan, 22, following the Polk's County Sheriff's Office saying the store owner/clerk shooting 43-year-old Rennie Defoe Jr. as he sought to drive off. 
Fox 13 reported Defoe stealing three 18-packs of Natural Ice beer from the store on Tuesday night and getting into his Toyota Camry. The outlet quoted Polk County Sheriff Grady Judd saying Defoe allegedly telling Hasan and his 61 year old father behind the counter as he walked out with the beer, 'If you follow me, I'm going to kill you.' 
Surveillance footage shows Hasan (see below) running toward a private area of the store, and returning with a handgun.
Both Hasan and his father run after Defoe, but not before Hasan seemingly drops the gun and kicks it.
Afterwards, security video appears to show Hasan pointing the gun directly into Defoe's car window and shooting as he backs up and drives away.
Mehedeun Hasan

Lakeland gas station owner going overboard?
At some point after he was shot, Defoe crashed his car after having driven a mile down the road. He was transported to a hospital with gunshot wounds in his left arm and chest and remains in critical condition.
Not immediately clear is why Hassan who appeared not to be in imminent danger choosing to lethally confront Defoe and taking matters into his own hands.
Reiterated, Polk County Sheriff Grady Judd, 'He is shooting at someone stealing beer, so he exceeded the legal authority significantly.' 
Adding, 'He messed up big time, exiting that store, pursuing a guy who offered no visible threat to him.'
Deputies said Defoe, who was recently released from prison, has a criminal history, with WFLA reporting including  12 prior felony charges and nine prior misdemeanors including robbery, firing a missile into a dwelling, battery, grand theft and grand larceny. Defoe had been sentenced to Florida State prison four times and was most recently released last month, on June 12.
If Defoe survives the shooting the man could also be charged with felony charges following stealing the beer.
Hasan has no criminal record.
And then there were these comments on the web that made this author wonder. See what you think?
'BOOM!!! Here, have some lead with that beer. Throw his bleeding ass back in the slammer and let the store owner go.'
'I cannot help wondering how this story would have been written if the names of the accused and the victim were reversed.'
'He's a hero in my book. Look at the guy's past charges. It's too bad he didn't fatally shoot him.'